If you're willing to venture onto the ice on area backwaters and lakes, perch yourself on a 5-gallon bucket, drill through a dozen or more inches of ice, you'll experience more than a dark hole.
You'll likely find yourself pulling perch from your perch.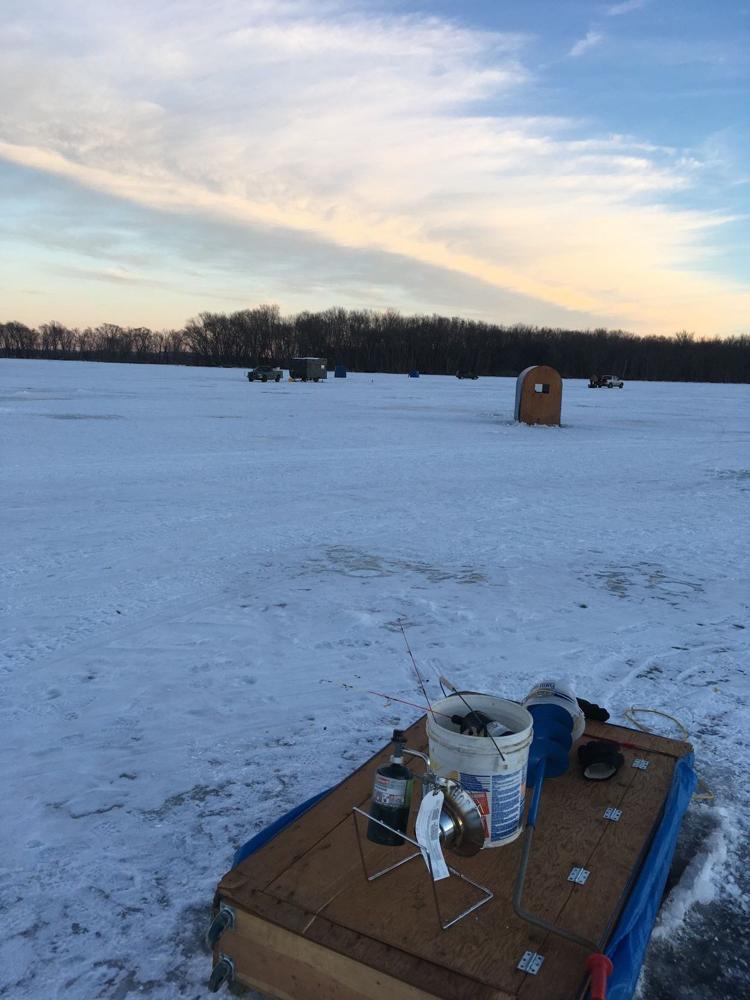 Yes, plenty of perch are being caught in Mississippi River backwaters from La Crosse to Trempealeau to Winona. In fact, in the old rock quarry — now filled with ice-covered water, that is — behind Gundersen Health System, perch have been the main bite.
"They are using tip-downs (ice fishing rod holder) with a rosy red minnow with a bare hook and split-shot (sinker)," said Jay Meyer, who works at Island Outdoors on French Island. "They are all in deeper water, fishing between 15 to 25 feet, about 30 feet off shore."
Meyer said three fishermen went out recently and caught 48 perch between them, one of which measured 13½ inches. Of course, they returned the small ones to the water.
"It's been a little slower (Wednesday) with the pressure system moving in, but overall as it has gotten warmer the bite has picked up," Meyer said.
So have the number of anglers heading out after what was a brutal two-week cold spell. In fact, Chad Knapmiller, owner of Schafer's River Rentals on Brice Prairie, said more ice anglers have turned out this winter than in recent years.
"A lot of people were holding off with the cold stretch we had, but once the warm weather hit, especially Saturday and Sunday, it was like an (ice fishing) derby out there (Lake Onalaska)," said Knapmiller, who took over Shafer's from Tony Christnovich 20 months ago.
"The fishing has been really good, especially by the airport (landing) lights. With tip-ups, the northern and bass are starting to bite. With tip-downs, perch, they are running near the bottom in 3 to 6 feet of water and biting on rosy red minnows."
Knapmiller said he has seen perch in the 14- to 15-inch range being caught.
"I really think the lake (Onalaska) is going to turn into a perch attraction. We've got a really good perch population and good year classes coming up," Knapmiller said.
Both Meyer and Knapmiller said they have heard of crappies biting in the airport beach area, in upwards of 10 feet of water. There is a stump field located in that area, and crappies have been hitting on minnows and micro-plastic (lures).
On Lake Onalaska, crappies are biting — morning and evening — in the dredge line near Halfway Creek, Knapmiller said.
"And the gills (bluegills) are doing well in about 5 feet of water from there (Halfway Creek) all the way up to the (airport) lights," Knapmiller said.
As always, both Meyer and Knapmiller said to always be aware of ice conditions, but generally speaking, there is 14 to 24 inches of ice on Lake Onalaska and at least 15 inches in most backwater areas.