GALESVILLE — If you thought the Gale-Ettrick-Trempealeau High School football team was a rush, you need to see where they play.
Seriously, this rush first, rush second and more often than not, rush third team — which features one of the best ground attacks in the area — now has a field to match its high-level play.
A snazzy new turf field, but that is only part of it.
Red Hawks' coach Jon Steffenhagen, along with activities director Pete Peterson and countless others, quickly explain that the nearly $5 million facilities improvement includes much more than a new turf field — which was baptized with a hard-fought 14-7 win over River Valley last week — and subsequent grandstand that holds 1,500 folks.
The project includes a yet-to-be-completed multi-purpose addition to the high school that will finally give the dance team, the wrestling team — and who knows what other teams/students — a chance to perfect their craft outside of the school's hallways.
It includes new — and much-needed — baseball and softball fields. It includes a new, expanded parking lot that will be used for far more than just football games.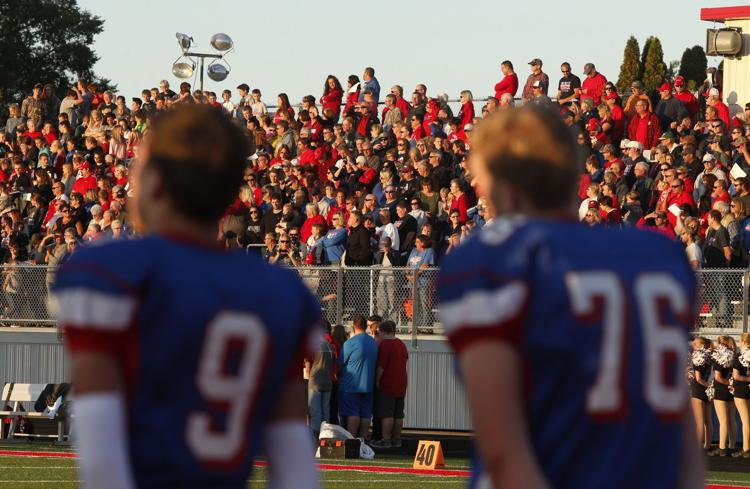 "It is very impressive and I am glad that it happened," said Steffenhagen, whose team is off to a 4-0 start. "Just all the facilities, the upgrades for the dance team, the other (teams), that is how it got presented and passed because it was not just for the Red Hawk football team. There were a lot of other things in there — a place for the wrestling team to practice — where everybody benefits from it.
"So does the community, I hope."
Early indications are the G-E-T community is quite proud of their facility — as they should be — as the grandstand, with a capacity of 1,500, was filled 30 minutes before kickoff last week.
Maybe it was to see the Red Hawks battle River Valley, a team that was a WIAA Division 4 state runner-up a year ago. Or, maybe it was simply curiosity.
Both Steffenhagen and Peterson knew some of the crowd showed up just to see the turf, the stadium, and just how the area behind the high school had been transformed into a state-of-the-art athletic complex.
"The biggest thing is the community, people are so excited in the community," Peterson said. "I have had lots and lots of phone calls. I have gotten a phone call at 6:30 in the morning asking about the turf.
"People are just interested in what is going on. They will park in the fairgrounds next door and they will come over and watch everybody work and ask how it is going.
"I think people are here to see the complex."
Peterson estimated 80 percent of the project is complete, with the multi-purpose addition, parking lot and other amenities around the facility — such as the ticket booth area and entrance — should be complete by the end of October.
That, in itself, will allow Peterson and many others to pause for a second and take a deep breath. To get to this point, as in last week's inaugural game, was a sprint.
"The way the different groups, the different construction companies, our custodial group, have come together, it has been very impressive," Peterson said.
"If you would have asked two weeks ago if we would be ready, I would have said, 'No way.' We were just so far behind on stuff, the turf company was behind. They had portable lights on the other night and were working until 9:30 trying to get everything done."
In terms of the field, they did. And the Red Hawks' players were not only appreciative, they were proud.
"I love it, honestly. It is great," said Chris Thompson, a defensive back and tight end for the Red Hawks. "I think it is amazing this community decided to do it and everyone is behind it, so I think it is great.
"It is definitely amazing."
It was built, Peterson said, for the G-E-T teams and the community, but with an eye toward others, too. As in hosting regional and perhaps sectional track meets, along with WIAA playoff football games.
There could be other events at the facility, too, that would attract visitors and bring in dollars to the community.
For now, G-E-T's athletic teams and the Red Hawk fans get to enjoy its athletic gem.
"Just being out here, then hearing the fans… It sent shivers down my spine," Thompson said. "Knowing that our community is behind like that feels so good."