The play had worked earlier, so it made sense for the Sparta High School football team to go back to it again in a crucial situation.
The Spartans were down a score and faced a fourth-and-goal from the Central 5-yard line. Sophomore quarterback Cole Wisniewski caught the snap and tossed a lofting pass to senior tight end Keegan Savor in the end zone. Savor had caught a similar pass for a touchdown earlier, and leaped in the air for this chance … but then Red Raiders senior cornerback Donovan Stevens swatted it away.
The play ended the threat and sealed a wild 46-38 win for Central in front of an estimated crowd of about 850 people at UW-La Crosse's Veterans Memorial Field.
The teams' offenses combined for 958 yards of total offense, but arguably the most critical play was made by a defender.
"I'm really proud of Donovan," Central coach Tony Servais said. "He's one of our best corners, and I know he gave up a touchdown earlier and he was upset about that. He made a great play on the ball, and it was a great stop for our defense."
The red-zone stand made a winner out of Central sophomore quarterback Johnny Davis, who posted a stat line more often seen in video games. He was 21 of 38 passing for 414 yards and five touchdowns, and added another touchdown on the ground.
As has been the case for most of the season, Davis found senior receiver Greg Kohler early and often. Kohler finished with eight catches for 178 yards and three scores.
"We just have a lot of athletes on our team that I know can go up and get the ball if I throw it to them," Davis said.
Central appeared to have the momentum after it broke a third-quarter tie on a Kohler TD, using a two-point conversion to bring the score to 30-22. But Sparta junior Rrig Falmingar took the ensuing kickoff back 90 yards for a score and the Spartans (4-3, 2-3) matched the two-point conversion to tie it up.
The Red Raiders answered with a three-play, 63-yard drive — all through the air — to regain the lead, but then Sparta responded with a good drive and scored on Savor's jump ball. Central took the lead for good on Kohler's third TD, a catch in the back-left corner of the end zone on a fourth-and-goal from the 7.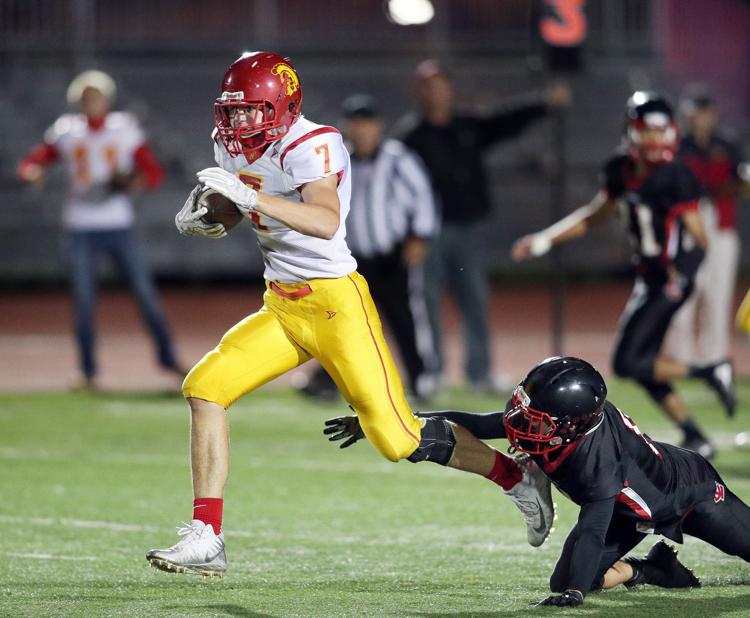 Fatigue seemed to set in late in the third quarter and early in the fourth, but both squads snapped out of it for the final push.
Wisniewski finished with 200 yards and two scores on 14 of 26 passing, and added 100 yards and a touchdown on 19 carries. Savor had 123 yards on three catches.
The first half was as wild, featuring a pair of lead changes and three ties. Both teams hit big plays throughout the opening 24 minutes.
Davis started the fireworks with a throw you won't see often at a high school game, finding Kohler with a rocket 50 yards down field while running to his right to set up Central in the red zone, and then throwing a 16-yard scoring pass to the same target three plays later.
After Wisniewski tied it with an 2-yard plunge, Cross broke off a 39-yard gallop inside Sparta's 5. Central scored on Davis' 1-yard punch-in, but Sparta answered with a 13-play march of its own, capped by Bryce Jacobs' scamper in from the 8.
The Spartans looked to have gained the momentum away when they stopped the Red Raiders in the red zone, and then Wisniewski hit senior Keegan Savor up the seam for an 86-yard catch and run. Central took just two plays to tie it up, as Davis found a wide-open Cross over the middle of the field and he did the rest to score from 67 yards out.