The Logan High School football team was frustrated heading into its locker room at halftime on Friday.
It felt like it had played well when it had the ball, but the Rangers only ran 13 plays in the first half and found themselves behind on the scoreboard.
But Logan turned that frustration into execution, sparking two long drives in the second half that helped lift them to a 27-17 MVC win over previously undefeated Sparta in front of about 850 spectators at Logan's Swanson Field.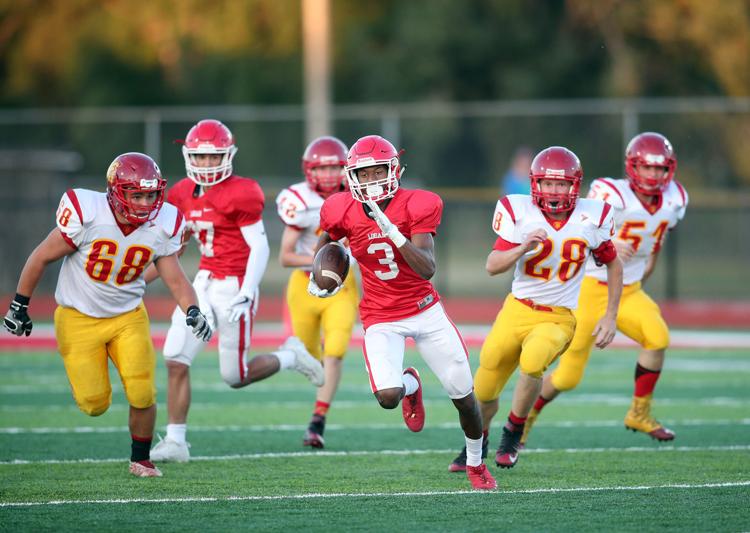 "We made too many mistakes on defense and specials teams," Logan coach Casey Knoble said of the first half. "We felt good about what we were doing, but we just didn't have the ball."
The key to getting the ball back for the Rangers (3-1, 2-0 MVC) was to get it out of the hands of Sparta's sophomore quarterback Cole Wisniewski. He was able to cut through the Rangers' defense in the first half, scoring a touchdown on a 1-yard sneak before halftime to give Sparta (3-1, 1-1) a 17-14 lead at the half.
Logan defensive coordinator Brock Harney made adjustments to slow down Wisniewski and the Spartans' option running game that picked up big chunks of yardage in the first half, and it was Sparta's offense's turn to watch the game from the sideline — the Spartans ran 11 plays in the second half.
"That was the big turning point, the adjustments we made at half were the big keys," Knoble said.
Despite starting it with a delay of game and having to burn a timeout on its fourth play, the drive that the Rangers put together to open the second half put them in control. Senior CJ Siegel converted a third-and-14 on a well-run rocket screen to kick start the drive, and Logan moved into the red zone with a 19-yard pass to Jericho Parcher, a short run that turned into 16 yards after a late-hit penalty, and a 13-yard pass to Siegel.
"It's like he's on skates out there," Knoble said of Siegel, who had a 66-yard punt return in the first quarter to get Logan on the board. "Nobody can get a hand on him. It's really fun to watch. He made some unbelievable plays, and that's his M.O. He knows we need that from him."
A 16-yard pass to Siegel on fourth-and-14 extended the crucial drive and then senior quarterback Matt Escher hit senior Gunnar Parcher from 13 yards out to retake the lead 21-17.
Sparta followed that march with a three-and-out, and the snap went over its punter's head, giving Logan the ball at Sparta's 2. It took four plays, but Rangers senior Ambrose Metz-Beard punched in for a 1-yard touchdown and sealed Logan's win.
Sparta tallied a field goal on its first drive, an 11-play march that showed off Wisniewski's ability as a runner. He carried the ball five times for 36 yards on the drive and established him as a legitimate threat for the rest of the game — a key for the Spartans' read-option plays. Wisniewski pitched a lateral to Greg Jacobs inside the Logan 10-yard line early in the second quarter and Jacobs raced to the pylon for the score to put Sparta up 10-7.
Logan answered with its best drive of the first half, scoring on an 11-yard pass from Escher to Metz-Beard. Siegel picked up 27 yards on a pass to set the Rangers up in the red zone, again displaying the elusiveness that makes him one of the most dangerous players in the Coulee Region.
After a long punt return by senior Nickolas Church, the Spartans converted a fourth-and-3 and then a third-and-13 to get down to Logan's 1. Wisniewski punched it in with a QB sneak with 24.8 seconds remaining to give Sparta all the momentum at half.
Wisniewski finished with 31 rushing yards on 15 carries, and was 9 of 12 for 38 yards passing. Senior Brett Von Ruden had 29 rushing yards on four explosive attempts.
Siegel racked up 92 receiving yards on six catches, and Escher had 135 yards on 7-for-13 passing.