GALESVILLE — It would be hard to locate a football coach who doesn't stress teamwork, team unity, team chemistry.
You've likely heard the "11 working as 1" motto more times than you care to recall.
In Jon Steffenhagen's world, it's not just part of his daily preaching to his Gale-Ettrick-Trempealeau High School football team. It's what the Red Hawks eat, sleep and breathe.
So when last season's 10-2, WIAA Division 4 state quarterfinalist team graduated standout fullback Butch Haines (now playing football at Winona State) and quarterback Kody Gunderson (at Viterbo), the longtime G-E-T coach simply looked the next guy in the eye.
Or, his veteran staff did.
And three of those key players, running back Ben Behan, quarterback Brett Lettner and returning Coulee Conference lineman of the year, Nathan Riehle, never blinked. They know it's their time now.
"The people that came before us, they just want to see us succeed and do well. They wanted to keep the tradition going with winning and having fun with the program, and so do we," Behan said.
"I have been lucky to have had such great leadership from when I was freshman to now, being a senior. They made me feel comfortable and created a family-type atmosphere. If I can help some guys get more comfortable and contribute, that's what I need to do as one of the leaders."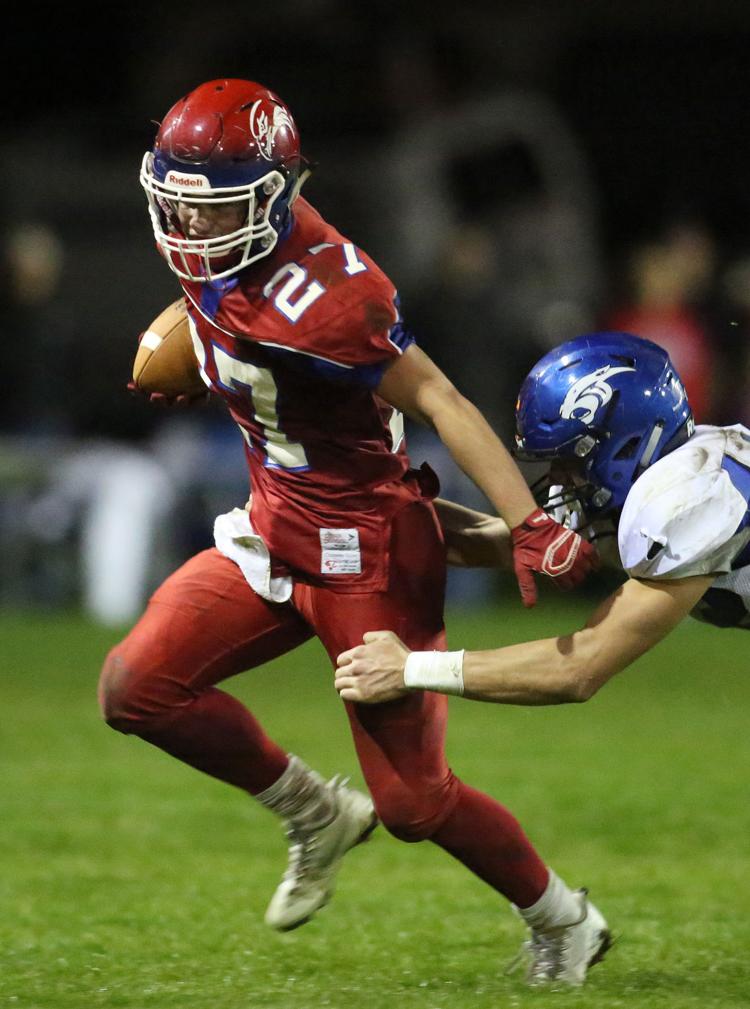 A big part of that leadership, which has been a big key to G-E-T's success — the Red Hawks are 63-40 over the last 10 years — comes from a veteran coaching staff.
"Just having guys that care about kids, that's the key. The whole staff here, yeah we're about wins and losses, but we are about kids," said Steffenhagen, who is entering his 22nd season at G-E-T. "In this day and age, that is what it has to be about in order to get kids to come out and play."
G-E-T plays all right — hard.
The Red Hawks, who won the Coulee Conference with a 5-0 mark, reeled off three playoff victories before falling to St. Croix Central 41-21, tying the mark for the deepest playoff run in school history.
But Haines and his 22 rushing TDs are gone, as is Gunderson, a three-year starter at QB.
Next man up. Or, actually, men.
The G-E-T ground machine, whose success is predicated by a strong, quick, athletic and technically sound offensive line, is deep and talented once again.
"I would say we are the equivalent of last year (backfield talent) and all of those kids bring something a little different to the table — plus they all can run," Steffenhagen said.
"This year, it is kind of a reload from last year, but not a complete reload. What is fun to see is the kids have been passionate and it is a no nonsense type of practice with them."
While Lettner has never played quarterback before this season — the 5-foot-11, 165-pound senior switched from cornerback to QB — the transition has "gone very well," Steffenhagen said.
Lettner will have plenty of talent to work with, as Behan is coming off a 1,220-yard rushing season. And stepping into Haines' old spot is 6-foot, 205-pounds of nastiness in fullback Connor Jacobs.
"He is the real deal, too," Steffenhagen said of Jacobs. "Butch had a jump cut and a dah-dah-dah, as he was a tailback type of fullback. Connor is a true fullback; it is downhill right now."
While Garrett Eddy, Cole Ziegler, Dylan Johnson, Bryce Burns and Walker Stoner are all expected to grind up some yards, the key to making that happen is Riehle.
Riehle, left tackle, is a 6-foot-4, 230-pounder who is not only big and strong, but fast, too, as he runs the 800 and 400 in track in the spring. He's got a returning starter next to him in center Sam Jansen (6-0, 220), and another returning linemate in right tackle Cole Johnson (6-3, 250).
Both guards — right guard Gage Jessesski (6-2, 270, jr.) and left guard Cordell Kokott (6-1, 180, jr.) — played but did not start last year.
The "dirt guys," as Steffenhagen calls them, have the potential to dominate once again. Last season, the Red Hawks rushed for nearly 300 yards per game (3,556 yards in 12 games), and that was, in a large part, due to a standout offensive line.
"We have done a lot of bonding in the offseason this year, in the weight room and working hard," Riehle said. "We lost two really good players on the line from last year, but our new guys are working really hard to fill those shoes.
"I am pretty happy with where we are at."
Riehle understands how important the team approach is, especially for the "dirt guys." The offensive and defensive linemen need to be on the same page every play, every series, every quarter.
Last year, they were, Riehle said, quickly pointing out that the award he won from the Coulee Conference was a "team award."
"For our line, last year and this year, we are working as one whole unit. I got the award last year, but it would not have been possible without the guys next to me. If I would make this block, they would back me up and make a key block so I could make it happen," Riehle said.
"Once you get on that page when the guys next to you know what you are thinking and you know what they are thinking, that is awesome."
With a talented line that also includes tight ends Nathan Truax, Chris Thompson and Thomas Gunderson, the G-E-T ground attack should be physical, fast, strong and hungry. All of which is music to the ears of Behan.
"We worked on a lot of the team stuff in the offseason, so once it came to the first week of practice, we were pretty focused and hit the ground running," Behan said. "We are all excited about the season, and you can see it in practice.
"We are all focusing in on what needs to be done, and when we see a good play, we recognize it and encourage it."
The same thing happens on the defensive side of the ball, where William Johnson and Jacobs will anchor the heart of the defense from the middle linebacker spot, while outside linebackers Johnson, Truax and Gunderson are talented and experienced.
Thompson and Ziegler will lock down the cornerback spots, while Eddy is the strong safety and Behan is the free safety.
The "dirt guys" — Riehle, Jansen, Johnson, Jessesski, Kokott — pretty much switch from offensive to defensive line.
"It is great to coach kids like this," Steffenhagen said. "They go out there and they are ready to go. Their stretches are done, then it is boom, boom, boom."