Steven Cross made the most of his opportunities on Friday.
The Central High School junior has played a handful of positions for the Red Raiders football team, but hasn't gotten many touches as one of the team's running backs behind starter AC Riley. Central coach Tony Servais felt he needed to give Cross a chance in the second quarter to give his offense another jolt after a solid first quarter.
Central (2-3, 1-2 MVC) and the Red Raiders thoroughly controlled all aspects of its homecoming game en route to a 42-8 MVC victory over Aquinas in front of 1,100 people at UW-La Crosse.
Cross, a 6-foot-1, 175-pounder showed breakaway speed on his six carries, scoring three touchdowns — including ones of 75 and 57 yards — and gaining 151 yards.
"I just saw my O-line making their blocks and finding the hole, and we made a play," Cross said of his big runs, both of which went right through the heart of the Blugolds' defense.
"It felt great. We've been working hard in practice every week and every day in practice. We want to show every team what we've got and that's what we did today."
Cross was the standout of a Central offense that racked up 495 yards of total offense. The running attack led the way, gaining 287 yards on 28 carries, while sophomore quarterback Johnny Davis went 13 of 24 for 208 yards and two scores.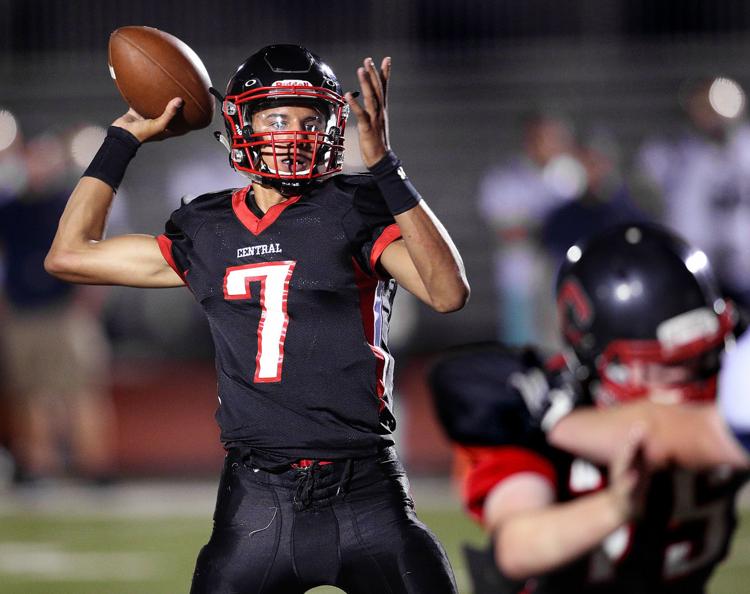 A versatile linebacker for the Red Raiders' defense, Servais said Cross had earned some carries with his work on both sides of the ball.
"We'd never really ran the ball enough to tire out AC, so (Cross) had never gotten a whole lot of reps there," Servais said. "In the second quarter, we said we needed to give him some looks and that's when he started popping them.
"Once he gets into the open space, he's gone. He's got some tremendous speed."
The Red Raiders were already in control in the second quarter when the Blugolds (0-5, 0-3) picked off Davis passes to end chances for even more points. Six-foot sophomore Mason Viner cut in front of Kohler at the 1-yard line for the first interception, and then Viner made a good play on a forced pass in the end zone for a touchback in the closing seconds of the quarter.
Aquinas punted on seven of its nine first-half possessions — the other two were a turnover on downs and when the half ended. The Blugolds didn't capitalize on deep shots that junior quarterback Jacob Savoldelli was able to connect on that got the team across the 50. He found senior Conley Malone for gains of 44 and 25 yards, and Brandon Merfeld for 29, but the drives stalled quickly after.
The Blugolds scored in the fourth quarter by riding senior running back Nick Cambio. Cambio tallied 102 yards on 25 carries, including toting the ball 10 times on the final drive that ended with his 9-yard TD.
Central's defense was able to put enough pressure on Savoldelli to force some errant throws, and it kept the Aquinas running game in check until the fourth quarter.
"I'm really pleased with those guys," Servais said. "They had some tough teams they just went against, with Eau Claire Memorial, West Salem and Holmen, and some different attacks. They struggled a little bit against West Salem with the coverage stuff, but I was pleased with how they responded tonight."