Ryan Beirne missed one field goal on Friday night, and he wasn't about to miss another that could keep the West Salem High School football team on top of the MVC standings with two weeks left in the regular season.
After missing a 36-yard attempt on the first play of the fourth quarter, Beirne was true on a 24-yard attempt with 2 minutes, 39 seconds to help West Salem complete a 10-0 win over Logan at Swanson Field.
The Panthers (6-1, 5-0) iced the game when Matthew Bigley intercepted a Matt Escher pass after Beirne's field goal and allowed the team to run out the clock.
false
"It's a lot like baseball when you have to put a bad at-bat behind you," Beirne, who helped West Salem win a WIAA Division 2 state championship in June, said of missing the first attempt. "You just flush it. You have to do that."
Junior Brendan Holt rushed for 107 yards on 29 carries, and Beirne added 66 on 15 attempts for first-place West Salem, which has won five games in a row since losing to unbeaten G-E-T in Week 2.
The Panthers also recorded their fourth shutout of the season and third in four weeks. They held Aquinas scoreless last week and became the first team shut out out the Rangers this season. The last time Logan didn't score in a game was a 19-0 loss to West Salem last season.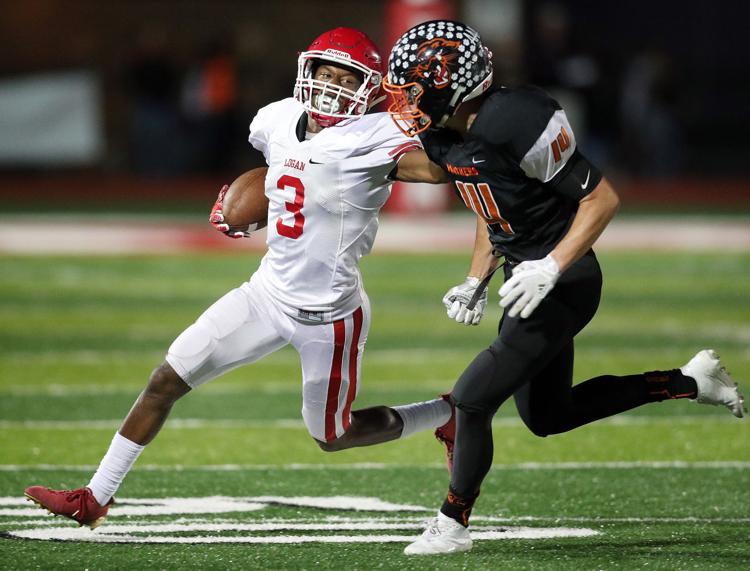 "The kids did a nice job on the defensive side of the ball," West Salem coach Justin Jehn said. "They believe in our schemes, and it's shown the last two weeks."
One defensive focus was on Logan running back Christian Kapanke, who was held to 29 yards on 11 carries. Yards after contact are generally expected when Kapanke carries the ball, but the Panthers limited those drastically on Friday.
"He's a hard runner," Bigley said of Kapanke. "He's small, quick and can really move. We had to try and stop him if we wanted to win."
Bigley, who was all over the field defensively, made the biggest play of the night after Logan took possession for the final time. CJ Siegel returned the kickoff 39 yards to Logan's 40, and Escher looked to his right for a pass on first down.
The senior linebacker jumped in front of it and returned the ball to Logan's 35. Beirne ran 10 yards on fourth-and-4 for a first down with 58.8 seconds left and ran out the clock after the Rangers used their final timeout.
false
"I anticipated the pass because they had to get down the field," Bigley said. "I just tried to get in the (passing window), and it went right in my hands. It was a great feeling to grab it and run."
West Salem missed out on a golden opportunity at points early in the third quarter after the Rangers drove 74 yards to the Panthers' 5.
A pass from Escher to Jericho Parcher set up a first down at the 5. Christian Kapanke then took a handoff and ran to his left before the ball was jarred from his grip and into the air. Jake Whitbeck grabbed it and ran from his own end zone to Logan's 44-yard line.
But a holding call on a nice negated a nice run by Beirne and stalled out the drive.
false
The Panthers also moved the ball to the Logan 19 late in the third quarter and opted for a field-goal attempt on fourth-and-1. Beirne lined up for a 36-yard kick and pushed it right.
The Rangers had 82 yards of offense in the first half and hurt themselves by not being able to punch the ball into the end zone after long run by Siegel.
The senior burst through a hole on the left side and reached the sideline for a 25-yard gain, but he was tackled at the West Salem 9. A run for no gain and an incomplete pass were followed by a 7-yard by Escher.
That set up fourth down at the 2, and Siegel was stopped at the 1 by a couple of tacklers on a run to the right side.
It was Logan's best scoring chance of the half. It also gained a first down on a fake punt when Gunnar Parcher completed a 13-yard pass to Jericho Parcher, but the next three plays resulted in 5 yards and led to a punt.
The Panthers drove 60 yards on eight plays to open the game and relied heavily on Holt, who carried seven times for 46 yards around a 24-yard pass from Beirne to Whitbeck. The pass came on a second-and-13 snap and followed a nice opening defensive play by the Rangers.