CALEDONIA, Minn. — Owen King was a confident sophomore when he lined up for his first snap as the starting quarterback for the Caledonia High School football team.
Basketball was his true passion, but King also made sure to exhaust the football learning opportunities that surrounded him as he grew up because he's competitive in anything he does.
He watched and discussed games with his dad, Brad, as a kid. He watched the high school quarterbacks intently on Friday nights to see what worked and what didn't.
Even when it became time to learn speed drills as a third-grader and working with weights as a fifth-grader — as is made possible in Caledonia — Owen was already ahead of the curve with a good understanding of plyometrics.
It was all part of being a member of the King family, where work and play — as they relate to athletics — seem to go hand in hand.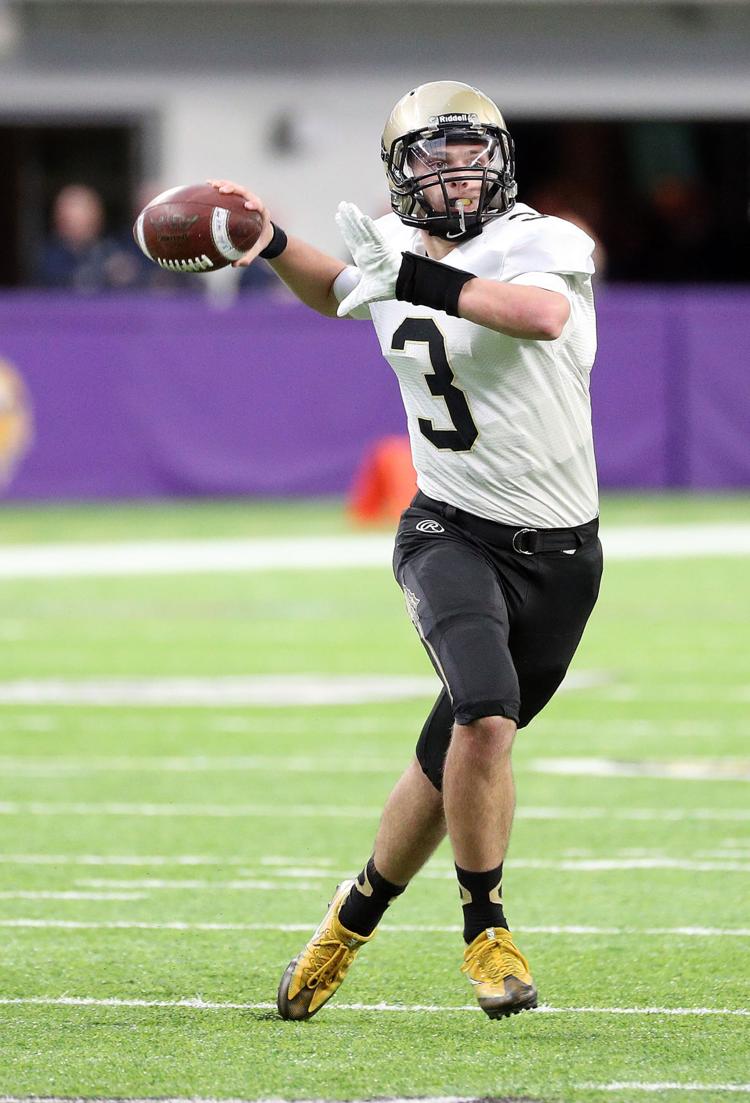 "I think the things he did later came easier to him than they did for other kids," Brad said of Owen. "He was already doing some of them. He understood what it was going to take to get where he wanted to be."
Owen wanted to lead his team to a state championship. He wanted to do it for himself, and he wanted to do it for his friends.
They way he accomplished that feat last month — for the third time — is what makes Owen the La Crosse Tribune's football player of the year.
The numbers that represent his tenure with the Warriors boggle the mind. The 8,621 passing yards look good, but so are the 139 touchdown passes that came with them.
Owen, the Tribune's co-player of the year as a junior, completed 63 percent of his career passes and was intercepted just 12 times in 864 pass attempts. He also rushed for 25 touchdowns.
None of it surprised Brad. Ditto for Caledonia coach Carl Fruechte, who also happens to be Owen's uncle.
The sky was the limit for Owen at a young age, and the commitment he showed when that became apparent had him blasting through the clouds every step of the way.
"If he would have been big enough, he could have started as a seventh-grader," said Brad, one of Fruechte's assistant coaches. "He worked hard at learning the game and doing the things that made him a better player."
Fruechte, a football realist if there ever was one, agreed with the fact that Owen's knowledge of the game came quickly and that he probably could have handled the job if he'd been physically able to undertake it.
"When you talk about seventh-graders out there, you always have to think about the potential of injuries with them being so much smaller," he said. "But, yeah, he understood what a quarterback had to do on the field and had the ability to do it back then."
Before you ask, Owen won't be playing college football. He has accepted a scholarship to play basketball at NCAA Division I South Dakota State, and he has stuck with that despite the football success he's had.
The two numbers that make Owen the proudest have nothing to do with what happens during games. They have everything to do with outcomes.
The most significant is 3.
That's how many MSHSL Class AA state championships the Warriors won in three seasons with Owen as their starting quarterback.
That's how many times Caledonia won during his 41-game career as a starter.
Fruechte — and even Owen — would shudder at the suggestion that the Warriors were perfect the last three seasons. Both are always convinced that things can be going better than they are.
But Caledonia took on all comers and knocked them down. They took the best opponents could give them 41 times and prevailed each time.
"We knew we were always going to get a team's best game," said Owen, who passed for 2,839 yards and 45 touchdowns while being intercepted four times and rushing for 10 more scores as a senior. "That's why every game was a challenge."
Owen never made it look like much of a challenge.
He threw three touchdown passes in a 55-7 win over La Crescent during his first game as a starter, and he threw five TD strikes and rushed for another — tying a Prep Bowl record — as Caledonia beat Pipestone 57-6 for the Class AA championship in his last.
Owen's focus throughout those 41 games was clear when he was asked what tying the Prep Bowl record of six touchdowns in a game meant to him.
"Nothing, really," he said quickly.
The performance — he passed for 246 yards and four first-half touchdowns and rushed for 37 and a second-quarter touchdown — was a good indicator of why Owen has been questioned regularly about choosing basketball over football.
Pipestone coach Clay Anderson, who got his first good look at Owen King during a 40-0 championship loss to the Warriors in 2015, didn't mince words when asked about the senior's potential after the 57-6 loss at U.S. Bank Stadium last month.
"I think it's really sad that he's wasting his (college) career on basketball, personally," Anderson said. "If that kid can't start for the Gophers right now ... ."
Owen put himself on the fast track by thoroughly learning the game.
The father-son bond in discussing different aspects when they watched football games together produced results. Fruechte was there for input when needed, but he generally deferred to Brad.
"When something is working, why mess with it?" he said. "What they were doing together was working, so I left it alone unless he came to me."
Owen and Brad, a football, basketball and baseball player at Caledonia before graduating in 1989, talked about defenses and mechanics. Owen quickly learned how to attack zone and man-to-man coverages and how to give his receivers the chance to get open.
"He talked me through everything that was happening, whether it was at a game or watching one at home," Owen said of Brad. "We talked about why the defense was doing everything it was doing. I felt like I knew a lot about coverages by the time I was in seventh or eighth grade."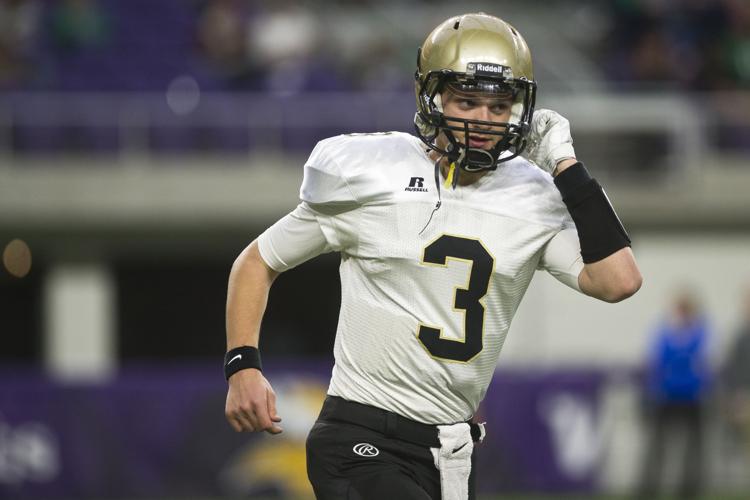 His first taste of varsity football came as a freshman, and he went 13-for-21 for 162 yards, two touchdowns and no interceptions while playing in seven games. The day of his last incompletion as a freshman, however, is a day he remembers clearly.
It came on a snowy football field in Eden Prairie, Minn., and it was in the closing moments of a 21-0 state semifinal loss to BOLD on Nov. 15, 2014.
The loss bothered him, and he hasn't experienced a feeling like that since.
"It felt awful to lose that day, and I got to play a little at the end as a freshman," Owen said. "I could see how it made the seniors feel.
"I didn't want to see that again. I wanted to do whatever I could for the next season's seniors, and it just went on from there."
As for Owen's senior season, it couldn't have gone much better. It certainly gave him the kind of career ending he wanted.
"It was an awesome ride," he said. "At the end, we just wanted to keep winning to get another game, but we knew the last one would come eventually.
"I wanted to get everything I could out of the last run, and I think we did."
---
High school football: Photos of Caledonia championship game