WIAA DIVISION 3 PLAYOFFS | ONALASKA 44, MOSINEE 21
WIAA playoffs: Onalaska advances with 44-21 win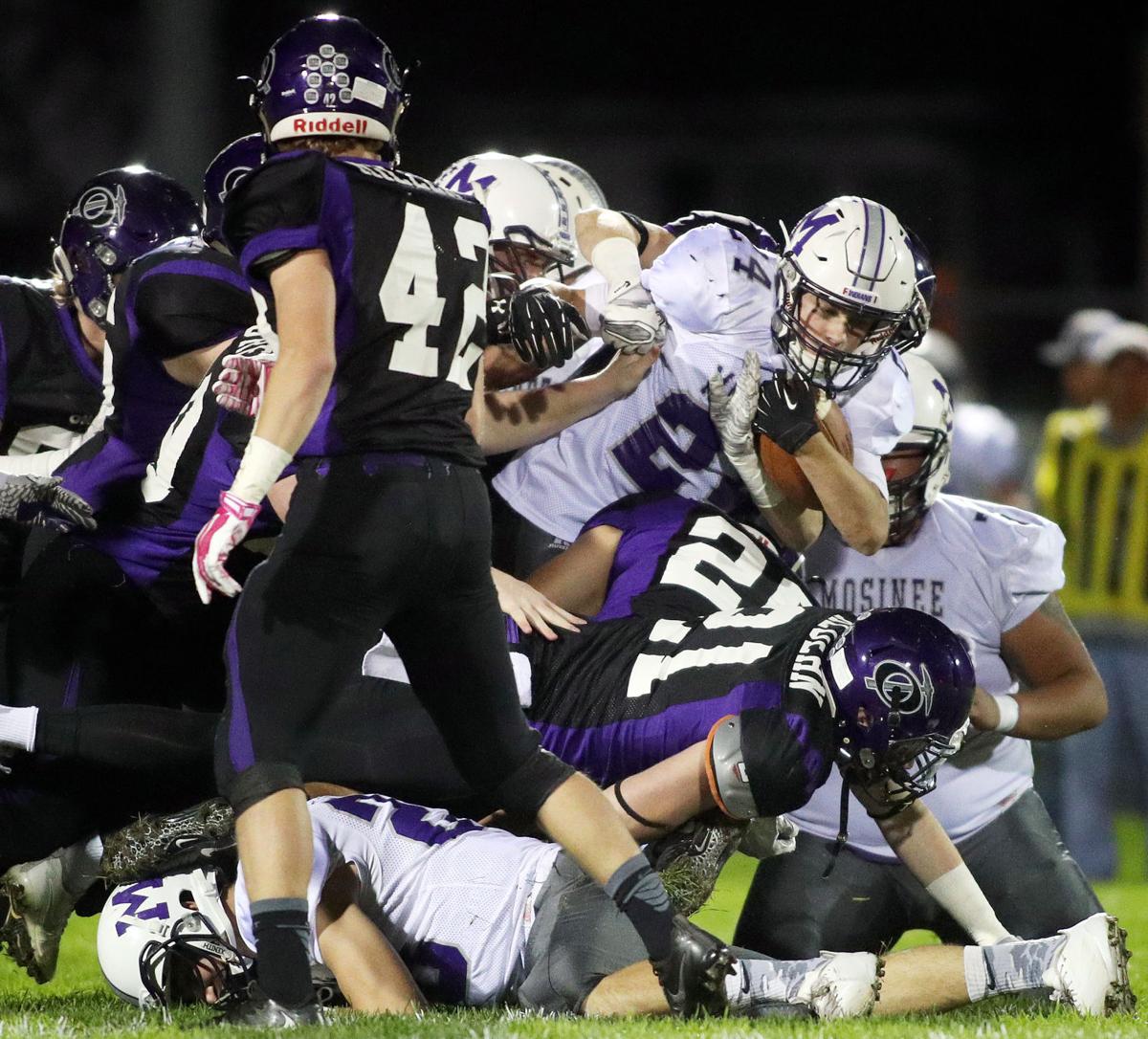 ONALASKA — Ben Vandehey dropped back to throw a long pass as the Mosinee High School football team tried to hang around in the third quarter of a WIAA Division 3 playoff game against Onalaska.
The Hilltoppers seemed to shift the momentum for good with a strong close to the second quarter, but the Indians were within nine points when Vandehey tried to make a big third-quarter play.
Onalaska senior Carter Melby intercepted the pass, and quarterback Noah Skifton followed it with a 52-yard touchdown pass to Ray Heilman that broke it open for good.
Heilman's touchdown catch — Skifton's second scoring throw of the game — seemed to take the life out of the Indians as the Hilltoppers rolled to a 44-21 victory.
Skifton also rushed for two touchdowns — his second followed Melby's second interception — as the third-seeded Hilltoppers (9-1) earned a second-round game at second-seeded Rice Lake (7-2) next Friday night.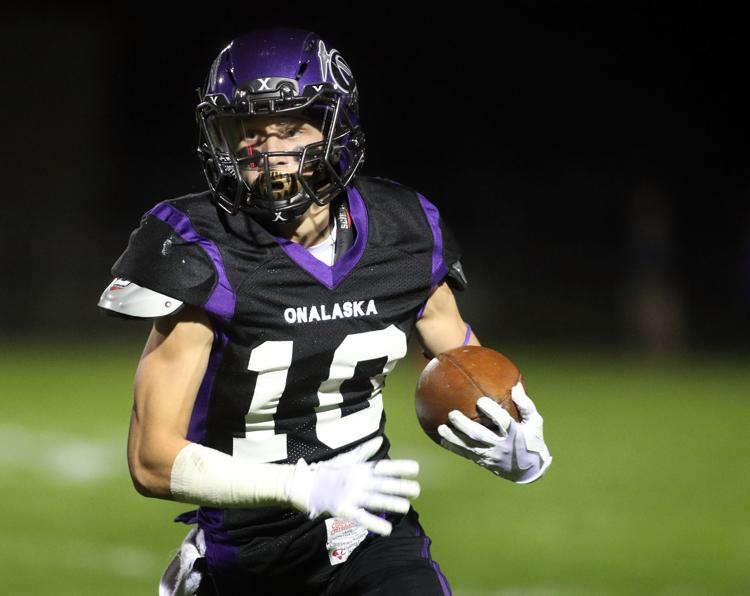 "We had thrown seam three or four times and overthrew it every time," Onalaska coach Tom Yashinsky said. "We had five or six ways to attack that (defensive) look, but we missed it.
"When we finally did hit it, I think it put the nail in the coffin."
Heilman simply ran past the defense, and Skifton lofted a pass down the middle of the field to hit him in stride and give Onalaska a 37-21 lead four plays after Melby's interception.
The Indians, who lost to Onalaska for a second time, trailed 30-21 when starting a drive at their own 46-yard line. Five plays later, they were at the Onalaska 35 before Melby intercepted the pass and returned it to Onalaska's 31. The touchdown came on a third-and-6 snap after a short gain by sophomore Nathan Lubinsky.
Lubinsky rushed for two touchdowns and more than 100 yards in addition to catching a TD pass.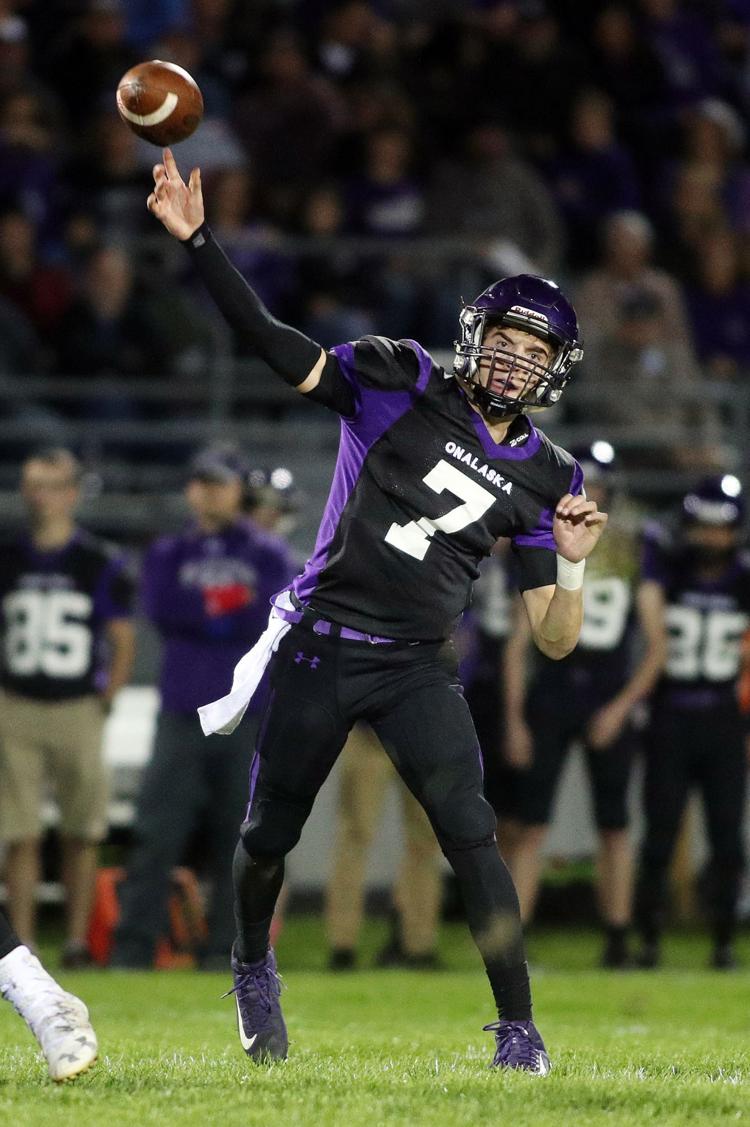 "We worked on that seam all week," Skifton said. "We knew where safeties were going to line up, and we hit the big play on it."
The Hilltoppers did everything they could to help the Indians along during the first 18 minutes. Onalaska had six first-half penalties — three of them personal fouls — and receivers dropped three passes that hit them in the hands.
Mosinee went 64 yards on its first possession and 54 on its second. The Indians scored their first touchdown when Justin Stubbe went 18 yards on a fourth-and-1 snap. They kept the drive alive with a fourth-down conversion on a fake punt.
The Indians went eight plays on their second possession and again scored on fourth down. This time it was a 29-yard completion from Ben Vandehey to Loukas Trzcinski on fourth-and-7. That gave Mosinee a 14-6 lead in the first quarter.
The Hilltoppers pulled within 14-12 on a 5-yard touchdown pass from Skifton to Lubinsky and took their first lead at 20-14 when Lubinsky capped a 76-yard touchdown drive by scoring from the 3 with 4:11 left in the half. He followed that with a two-point conversion run.
Chris Oliver then hurt the Indians with a sack on the next possession, and that led to a short field for the Hilltoppers. Onalaska got as close as the 5 and opted for a field goal after considering going for it on fourth-and-goal.
Junior Kaley Manglitz booted the field goal from 23 yards out to give Onalaska a 23-14 lead with 50.3 seconds on the clock.
---
Photos: 2017 high school football season in the La Crosse area