The Bangor High School boys basketball team knows what it's been through.
The Cardinals had a chance to end a 70-year run without an appearance in the WIAA state tournament two years ago before a turnover in the last 10 seconds led to a 57-55 loss to Barneveld in a Division 5 sectional final.
Even harder was Bangor's return trip to the sectional championship game last March. That one ended with an off-balance, buzzer-beating 3-pointer made by Noah Wand that gave Shullsburg a 60-58 come-from-behind victory.
Bangor last played in the state tournament in 1936. It won one of three games and lost in the consolation finals. The Cardinals have a third chance to end that drought with a very talented group of players who clearly remember what happened the last two times they were one win away from a state tournament.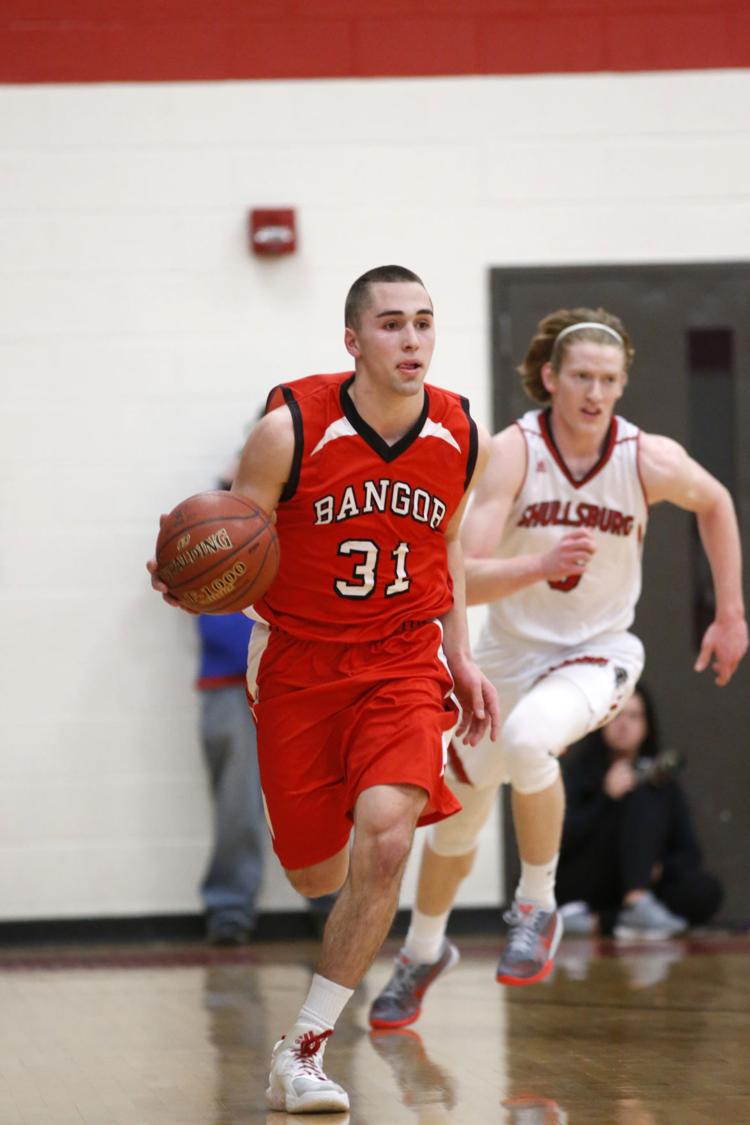 "I knew they'd be hungry because of the disappointment from last season," Bangor coach Jordan Laufenberg said of his team, which is 3-0 after beating Necedah 62-43 in a Scenic Bluffs Conference game last week. "They were so close, and things didn't fall the way we wanted them to that night.
"We want to make sure we aren't in position for that to happen to us again."
The first order of business was getting into basketball shape.
The Cardinals won the WIAA Division 7 state football championship in November, and every player on Laufenberg's roster played football. There wasn't much of a break before practice for a very different sport had to begin.
"They played a lot of extra football," said Laufenberg, also an assistant football coach. "You have to be careful to not overwork or physically drain them when basketball starts.
"They are excited to be back out there, and I've seen that already."
Pace and conditioning are some things that differ in football and basketball training, and it can take some time to make the transition from one to the other.
"In football, you get a break after every play, where basketball is nonstop," Laufenberg said. "In football, you go extremely hard for 10 or 15 seconds, then get a break. In basketball, that break may take four or five minutes to come.
"Football is more horizontal, and basketball has more vertical movements in place."
So Laufenberg has tried to temper the workload as much as he can, and is fortunate to have the depth to do that as the team perfects its up-tempo attack.
The Cardinals averaged 75.1 points per game while going 23-4 two years ago and 75.5 points during a 25-2 performance last season. The Cardinals are averaging 82.7 points entering Thursday's home game against Wonewoc-Center.
"Style-wise, they do what they do very well," Laufenberg said. "We aren't going to change a whole lot when it comes to that, but I'd like to see more balance with the way we score, so teams can't take away one aspect of our team.
"We want to make opponents defend all aspects of our game."
Senior guard Luke Reader, however, will be a focus of every team matching up with Bangor. The 6-foot-1 returning player of the year in the SBC averaged 20.8 points, 6.4 rebounds and 4.2 assists per game while making 44.4 percent of his attempts from the 3-point line (63 of 142).
Starters Reader and Drew Johnson (13.2 ppg, 4.0 rpg, 3.3 apg last season) have been varsity players since they were freshmen, and 6-4 guard Caleb Miedema (15.9 ppg, 6.1 rpg. 3.4 apg) returns as a top performer from last season. Reader was a standout running back and linebacker on the Cardinals' football, while Johnson was the quarterback and defensive back.
"Miedema is a tough matchup with the things he can do," Laufenberg said. "He has strong guard skills and a long body. There aren't a lot of teams that can defend that consistently because he'll find something to do against most people.
"He's been primarily on the wing, but we can put him in the post for a mismatch there, too."
Forwards Cade Amborn, a 6-6 senior, and Grant Manke, a 6-4 sophomore, also give the team a solid post presence when Miedema stays on the wing or perimeter.