Ethan Anderson wants to set the record straight. He is still unsure of his college future.
Yet, the 6-foot-4 wing from Black River Falls knows for sure it will involve playing basketball.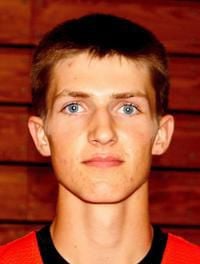 "I have been asked that a lot," Anderson said with a chuckle when asked if he had any idea where he was going. "I'm just laying out my options right now. I have a lot of D-III interest. My goal is to play basketball somewhere, whatever level it is."
Anderson has been a standout for the Tigers since he first walked out onto the his freshman year.
After being known as a shooter his first two seasons, Anderson took his game to another level last season. Making it a point of emphasis to drive the ball more, Anderson averaged nearly 22 points per contest as a junior and was a unanimous selection for first-team All-Coulee Conference. But he knew he could get better.
"There's always things to work on and I still have a long ways to go," Anderson said, "it's a never-ending process."
Playing AAU basketball with the likes of Caledonia and South Dakota State signee Owen King, Logan and North Dakota football signee CJ Siegel, Onalaska and Minnesota-Duluth football commit Noah Skifton for the Wisconsin Playground, and playing against division one athletes the game is much more physical.
Anderson also had the opportunity to play out in Las Vegas with the Wisconsin Jets who are out of the Sheboygan area. Bangor's Luke Reader also plays on the team. They had the opportunity to watch some of the top recruits in the country including Zion Williamson, who is the second-ranked high school player in the class of 2018, and LaMelo Ball whose father Lavar you might have heard of before.
"That was really cool," Anderson said, "the last tournament of my AAU career, so it's kind of cool that it ended on that note."
AAU relayed what Anderson already knew.
He had to continue hit the weight room, continue to build up muscle, continue to be more than just a shooter to make it to that next level. And he did, something coaches have told him throughout the recruiting process.
"A lot of them have said I have built my frame since last year and last summer, they have noticed I have gotten a lot stronger," Anderson said. "They believe I have been going to the hoop a lot better this year. I have really expanded my game that way."
Anderson has been sensational for the Tigers thus far this season. He is averaging close to 27 points a game while shooting over 50 percent from the field, 92 percent from the charity stripe, and 40 percent from 3-point range. He has yet to score less than 20 points in a game.
But what separates Anderson, is not his technically-sound shooting stroke or his determination to drive to the basket, but his competitiveness and his desire to win. When asked how he felt scoring 39 points against Bangor and his good friend Reader, he responded with:
"Well we lost the game, that's the only thing that matters."
That speaks to Anderson's character, something that stands out on and off the court. He is in the National Honor Society, and is also the president of the investment club which currently has over $100,000 invested into the stock market.
"Academics are the most important thing," said Anderson who wants to study finance and accounting. So I want to make sure I'm going to a strong academic school first and then basketball second."
As for Black River Falls, it has been a roller-coaster season, one that includes blowing a 42-17 halftime lead against Osseo-Fairchild on December 14, but the Tigers seem to be finding their stride as of late. They have won two in a row including a 101-98 shootout victory over Mauston their last time out on the 22nd. The Tigers have the pieces, they just have to do it for a full 36 minutes.
"It's been a little frustrating if you look at our team are very athletically gifted," Anderson said. "I'm 6'3, 6'4, we have another kid 6'4, another kid 6'3, we are all long. Our starting lineup on paper looks really good, we just need to work on the little things, closing out with high hands, working 110 percent for a full 36 minutes. If we can put that together we could be a dangerous team for the playoffs."