HOUSTON — A year after finishing with nine wins, the Houston High School girls basketball team has a had a turnaround season, almost doubling its win total with six games to go.
The Hurricanes are 16-3 and are in the driver's seat in the Southeast-East Division. They lead the division with an 8-2 conference record and have three Southeast Conference foes left on the schedule. Schaeffer Academy (10-8, 5-6) and Spring Grove (8-10, 5-6) are tied for second in the division.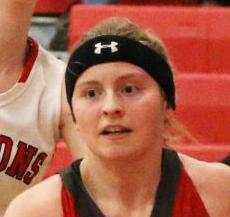 "We're doing well," Houston coach Dale Moga said. "Having a lot of fun. Playing a lot of good team basketball so far this year."
Moga said his players have believed in the team philosophy, and that has been one of the reasons why the Hurricanes have improved this year.
"The kids buying into the system. They believe in our philosophy. What we're trying to do on the court. What we're trying to do off the court. Just the relationships that we built the last couple years," Moga said.
The Hurricanes have been led all season by junior Alyssa Rostad, who scored her 1,000th career point on Jan. 16 against Schaeffer Academy and leads the team in averaging 19 points per game.
Moga said Rostad works incredibly hard, and that's one of the reasons why she has had a great high school basketball career thus far.
"She's in the gym all the time and just making that a priority in her life to be the best basketball player and always trying to make time to improve for herself as well as her teammates," he said.
Moga said Rostad has become more efficient with scoring and making her teammates better.
"She's not forcing anything," Moga said. "Able to hit the 3, drive, and drive when needed. But one of the better things is that, with not forcing the issue, is that she's helping her teammates become better basketball players, and our scoring this year is a lot more balanced than it has been in the previous years."
Defense has been a strength for Houston this season. The Hurricanes are allowing 42 points per game — that leads the Southeast-East Division — and are third overall in points allowed per game in the entire Southeast Conference behind Lyle/Austin Pacelli and Grand Meadow.
"Our defense is better," Moga said. "But what also helps our defense being better is just making better selections on offense. Our defense is better because we're taking care of the ball better, not turning it over, and not giving up easy fast-break points to the other team."
Moga said the goal for this team is to continue to get better every day.
"Making better decisions," Moga said. "It's always been our philosophy, is that we want to get one percent better each day and by the time end of the season comes around we should be ready for playoffs."