ONALASKA — Onalaska High School girls basketball coach Shane Schmeling was quickly shushed by his players after making an observation about the shooting of senior Jalyn Dobbins at practice.
"I said I didn't think she'd missed (a shot) since the Central game," Schmeling said after his Hilltoppers posted an impressive 64-34 MVC victory over Holmen at the Charles Deeth Fieldhouse. "Everyone yelled at me and started knocking on the floor."
The comment didn't faze Dobbins, though.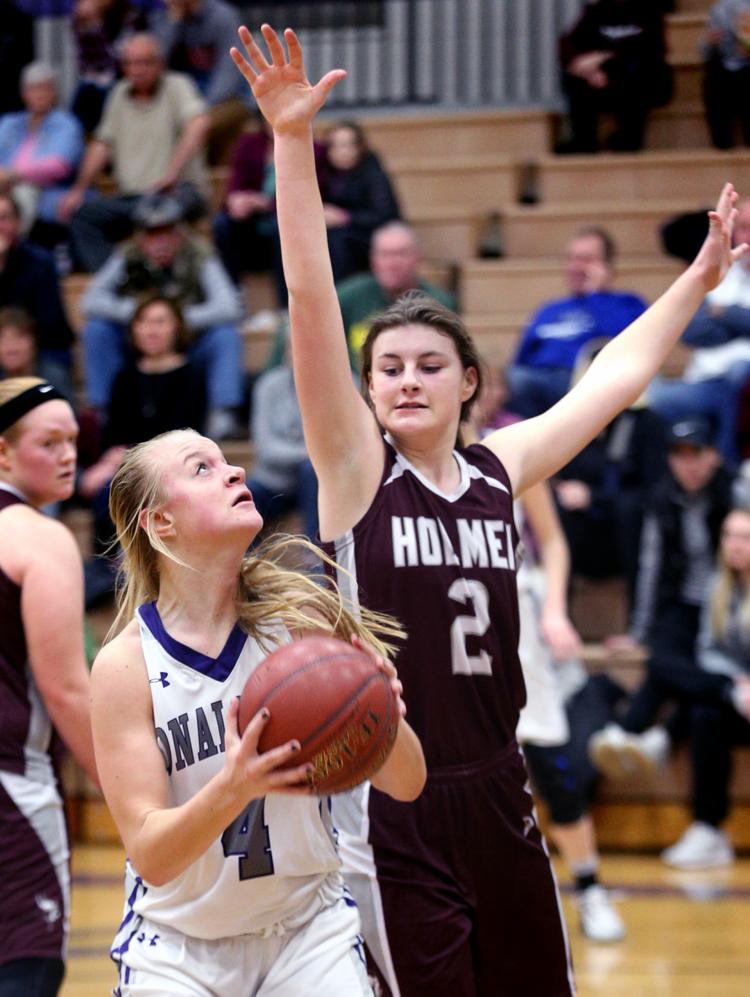 After scoring a season-high 18 points in a win over the Red Raiders on Jan. 16 — Onalaska's last game before Friday night's — Dobbins went 5-for-7 from the 3-point line and scored 21 to help the Hilltoppers roll past the third-place Vikings.
The 6-foot-1 Dobbins missed her first two shots from the perimeter but made the rest in a good all-around performance that included tough interior defense and timely ball movement.
"Jalyn's been playing very well," Onalaska senior Emma Gamoke said. "I've never seen her play with this much grit. She's fighting out there.
"She's catching the ball and looking to score, and she's making a lot of plays for us."
The Hilltoppers (14-2, 7-1), ranked fifth in Division 2 by The Associated Press, made plays all over the floor to win their sixth game in a row and shut down a Holmen team that was averaging nearly 60 points per game. The Vikings fell to 10-7 overall and 6-3 in the conference.
Dobbins was instrumental in helping Onalaska pull away from the Vikings in the second half. The Hilltoppers pulled away from a 12-point halftime lead with a 17-2 run, and she hit one 3-pointer, turned an offensive rebound into a basket, had a blocked shot and pulled down three rebounds during that stretch.
"We've been able to see the confidence grow in her," Schmeling said of Dobbins, who also pulled down six rebounds. "She played very well against a very good team tonight."
Onalaska made Holmen look subpar with a defense that made it tough to find shots. The Vikings didn't shoot well, but the Hilltoppers did a good job of making them work for the shots they got.
"Emma played amazing defense on Brooklyn (Paulson), and Lexi (Miller) did a great job inside on Kendra (Leis)," Dobbins said. "Everyone else did their jobs, too, so it led to good team defense."
Gamoke chased Paulson all over the court and allowed her just two attempts from the 3-point line. Paulson entered with a scoring average of 19.7 ppg and 47 3-pointers, but she was held to eight points — no 3s — on 2-for-14 shooting.
Both of Paulson's field goals came in the final 2 minutes of the first half, which was ended on a Dobbins 3-pointer over the charging defense of Leis in the right corner.
The 17-2 run to open the second half was capped by two free throws from Miller for a 49-22 lead with 11:16 left. Miller scored 13 points and had eight rebounds.
But the night belonged to Dobbins, who entered the game with a scoring average of 6.2 ppg and will try to play a bigger role against the Blugolds this time around. She was held to one point when Aquinas beat Onalaska 56-42 on Dec. 18.
"I think we are in a good position going into the Aquinas game," Dobbins said. "We played with them in the first half last time. The way we played tonight, I think we can do better this time."