Aquinas High School sophomore Courtney Becker didn't expect Friday night's nonconference girls basketball game against Hayward to be a back and forth matchup between her and Hurricanes senior Madelyn Neff, but it turned into one.
Becker, who has a scholarship offer from Division I North Dakota State, held her own with Neff, who has committed to play at Division I Richmond, and the Blugolds came away with a 63-49 win over the Hurricanes in front of an estimated crowd of 700 at the Reinhart Athletic Complex.
Becker's 16 points matched Neff's output, and teammate Lexi Donarski added another 16 as Aquinas (2-0) posted a big victory over a good Division 3 team.
"She's a great competitor," Dave Donarski said of Becker. "That says a lot about who she is and what we're trying to be as a team."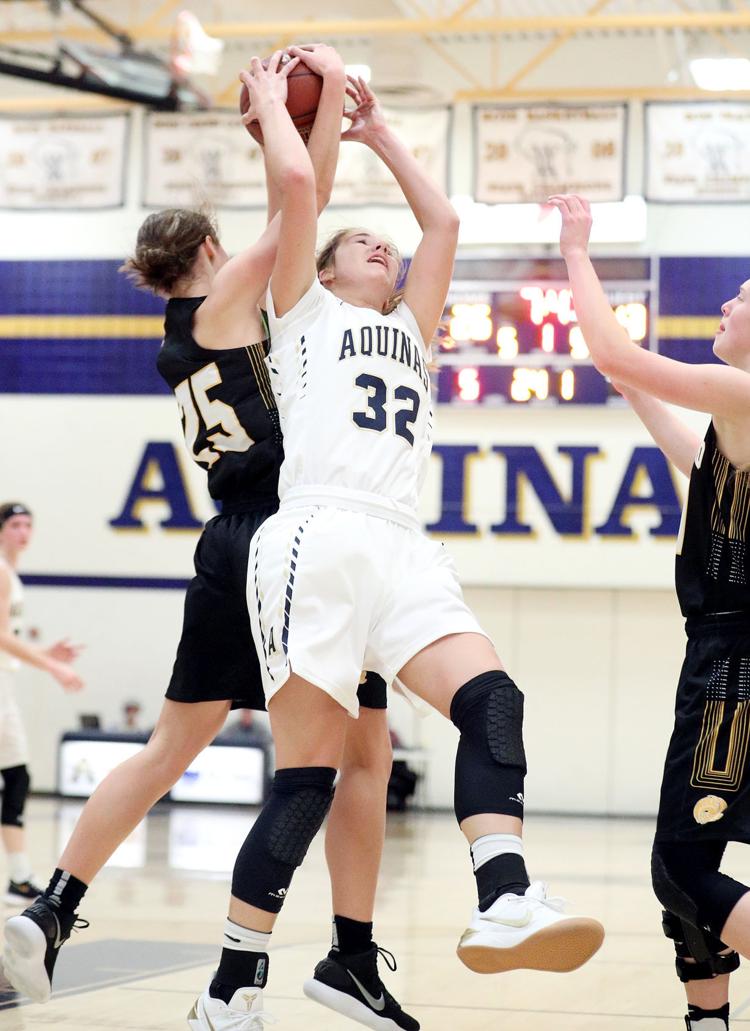 The Blugolds (2-0) started senior Madessa Collins on Neff initially and were able to build a 20-6 lead less than 6 minutes into the game. As time wore on, and the athleticism of Neff, her sister Emily, and 5-9 senior Rachel Halberg put the likes of Collins and Kyah Steiner into foul trouble, Becker had a chance to step up.
"We were just trying to keep her in front. If she got it in the post, we had a double coming from the opposite side," Dave Donarski said of the plan to defend Madelyn Neff. "I felt like Courtney did a nice job. She didn't get a lot of post finishes, but she did have some attacks when she just takes it at you. She's a Division-I (caliber) player, and she's super competitive."
Aquinas led the Hurricanes 32-21 at halftime, then started the second half on an 8-0 run. Hayward (3-2) whittled the Blugolds' lead down to 10 points on multiple occasions, but Aquinas was able to keep the Hurricanes at an arm's length.
"That's what we emphasized after the game was over," Dave Donarski said of being able to maintain a double-digit lead. "They kept taking runs at us, and we just didn't break. I feel like our kids know how to win and have a competitive edge about them that makes you proud to be a coach."
Hayward, which finished 19-5 a season ago, also got 15 points from 5-8 senior Trinity Myer and 11 from Emily Neff.
"They're a very good team," Becker said of the Hurricanes. "They can run, they're in good shape, and they're tall and aggressive. We needed that to pick up our game, so we know what we need to work on in the future to get to our goal."
Dave Donarski said that scheduling a nonconference team like Hayward — a program on the Aquinas schedule the last several seasons — helps ready Aquinas for the rest of its schedule.
"We're thinking about preparing ourselves for a good conference season, so that's a great test," Dave Donarski said. "Long-term goals, we're going to play teams of that caliber later on this season. We try to load our schedule because we need to challenge ourselves so that no stage is too big moving forward."