WEST SALEM — Much like it did in during a 24-1 campaign a season ago, the Melrose-Mindoro High School girls basketball team has found itself in contests that frankly aren't all that competitive.
The Mustangs (11-0) have already won eight games by at least 30 points this season, and while they have had a few challenges along the way — a season-opening 63-62 win at G-E-T and a 67-54 road win at returning WIAA Division 5 state qualifier Bangor — the lead on the scoreboard has generally been a comfortable one.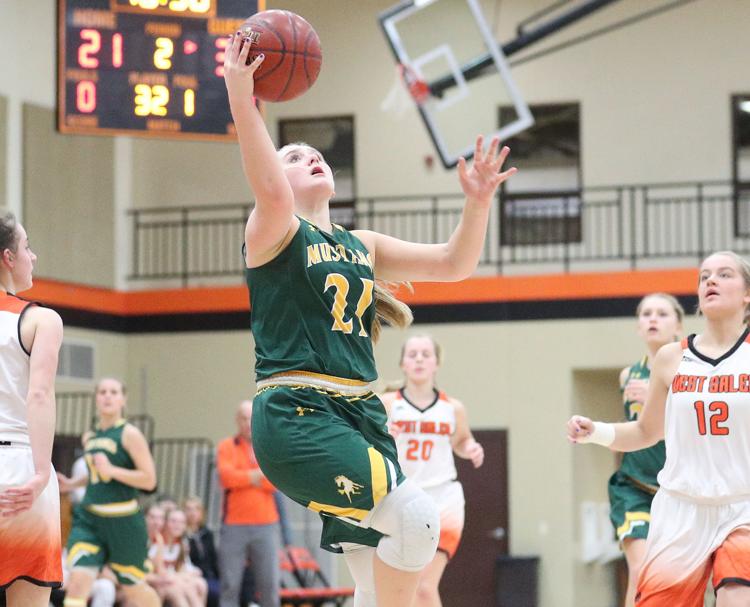 That leaves Mustangs coach Joey Arneson with an opportunity to hone in and refine certain elements of his team's performance. Whether it's working on boxing out and rebounding, communication on defense, or set plays that have led to confusion, Melrose-Mindoro has plenty of chances to focus simply on getting better.
"What we try to do is set goals, each practice and each game," Arneson said. "We're going to try to hold them to 30 points, or we're going to try to score 75. That's what we try to do. We're trying to do the little things right without creating the bad habits."
In the Mustangs' 69-37 win over West Salem last week, Arneson said that the goal was to hold the Panthers under 30 points, so there was a certain level of disappointment despite winning by 32.
"We didn't meet that goal," Arneson said. "That just means we have things to work on, be better at, and keep building from."
The bar is high and for good reason. Melrose-Mindoro has the talent to back it up
Junior Katie Christopherson leads the team in scoring at 16.5 points per game, and just hit the 1,000-point mark for her career last week. She's one of five Mustangs who average double figures in scoring, including sophomore Emily Herzberg (10.8 ppg), who has already committed to play at South Dakota State.
"There's always room for improvement, and we can all become better shooters," Herzberg said of where the team is. "On defense, it's just about keep getting better."
Sometimes, the best competition that Melrose-Mindoro might get in a given week is during scrimmage at practice.
"It's fun. Our practices are fun," Herzberg said. "It's fun to be around our team, so it's not like it's a chore to be at practice. It's just fun to be together. As we keep being successful, we've just got to keep working."
The early tests have been passed, and another comes Jan. 29 at Holmen. Last season's biggest test came in a Division 4 sectional semifinal against eventual state runner-up Aquinas. The Blugolds won that game 64-43.
With the teams now split into different sectionals, that matchup wouldn't happen again until the state tournament if both teams qualify.
"We're happy with where we're at," Arneson said. "We've been emphasizing lately on defense, and I felt like the last three games, our defense has really improved. Our man defense is communicating better, and we're doing a lot of little things that we hadn't been doing before."