HOLMEN — Noah Skifton did it again.
The Onalaska High School senior led the Hilltoppers with a game-high 26 points in a 69-64 win over the Holmen Vikings Friday night in an MVC rivalry game.
Skifton's biggest play came on a conventional three-point play with six minutes, 51 seconds left to play.
Skifton grabbed the ball at the Holmen free-throw line, then scurried to the basket where he went up for a layup. Holmen's Jacob Clements fouled the newest member of the Minnesota-Duluth NCAA Division II football program, and he capitalized by making the free throw.
"That really sparked some energy for us, and I was able to get back to the free-throw line where I had a lot of success tonight," Skifton said.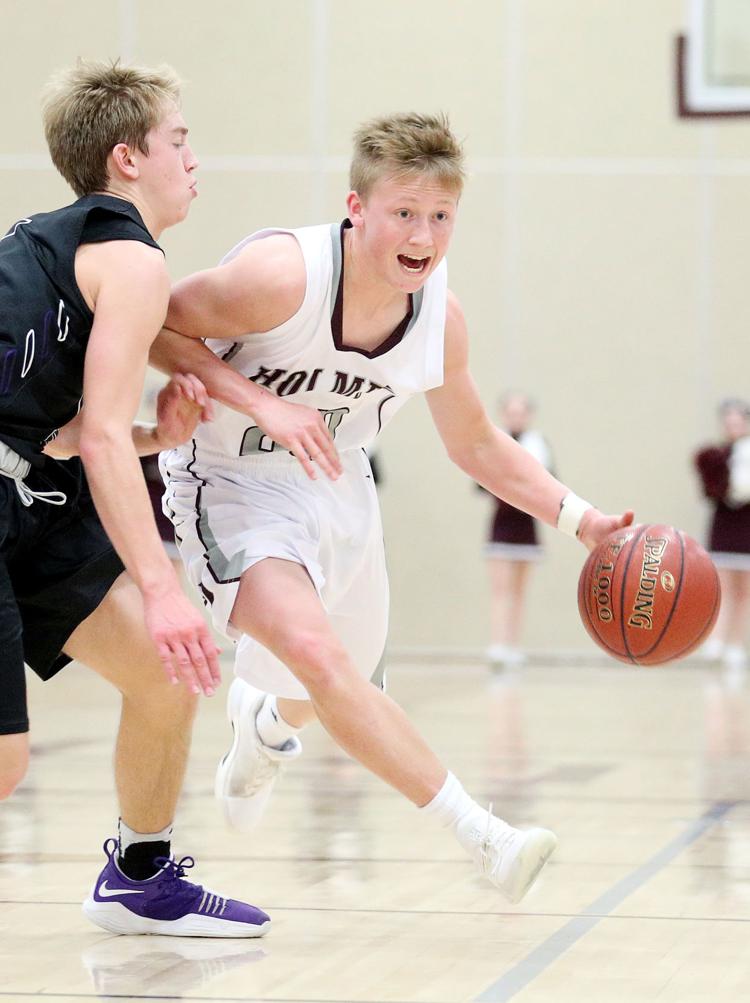 Holmen (1-3, 1-1 MVC) had the lead until Skifton put the Hilltoppers (3-1, 1-1) ahead 47-45 with the three-point play.
The next field goal Skifton made wasn't one that Hilltoppers coach Craig Kowal drew up on the whiteboard. As Onalaska was driving down the floor, Kowal raised both arms, signaling for his offense to slow it down a notch.
Skifton must not have seen the sideline signal, because he went full speed ahead to the paint, but stopped just three feet behind the free-throw line to nail a jumper.
Skifton was 5-for-11 from the floor, but made 16 of 19 free throws to help Onalaska stay ahead.
The Vikings also got into early foul trouble as the Hilltoppers' 6-foot-4 sophomore Tyrell Stuttley took the ball hard to the basket, drew fouls, and made 7 of 8 free throws. He finished with 17 points.
Stuttley scored the first four points, and he ended the first half with 11 points.
"Tyrell has been playing great," Skifton said. "We try to get it down to him and we expect him to get two points, and that's what he did in the first half."
The other Hilltoppers player to reach double-digit scoring was 6-1 freshman Sam Kick.
The Hilltoppers led for the remainder of the game, and they grew that lead to seven points twice.
Onalaska jumped out to a 23-13 lead, but the Vikings erased that with a 10-0 run as Craig Newsome Jr. scored all 10 points.
"We're struggling to get consecutive stops," Kowal said. "That's not allowing us to extend leads like we like. When you have a fairly inexperienced basketball team, you have to play through that stuff.
"To their credit, Holmen made plays. We got a little stagnant on offense and made sloppy passes which is uncharacteristic of us."
Newsome hit two 3-pointers, a transition layup and a layup created by a left-hand spin. The Hilltoppers were ahead 27-26 at halftime.
"This is Newsome's third year on varsity, and he noticed that we were slipping," Vikings coach Steve Blank said. "He was fantastic, and he really did some nice things."
Newsome, a 6-1 junior, made 8 of 16 shots for 20 points. He also had four steals and one assist.
Holmen wanted to come out with high intensity and Blank thought his team did just that.
"I thought it was a really intense game," Blank said. "I thought our kids really battled. It was a fun game to watch and be a part of. Our defensive intensity was what really kept us in the game."
Holmen had two other scorers in double figures as guard Kevin Koelbl posted 13 while junior Sawyer Phillips finished with 12.
The Vikings shot 46 percent from the floor, and made 7 of 21 attempts from 3-point territory. However, the Vikings were just 7-for-16 from the free-throw line. The Hilltoppers were 29 of 39.
"That hurt, but you live to play another day," Blank said. "This group is young, and they'll improve. I thought Kevin Koelbl played really well in the last nine or 10 minutes. We need him to be making plays for us."