On Saturday, the Aquinas High School girls cross country seniors will reap the benefits of a goal set three seasons ago.
Their goal in 2014 was to qualify for the WIAA state cross country meet all four seasons, which is something the Blugolds seniors will accomplish by running in the Division 3 field in Wisconsin Rapids, Wis.
The quartet of Caroline Gundersen, Ryanne Schneider, Nora Reuteman and Katie Hilby are among the seven Aquinas runners who set a vision for the future.
Not only did they set that vision for cross country, but for soccer as well. All four play soccer and made it a goal to reach state all four seasons.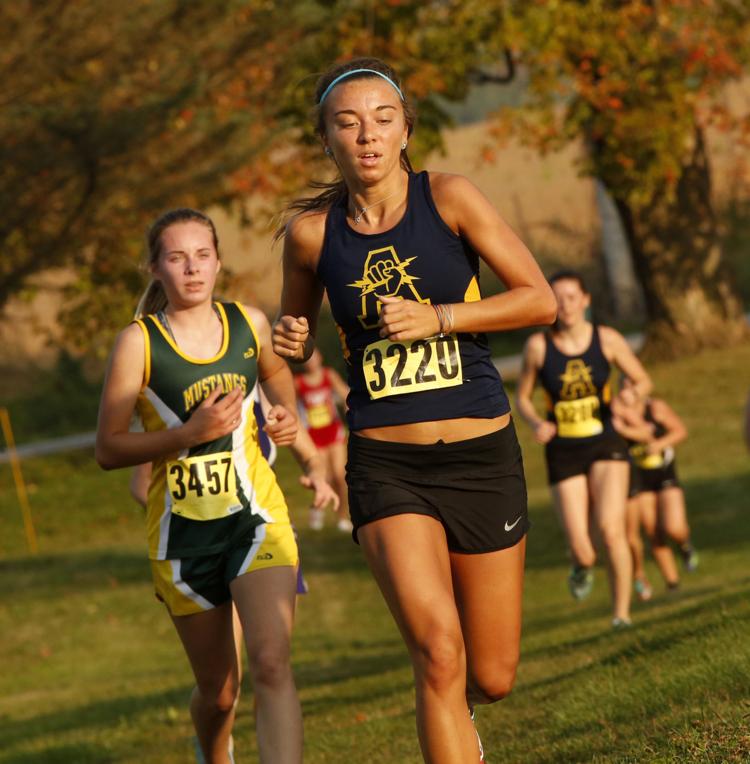 So how are they doing? Marching right toward the top, as the Blugolds are 4-for-4 in cross country and 3-for-3 in soccer state qualifying.
For cross country, Aquinas finished fourth in 2014, fifth in 2015, and ended up 13th in last year's state meet.
The main objective for Saturday? Finish in the top 10.
"We just have to go into the course knowing we can do well," Schneider said. "Be confident and not shy away."
Angela Ellis, the No. 7 runner in the Blugolds' lineup, was the only other runner to crack the top 100 last season at state (96th, 22:22).
Aquinas won last week's sectional meet in Durand, Wis., with 79 team points. But, the waiting game to see if Aquinas had won the sectional took a toll on the seniors until Melrose-Mindoro was announced in third place, and Cashton placed second.
"It was kind of a relief that all our effort finally paid off and we can run at state," Gundersen said. "I think we're used to having the pressure on us, and we still have to perform our best."
Gundersen is in the middle pack, which brings extra responsibility. For a team to have elite success at any meet, the Nos. 3, 4 and 5 runners need to finish high to keep their score low. The lower the team score, the better. A perfect score in cross country is 15.
Gundersen finished ninth at the state meet two seasons ago.
"I think the 3-4-5 spots are the most stressful," Gundersen said. "There's a lot of stress knowing we have to do this for our team. I think that if we all have our good race, we should be OK."
Freshman Karlie Meyer led the Blugolds with a fifth-place finish at 21 minutes, 31 seconds.
The seniors felt a little bit of pressure last week in reaching a fourth straight state meet. The three leading seniors — Schneider, Hilby and Gundersen — finished in the top 20 at sectionals to help lock up that goal. Aquinas might have felt some pressure, but its competitors knew how strong the Blugolds were as entering last week's sectional meet Aquinas was ranked No. 8 in the Coaches Association Week 9 state poll.
Schneider led the seniors in seventh overall at 21:40.
"There was less pressure on making it to state, but more on ourselves to prove that we could," Schneider said. "It was very nerve-wracking. It's a little more relaxing knowing we did make our goals."
Schneider bounced back from suffering a concussion last season, but she was able to run at state and finished 57th. Her time of 21:17 led the Blugolds.
Schneider's best finish in Wisconsin Rapids came her freshman year by ending up in fourth the same year then-senior Jennifer Lichter was runner-up.
Aquinas had 147 points three years ago.
"She's a good leader," Aquinas coach Geoff Wilhelmy said of Schneider. "She's weathered a lot of adversity. I think if she chooses to run in college, her best years are ahead of her."
CASHTON HOPES TO KEEP UP: Albeit young, Cashton has proven that experience can certainly trump age.
Cashton will send its scoring team of five freshmen and two sophomores to compete in the Division 3 state meet. Of the 10 runners on the Eagles' overall roster, six are freshmen, and four are sophomores.
In last year's state meet, then-freshman Lydia Korn ran by herself, but coach Jeremy Mosley said something out of his character.
Before that meet started, Mosley told Korn to have fun at that meet, but also told the Eagles freshman that she wouldn't run alone in 2017.
It was said more in a re-assuring tone than a promise, but either way, Mosley was right.
"I don't verbalize other expectations (like that)," Mosley said. "That put her at ease and it was Lydia who brought that up after the awards ceremony at (this year's) sectionals. Now, here we are."
The Eagles finished second to Aquinas at last weekend's sectional, but will compete as a team for just the third time in program history. The Cashton girls cross country program will complete its 25th year after the state event.
At the sectional meet, sophomore Gracey Mlsna led the Eagles with a ninth-place individual finish in 21 minutes, 53 seconds.
"I like that all 10 of us can push each other and cheer each other on," Mlsna said.
Emma Schlesner was second among Cashton runners, as she finished right behind Mlsna.
Izzi Mason was 13th overall, and Korn took 27th.
"When it comes to doing the work and when it comes down to racing, they're focused like they've been running their whole lives," Mosley said. "When they're together and it's the right time, they're loose and funny. As young as they are, they focus on what they're doing and what they're accomplishing."
YOUNG HILLTOPPERS: All seven runners listed for Onalaska's state scoring roster are freshmen. The Malecek triplets — Kora, Lydia and Amalia — lead the young pack. The other four runners are Carolin Kearns, Aubrey Clements, Ellie Smith and Rachel Hosch.
"Every team is unique in its own right," Onalaska coach Darin Shepardson said. "Although they're a young team, they do a great job of listening to the coaches and not taking things too seriously.
The Hilltoppers will start in Lane No. 9 in the Division 1 girls meet.
PDC, WESTBY REPRESENT D-2: Prairie du Chien is in the Division 2 meet and will compete at state for the first time since 1978. PdC won its first girls sectional title since 1976.
Meanwhile, Westby will line up right next to PdC at the starting grid. Westby is led by senior Abby Wedwick.
IN IOWA, KEE COMPETES: Wisconsin isn't the only Midwest state to host a state cross country meet this weekend. In Iowa, the Lansing-New Albin girls cross country team competes at Saturday's Iowa Class 1A state meet, which will be run at Fort Dodge, Iowa.