GREEN BAY — Kyah Steiner did a lot during her four seasons with the Aquinas High School girls basketball team.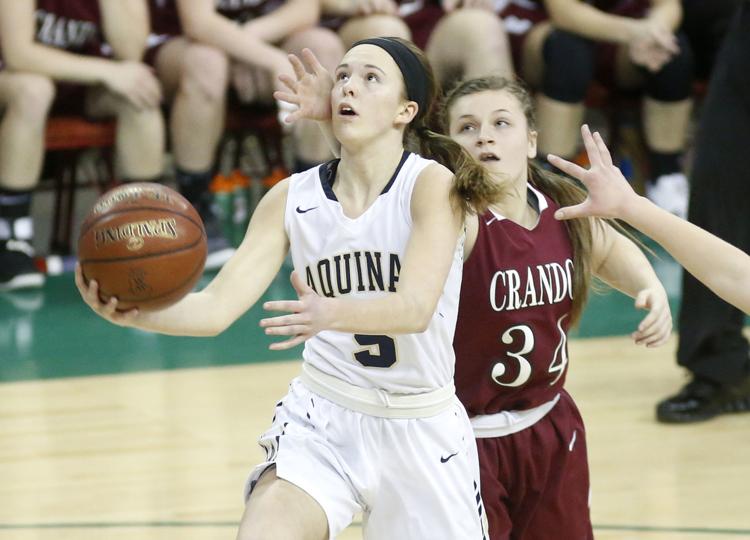 She spent time helping run the offense before Lexi Donarski arrived last year and moved to the post before Courtney Becker showed up to play there this year.
Steiner was left to play her natural game as a senior: contorting her body to get the basket on drives that don't seem possible, hitting the occasional jump shot, rebounding and defending like any single basket made by the opponent will lead to the Blugolds' demise.
All of that was on display as Aquinas beat Crandon 75-38 and Melrose-Mindoro 68-52 last weekend to win the WIAA Division 4 state championship at the Resch Center in Green Bay.
Steiner, who will play basketball at UW-La Crosse next season, had 25 points, 17 rebounds, seven steals and three assists during those games to help the Blugolds close out the season with a 28-0 record and 55-1 performance over the last two seasons.
She was a part of a system of balance, but she found a way to stand out during the biggest weekend of her career by making 9 of 18 shots and 7 of 10 free throws.
"I can say it feels a lot better this year," Steiner said of the way this season ended compared to last season's runner-up performance. "It was a heartbreaker last year, and it really hurt, but we all learned from that and didn't want that to happen again."
The Blugolds lost a 44-43 championship game to Howards Grove last season, and it is the most significant loss as the senior class compiled a 95-11 record since joining the team as freshmen.
Steiner helped set the tone during the first half of the championship win over the second-ranked Mustangs (27-1), who have lost just two games over the last two seasons — both to Aquinas.
She gave them their first lead at 6-5 by converting a pass from sophomore Lexi Donarski, and she added another basket, a couple of steals and a couple of rebounds as the Blugolds started to pull away.
The Bangor High School girls basketball team needed something big when its biggest player — Emma Wittmershaus — had to walk off the Resch Cent…
Steiner and classmate Madessa Collins were the Aquinas wrecking crew in the lane, and Becker added to that in the second half after two fouls limited her to 5 minutes in the first.
Doing that to a team that has the size and length of Melrose-Mindoro was impressive. The Mustangs used that to their full advantage in blasting Manitowoc Lutheran (21-5) by a 64-30 in the semifinals two night before.
The Blugolds were still able to get out and run and get transition points, but Steiner and Collins made the lane their home.
"When we got into some of the halfcourt situations, credit to these kids, they executed what we wanted to do and got the shots we wanted to get," Aquinas coach Dave Donarski said. "They got to the exact spots we wanted them to be and got the big baskets."
---
La Crosse Aquinas celebration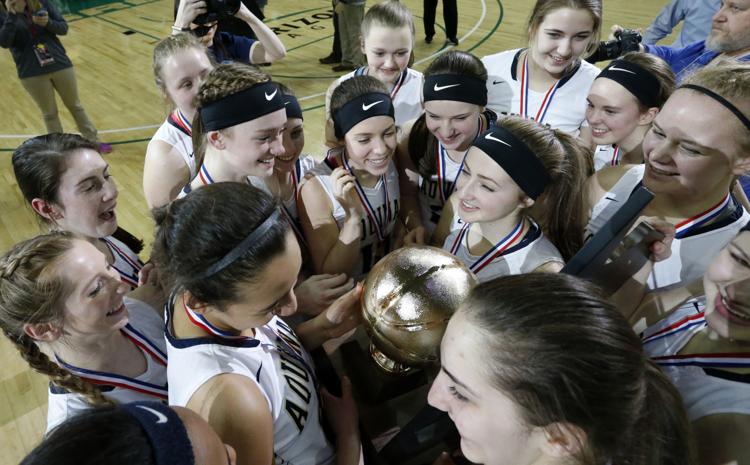 La Crosse Aquinas celebration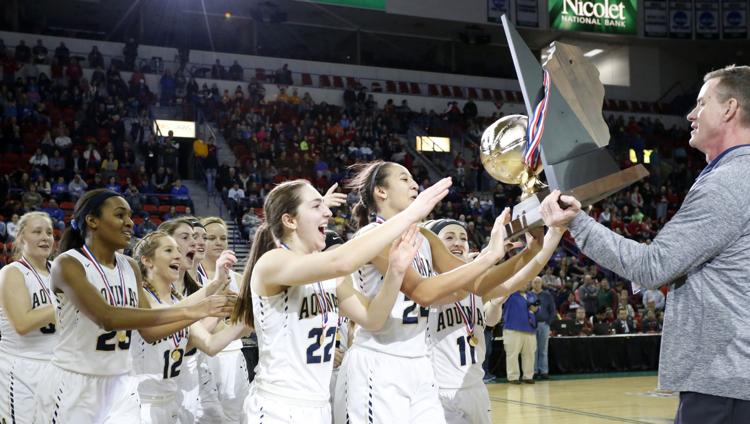 La Crosse Aquinas vs. Crandon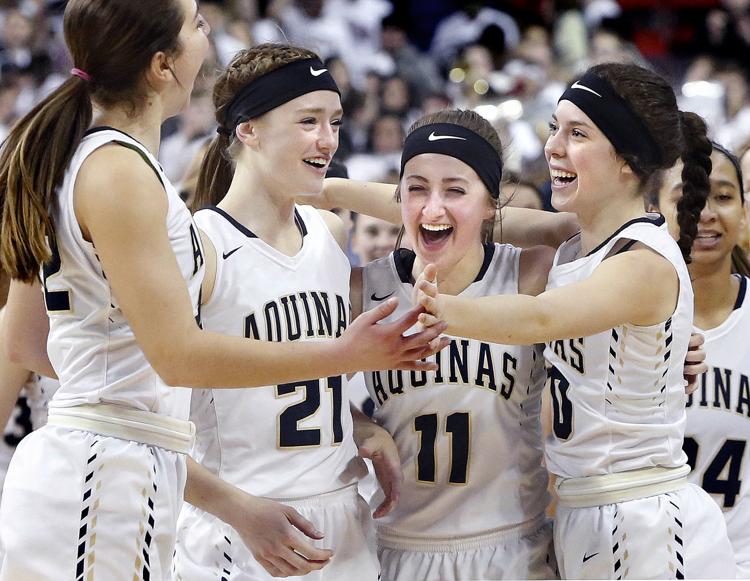 La Crosse Aquinas vs. Cambridge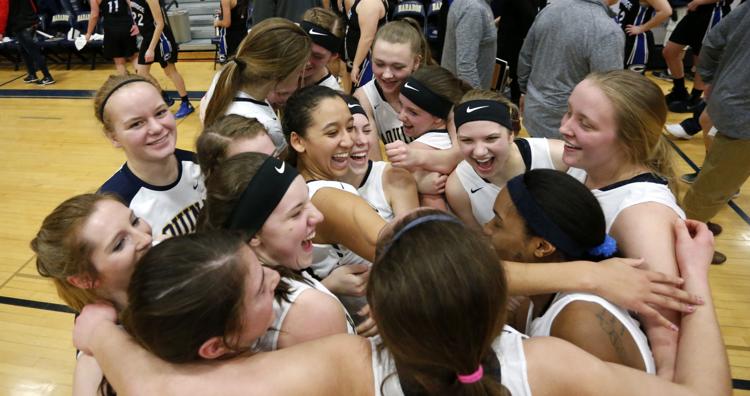 La Crosse Aquinas vs. Onalaska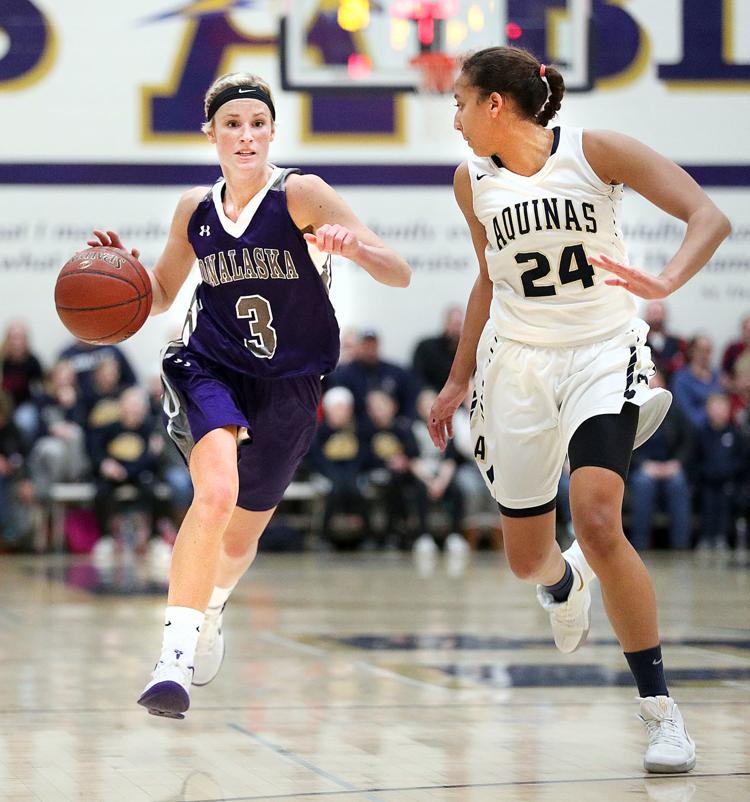 La Crosse Aquinas vs. Holmen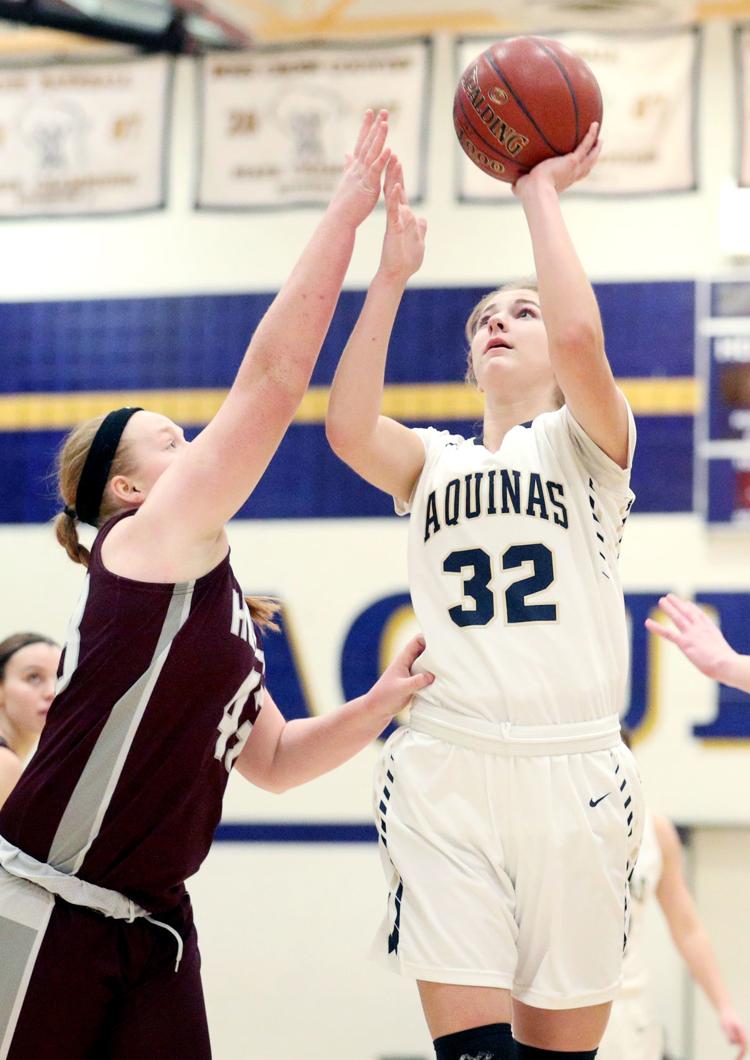 La Crosse Aquinas vs. Holmen