Freeing themselves from something bad that just happened isn't easy for many golfers.
Bad shots can lead to bad rounds, and that process begins somewhere inside the brain before spreading to the rest of the body.
Swings get choppy, and mechanics that have led to success before start to fail.
But bad shots can also be overcome, and that's been a lesson that has helped the Holmen High School boys golf team turn back into MVC champions.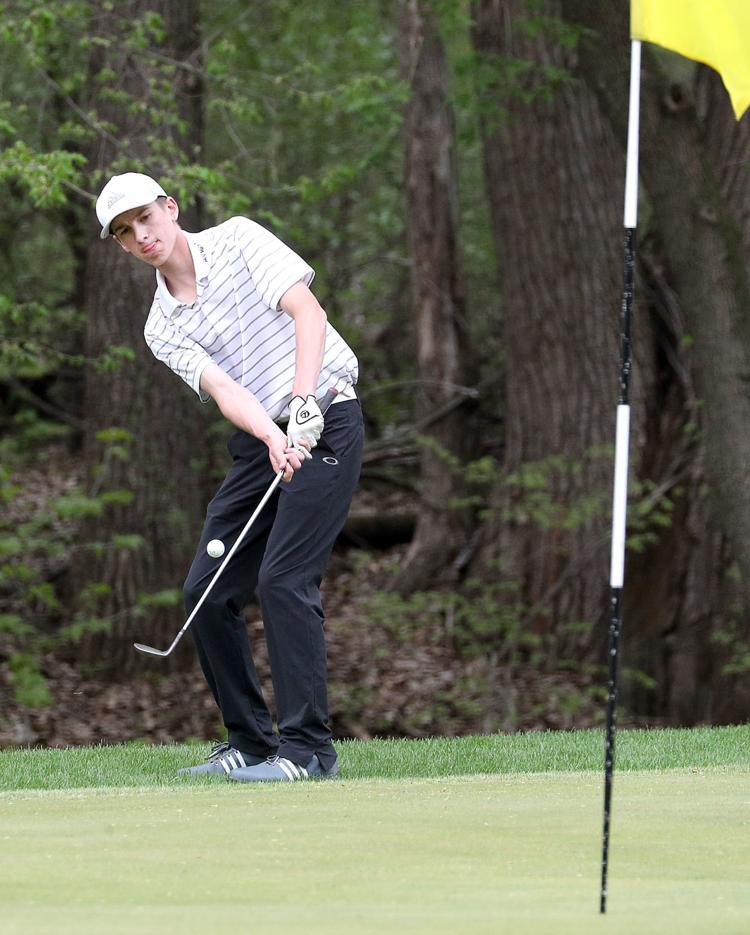 "Our leadership has been very good, and I credit that for a lot of what we've done," Holmen coach Paul Laxton said. "But having that short memory and focus on the new goal or the new shot has also been important for this team."
Junior Cody Dirks said the mental approach and ability to manage a round better than he ever has before is a big reason why he has taken his game to a new level. He said he also sees that in other teammates as the Vikings prepare to host an invitational at Drugan's Castle Mound Country Club on Thursday and compete in the WIAA Division 1 Onalaska Regional six days later.
Changing a mental approach in golf isn't an easy thing to do alone, and Laxton has made it a big part of his job as the team's coach.
"One way our coach has helped us with that," Dirks said with a laugh, "is to only talk about things not related to golf while we play.
"He'll ask us what song we are listening to (in their heads) or what we are going to eat for dinner or some other random thing. It has helped me, and I think it's been the same for everyone else, too."
Laxton, coaching the team for a 13th season, saves his golf instruction for practice and discussions after meets, and that has loosened up his players and let the game come to them. That has resulted in a dominant performance during the MVC season that included a victory in every conference meet and the team's first MVC title since 2014.
Sophomore Carson Brock said Laxton's approach is just what the team needs.
"He is a big reason why we play the way we play," said Brock, who was second in the MVC's season standings. "He jokes when the time is right to joke, and he talks about golf when the time is right for golf.
"He makes sure everyone is chilled out enough to play their best."
With the first team goal accomplished, Holmen will set its focus on being one of the four teams that qualify for the Verona Sectional on May 29.
The Vikings came up short with a disappointing round during last season's regional meet and are keying in on how to stop that from happening with many of the same golfers participating.
"That meet isn't something I like to remember," said Dirks, who shot an 85 at River Run Golf Course in Sparta that day and didn't qualify for the sectional meet. "We were really young, which isn't an excuse, but we also didn't play very well as a team."
The Vikings missed the sectional by two shots and have every reason to be confident as they return to the postseason. Dirks is the only junior in Holmen's top five, but he hasn't felt the pressure of having to lead the team alone.
"I think we have four of five leaders," Dirks said, adding Brock, sophomore Zach Schams, sophomore Nathan Damaschke and freshman Sam Evenson into the mix. "That's something you see when someone doesn't play well. It isn't just one person or a coach trying to pick them up.
"Everyone tries to pick up someone who might be struggling. The camaraderie, the friendships and the trust we have in each other are important."
Holmen completed the conference season sweep on Monday with a 322 at Viroqua Hills. Its best conference score was a 307 at Coulee Golf Bowl on May 4. Carson Brock was the medalist that day with an even-par 72.
Those kinds of rounds are where the payoff from so much golfing together comes into play.
"They play golf with each other all the time," Laxton said. "Whether is it the TRGA or summer PGA events, they are together.
"The most important part of that is that isn't just the top few. They make sure everyone on the team is included with whatever they are doing to get better.
"They help each other get better. They help each other learn what they need to do to have success in a team sport that has such an individual aspect to it."