A tough schedule is something Oak Moser welcomes.
The first-year coach of the Black River Falls co-op girls hockey team doesn't want easy games filling his schedule. He wants his Tigers (4-3-1) to use every opportunity to get better.
"We're doing well," Moser said. "We'd like to be 8-0. Two of our three losses were to ranked teams. And the other was to last year's (WIAA) sectional champion (Hayward)."
The Tigers have faced the top two teams in the state — a 2-0 loss to No. 1 Hudson and a 5-2 loss to No. 2 Eau Claire/Altoona — and will face seven more opponents that have been ranked among the top 10. A second chance against Eau Claire/Altoona is also coming in February.
"We don't play in a conference, so we can do a lot of things geared toward development," said Moser, who previously coached as an assistant at Tomah and the La Crosse Freeze. "We go out with the intent to be successful, but we see the season as more of a developmental experience. I want to play the tough teams. That will lead to us playing our best hockey in February."
Another experience that has developed some Tigers has been summer hockey. Khloe Spors, who leads the team with nine goals and one assist, played with Team Wisconsin U19.
"She has speed and quickness," Moser said. "She drives to the net. She is a finisher. If she gets the opportunity, she will score goals. She has a great passion for the game."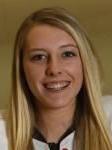 Baileigh Johnson, Kaytlin Johnson, Ellie Dolesy and Reghan Yourell played for the WAHA Selects program. Kaytlin Johnson is second on the team in goals (four) and points (eight) while Baileigh Johnson has two goals and four assists. Yourell, a sophomore, has three goals and three assists.
"Baileigh and Kaytlin, they are our captains, they have the selects experience, they are constant players," Moser said. "You see Reghan's point production as proof. She plays with Khloe a lot, and they help make each other better. She's a strong player. She's super reliable on the defensive end. They all bring a different piece to the puzzle."
Another important piece is Josie Mathison, the Tigers' lone goaltender. Mathison, a sophomore, is ranked seventh in the state in save percentage (.944), but compared to the top-10 goaltenders, she has logged the second-most minutes (416) and has faced the most shots (224).
"She has stepped up in her role," Moser said. "She also has three shutouts in eight games. We want to put together three solid periods, but if we slip a little, she is a great backstop."