BLACK RIVER FALLS — If you blinked, you might have missed something Friday night at the high school boys basketball game between Black River Falls and Mauston.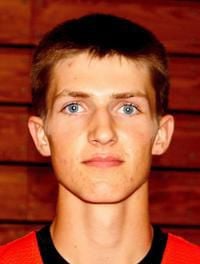 The two teams combined to score nearly 200 points with the Tigers defending their home court 101-98 thanks to 30 points from Ethan Anderson and 24 points from Elliot Bird.
Despite picking up his fourth foul with more than 10 minutes of the second half left, Anderson was still efficient. He scored 19 of his 30 in the second half while going 12-for-12 from the free-throw line. It marked the third time in nine games that Anderson hit the 30-point mark.
Bird was just as good, finishing with a season-best 24 points, powered by five 3-pointers. The Tigers (5-4) finished with four in double-figures, made eight 3-pointers and held a 49-41 lead at the break.
But Mauston stayed in the game thanks to a lights-out effort from the 3-point line and from Joe Bauer.
The Golden Eagles made an eye-popping 14 3-pointers, Bauer made five of them in route to a game-high 36 points. Cade Hall also chipped in 20 points for Mauston. But the difference came down to free throws. Mauston was just 11-for-21 at the line, while the Tigers were able to put it away down the stretch with a 27-for-34 effort.
The Tigers have now won two in a row, and will look to make it three when they play at Luther on Friday, Jan. 5.
Prairie du Chien 66, Crestwood 60 OT
CRESTWOOD, Iowa — Prairie du Chien outscored Crestwood 12-6 in the overtime period to a carry a 4-2 record heading into the holiday break.
Sophomore Mason Kramer scored 19 points to lead the Blackhawks (4-2), but he wasn't the only one to score in double figures.
Gavin Gillizer scored 16 points, Corey Check chipped in 13 and Hunter Davis contributed with 12.
The game was also tied at halftime at 26-26.
Clayton Ollendieck led Crestwood (3-4) with 22 points.
Onalaska Luther 52, Sparta 50
SPARTA — Cynda Protsman hit the winning layup as time expired to give the Knights their second straight win after dropping their first five games to start the season.
Protsman finished with eight points, while Kaitlyn Kennedy scored a game-high 18 points for the Knights (2-5).
Freshman Callie Ziebell recorded a team-high 15 points to lead Sparta (2-7).
Menomonie 60, Logan 36 Jenna Davis had 10 points to lead the Rangers (1-9), who fell behind by 11 points after one half while trying to win their second game in a row.
The Mustangs extended the lead by outscoring Logan by 13 in the second half. Claire Borsheim added nine points for the Rangers.
Aquinas co-op 3, DeForest 2
ONALASKA — The Aquinas co-op (8-1) won its fifth consecutive game thanks to a late third-period goal from Connor Duncan that was set up by Charlie LaPlount and Braeden Monroe at the OmniCenter.
DeForest (1-6) scored quickly in the first period, but the Avalanche responded with two power-play goals in the second — one each from LaPlount and Cody Dirks — for a 2-1 lead.
Ben King made 26 saves for Aquinas, while Josephy Brethouwer made 31 for DeForest.
Sun Prairie 3, Onalaska 2
SUN PRAIRIE, Wis. — Mason Manglitz's third-period goal brought the Hilltoppers (7-3) within oneof the Cardinals (9-1), but Onalaska couldn't tie the game.
CJ Lass scored his ninth goal of the season five minutes into the game to give Onalaska a 1-0 lead, but two goals three minutes apart from Benett Halbleib put the Cardinals up 2-1. Travis Kernen's goal on a power play in the second extended the lead.
Hayes Weiner made 24 saves for Onalaska, and Owen Leatherberry made 27 for Sun Prairie.
CALEDONIA — Holmen had six pins in its victory, including Logan West's 57-second pin at 126 pounds over Eric Mauss.
Another big win for Holmen was Zach Gordon's 4-3 decision over David Seymour at 152.
For Caledonia, Kyle Cavanaugh earned a 14-3 major decision win over Wyatt McCutchen at 145.