HOLMEN 6, WEST SALEM 0
High school soccer: Holmen boys hand West Salem first loss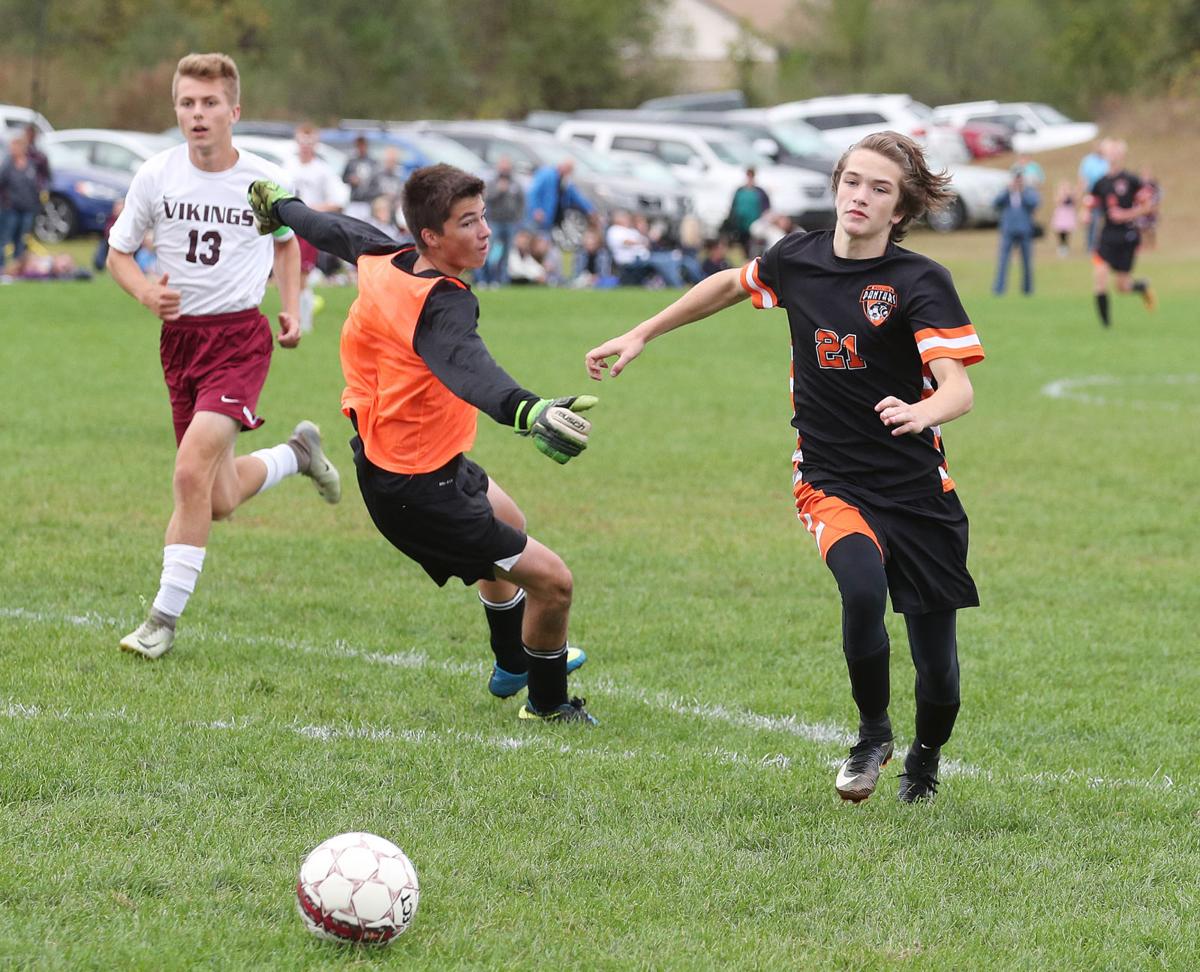 HOLMEN — Whatever frustration that the Holmen High School boys soccer team had built up over the last 10 days, it took it out on conference-leading West Salem on Tuesday.
Following a five-game stretch in which the Vikings won once, tied twice, and suffered the first two losses of their season, Holmen rebounded with a resounding 6-0 win over the Panthers at Holmen High School.
The Vikings (10-2-4, 7-0-3) closed the gap between second and first in the MVC, while West Salem (10-2-1, 8-1-1) saw its six-game conference winning streak come to an end.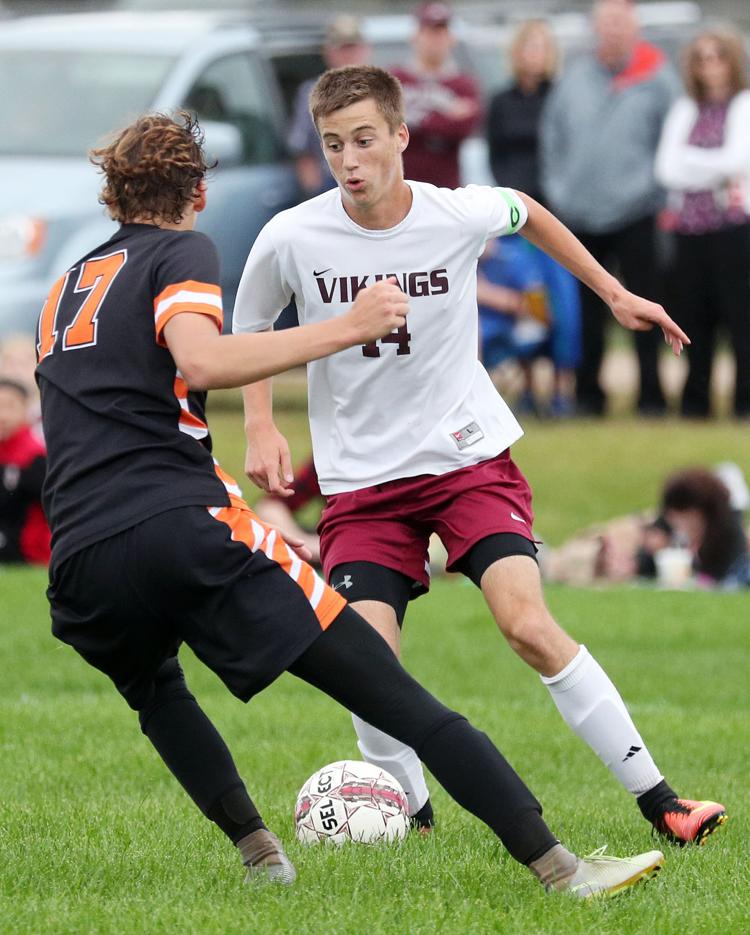 "We knew it was going to be a tough game," said junior midfielder Jacob Clements, who had two goals and an assist for Holmen. "At practice (Monday), we were really focused on getting our team back on defense. That was our goal — to not let them score. That's what we did, and putting in six goals feels really nice too."
The Panthers still cling to the MVC lead with 25 points, while the three points earned by the Vikings on Tuesday night increased their season total to 24 points. Each team has four conference games remaining.
"We had a long weekend, with a loss and a tie against sectional teams," said Holmen coach Guy Turner, referencing a 5-3 loss to New Richmond and a 1-1 tie with River Falls. "Our primary goal for our guys was to win conference, and this was a breaking point. Our guys answered that call."
Clements threaded a pass to senior Max Biesterveld, who broke past the last line of Panthers defense to give the Vikings a 1-0 lead in the ninth minute, and then a goal by sophomore Matthew Espelien gave Holmen a 2-0 lead midway through the first half.
A goal just before halftime by Clements gave the Vikings a commanding 3-0.
"We just never showed up tonight. It was a rough night for us," West Salem coach David Halverson said. "It was a combination of poor decisions and poor passing and we ended up way on the short end of the sticks."
The Panthers had an opportunity to cut into the margin early in the second half, but a penalty kick by junior Ian Munger sailed wide left. Halverson said that the physical style of defense that Holmen played limited West Salem's ability to do much of anything.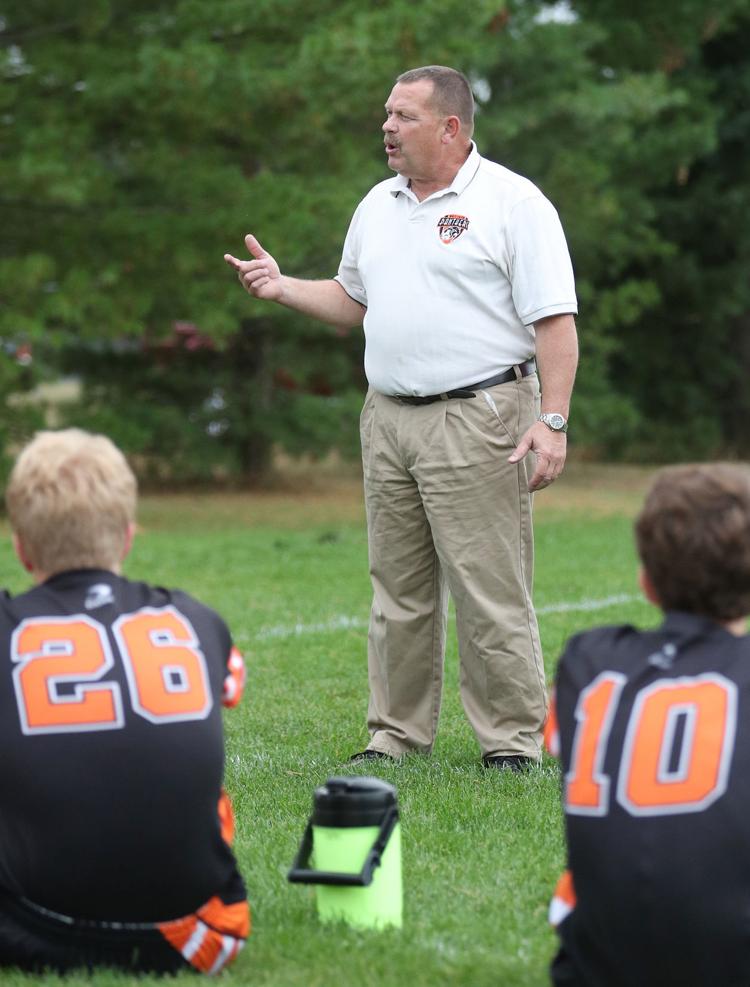 "They really cut off our speed on top," said Halverson. "Defensively, they collapsed well. They play a good, physical game, which is the way that soccer is supposed to be played. They'll play the man and the ball, and that is a big part of the game."
Less than five minutes following the missed penalty kick, Clements found the back of the net from just outside the 18-yard box to extend the Vikings lead to 4-0. Turner credited his team's ability to dictate the pace of play for nearly the entire 90 minutes.
"In doing that, we were able to not only find success right away offensively, but defensively it shut some things down so maybe there was some doubt in West Salem that maybe we could attack and focus on," Turner said of the Vikings' effort. "Our guys were just ready."