ONALASKA — Onalaska Luther High School's Noah Matzke had a night to remember Thursday.
Facing Coulee Conference foe West Salem on his home floor, Matzke did it all — scoring, rebounding, distributing, defending — en route to a triple-double to lead his team's 77-59 boys basketball win.
Matzke scored 10 points, had a game-high 12 rebounds, and tallied 10 assists for the Knights (3-4, 1-2).
His teammates nearly matched his efficiency. Center Bennett Loersch had 22 points on 10-for-16 shooting. Joey McNamara had 20 — including four 3-pointers — and Emery Byus added 16.
Onalaska Luther shot 33-for-64 (51.6 percent) and forced West Salem into 22 turnovers. Hunter Wakefield made a pair of 3-pointers and led the Panthers (1-4, 1-2) with 20 points.
GALESVILLE — The Red Hawks (3-0, 3-0) won their 31st consecutive conference game behind double-figure scoring from four players.
Senior Chris Thompson led the way with 17 points and was backed up by Ben Behan (13), Alex Pearson (12) and Zack Thiesse (10).
G-E-T held a 54-20 lead by halftime and made 11 3-pointers. Behan and Thiesse made 3 3s apiece.
WESTBY — Grant Dayton iced the game by making a free throw with less than 8 seconds left to push the Norsemen lead up to four.
Arcadia's Nolan Martin — who had a game-high 29 points — followed with his seventh 3-pointer at the buzzer for the final margin.
Westby (2-4, 1-1) had three players finish in double figures and was led by Alex Gluch's 13 points in winning its second straight game.
Arcadia (4-1, 1-1) lost for the first time this season.
Coulee Christian 67, Independence 56
WEST SALEM — Three Eagles (4-5) scored in double figures and they made 9 of 10 free throws down the stretch to stay ahead in their fourth win.
Braeden Keeney scored 19 points, Jesse Miller had 15, and Jordan Wilkins added 14 for Coulee Christian.
Greenwood 61, Blair-Taylor 59
BLAIR — Greenwood's Devon Toburen hit two free throws with less than 2 seconds left to give the Indians (2-3) the win. Toburen had a game-high 26 points.
Blair-Taylor (2-3) was led by Matt Waldera, who finished with 21 points, and received 12 from Kyle Kirchner.
Osseo-Fairchild 79, Black River Falls 75 (OT)
BLACK RIVER FALLS — The Tigers blew a 42-17 halftime lead after encountering foul trouble in the second half.
The teams combined for 49 fouls, and Black River Falls had three players — leading scorer Ethan Anderson included — foul out.
Anderson finished with a season-low 20 points for the Tigers (3-4), who have lost three of their last four games.
Central/Logan 4, West Salem/Bangor 3 (OT)
WEST SALEM — The Red Rangers (2-4-1) upset the Panthers (5-2) when senior Cole Losen converted an assist from Will Bryant for the winning goal in overtime.
ONALASKA — The Hilltoppers dominated the puck by outshooting the Blackhawks 57-11, but Viroqua (1-7-1) was able to stay in the game thanks to a terrific effort from senior goalie Carter Bergdahl.
Bergdahl tallied 54 saves, including 20 in both the first and second periods.
But the Onalaska (6-2) onslaught was too much, as Tommy Duren was able to find the back of the net twice. CJ Lass added a goal and an assist.
LA CRESCENT — Two second-period goals kept the Timberwolves (1-6) ahead of the Lancers.
Tomah's Boone Mathison netted a goal with assists from Noah Nick and Jagger Hammer to start the second period. Dylan Alden extended the lead with an assist from Cahil Arity, who put Tomah on the board in the first.
Gavin Christianson recorded 38 saves for La Crescent (3-4).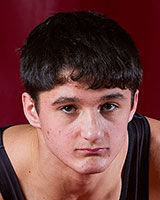 SPARTA — Six straight wins — including five pins — in the middle weights helped the Spartans build an insurmountable lead. Hayden Krein (160 pounds) and Mathias Krein (170) Krein both picked up second-period pins, while Jon Bailey won by technical fall for Sparta.
Aquinas' Robert Uehling and Albert Flottmeyer won by pin, and Jack Horihan won a tight match 4-3 over Garet Pfaff at 220.
Tomah 54, Logan/Central 21
TOMAH — The Timberwolves won the first six matches before Robert Snodgrass (285) and Kalix Roe (106) scored pins.
A Tomah forfeit cut the deficit to 33-18, but the Timberwolves again pulled away. Marques Fritsche (160), Connor Von Haden (182) and Nate Boulton (138) won by pin for Tomah.
Holmen 82, Onalaska/Luther 0
ONALASKA — The Vikings (1-0), ranked third in Division 1 by Wisconsin Wrestling Online, recorded pins in five of the six matches that were held.
Mel.-Min./G-E-T 55, Viroqua 15
MELROSE — The Mustangs finished the night with eight pins for an impressive victory over the Blackhawks.
Bryce Burns (195), Sam Jansen (220), Josh Marciulionis (285), Bailey Fitzl (120), all picked up first period pins. Landon Lockington (182) came out with a pin over Paul Nickelotti with only 16 seconds left in the third period.
Julian Purney scored a 7-5 decision over Viroqua's Casey Leer at 132 in a big individual matchup.