WISCONSIN RAPIDS, Wis. — The Onalaska High School girls golf team used a consistent team performance to win the WIAA Division 1 sectional hosted by Wisconsin Rapids at The Ridges Golf Course on Monday and earn a state tournament berth.
It's the third consecutive state trip for the Hilltoppers and 12th berth for the program. This marks the second time Onalaska qualified for the state tournament in three straight years, having done so previously in 1987-89. The Hilltoppers will try to improve on last season's third-place finish at University Ridge Golf Course in Madison; the state tournament begins Monday, Oct. 9.
The Hilltoppers' score of 359 was good enough to edge out Eau Claire Memorial (365) for the team title. The Old Abes also qualified for state after beating Stevens Point by a stroke for the final spot.
Erin Ericson finished with a 9-over-par 83 to lead Onalaska and finish third overall. Lexi Meade (76) of Eau Claire Memorial earned medalist honors, while Westby/Viroqua's Brooke Knutson (81) took second. Ericson led the way, but the Hilltoppers had strong showings from senior Katie Chafoulias (90), junior Alyssa Achenreiner (93), and freshman Amber Nguyen (93).
Knutson, along with Tomah's Molly Larsen (83) and Sparta's Ginny Yahnke (84) qualified for the state tournament individually.
La Crosse Chileda Classic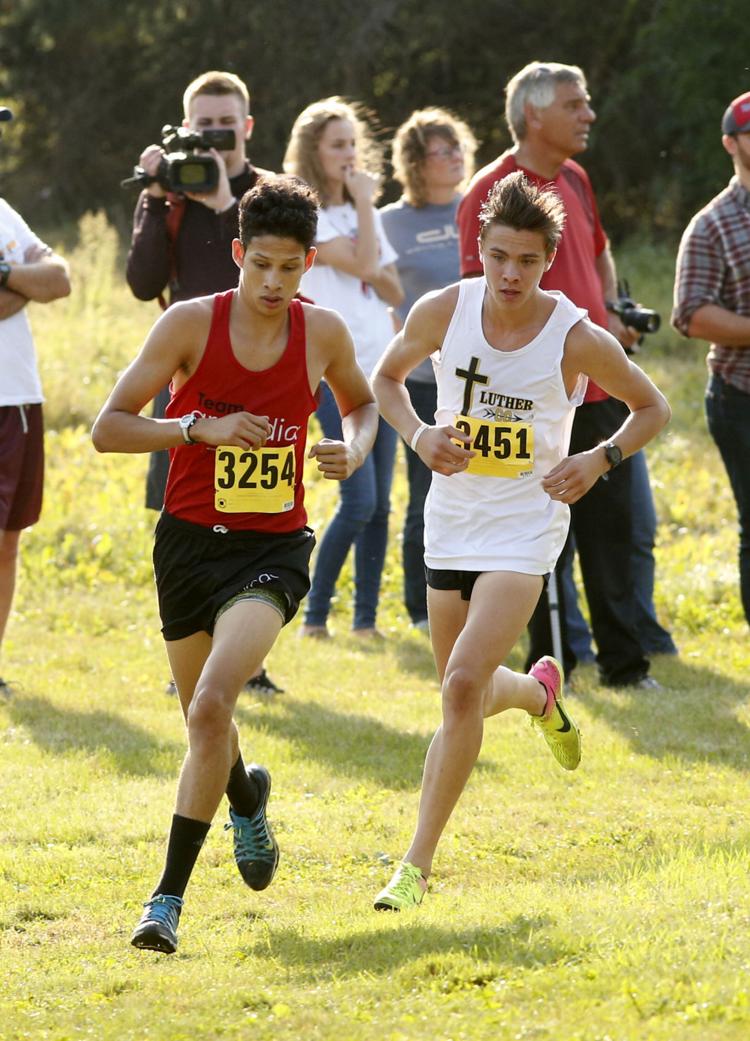 WEST SALEM — The Aquinas boys and girls swept team championships at an Onalaska Luther invitational that had nine boys teams and 11 girls teams.
The Blugolds had three boys place in the top 10, and Ethan Gregg's fourth-place finish and time of 17 minutes, 28.1 seconds led the way. Jeremiah Degroot (seventh, 17:56.9), Rory Campbell (eighth, 17:57.5), Zachary Degroot (13th, 18:47) and Aaron Puent (16th, 19:02.5) also contributed to the Aquinas score of 48.
Onalaska Luther junior David Vannucchi won the boys race with a time of 16:52.3, while Arcadia's Ramon Romero crossed the finish line second in 17:07.6).
The Aquinas girls had a team score of 63 and were led by senior Ryanne Schneider's second-place finish (21:17) and freshman Karlie Meyer's fifth-place finish (21:44.2).
The Blugolds also received scoring runs from Nora Reuteman (16th, 23:05.9), Katie Hilby (18th, 23:16.8) and Shelby Thicke (22nd, 23:44.2).
Melrose-Mindoro senior Sydney Becker was the girls champion with a time of 21:09.5.
Onalaska and Central both scored 22 points to take to Thursday's Division 1 Waunakee Sectional after enduring a long rain delay while playing on courts at Central and Logan.
The Hilltoppers advanced three singles players and three doubles teams, while the Red Raiders did the same. Logan advanced two singles players and one doubles team.
Onalaska's Faith Leithold, Logan's Enya Szymanski and Tomah's Lindsey Conway won to advance at No. 1 singles, and Onalaska's Alli Laux and Central's Elizabeth Burelbach qualified with victories at No. 2 singles.
Leithold, Szymanski and Conway all won their only match in straight sets. Laux and Burelbach each won twice in straight sets.
Onalaska's Lauren Garves and Chloe Leithold, Logan's Kaitlyn Hanson and Nina Kudimova and Central's Madi Lund and Cydney Livingston all won at No. 1 doubles and will play in the sectional. Central's Charlotte Linebarger and Brigette Fleming and Onalaska's Rayna Schiefelbein and Reagan Kalosis are sectional-bound at No. 2 doubles.
Coulee Christian 4, Black River Falls 2
BLACK RIVER FALLS — Jesse Miller recorded a hat trick against Black River Falls (5-6-2) with one first-half and two second-half goals.
Braeden Keeney totalled eight saves for Coulee Christian (10-6-4).