Players from both the Holmen and Aquinas high school volleyball teams were shaking their heads after Thursday's five-set MVC thriller.
The Blugolds celebrated with elation, while the Vikings huddled together with tears in their eyes as they tried to figure out how an early lead got away from them.
The match certainly had a postseason feel to it, and Aquinas came through with its back to the wall.
Holmen took quick control with 25-18 and 25-20 wins in the first two sets, but the Blugolds took the last three 25-22, 25-23 and 15-9 in front of about 1,000 fans at Reinhart Athletic Complex.
"I knew we needed to make adjustments, not with personnel, but what we were doing out on the floor," said Blugolds coach Danielle George, whose team took sole possession of first place in the MVC and completed a season sweep of Holmen. "I knew we had it in us. I think we were nervous, and we put too much pressure on us in the first two sets."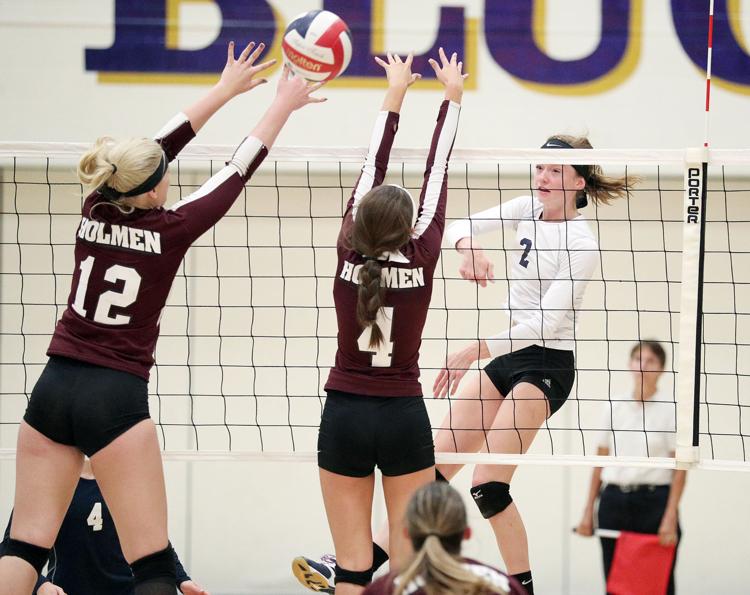 Aquinas led the fifth and final set 10-1 at one point, and it started out the deciding stanza with a 3-0 lead.
In that 10-1 scurry, the Blugolds got aces from Ellie Copps and Megan Scheidt. Scheidt's ace put Aquinas up 6-1.
"In the beginning … it was hard to have positive emotions," said Scheidt, Aquinas' libero. "I just had a whole new mindset in the third set. It was really, really fun to play."
Sophomore Lexi Donarski had two kills in the run, and Kyah Steiner also had a kill.
Donarski led the Blugolds with 20 kills, and she also had 16 digs with an assist for good measure.
"We were able to pull it together at the end," Donarski said. "It was a lot of fun, the atmosphere was great. We were talking in the huddle, and we were talking about how we needed to focus on what we could control, which was to eliminate our errors."
The Blugolds couldn't put their finger on where the actual turning point was in the match. They started out the third set with a 7-4 lead, but the Vikings tied it at 10. From that point on, it was a neck-and-neck set — and match.
Set No. 3 ended with an ace from Blugolds sophomore Kayla Bahr. Bahr had five aces in the match.
Late in set No. 4, the Blugolds went on a 5-1 run that included junior setter Claire Dolan's touch in four of the five scoring plays.
In that run, Dolan and three assists and a kill. In all, the Blugolds junior had 36 assists.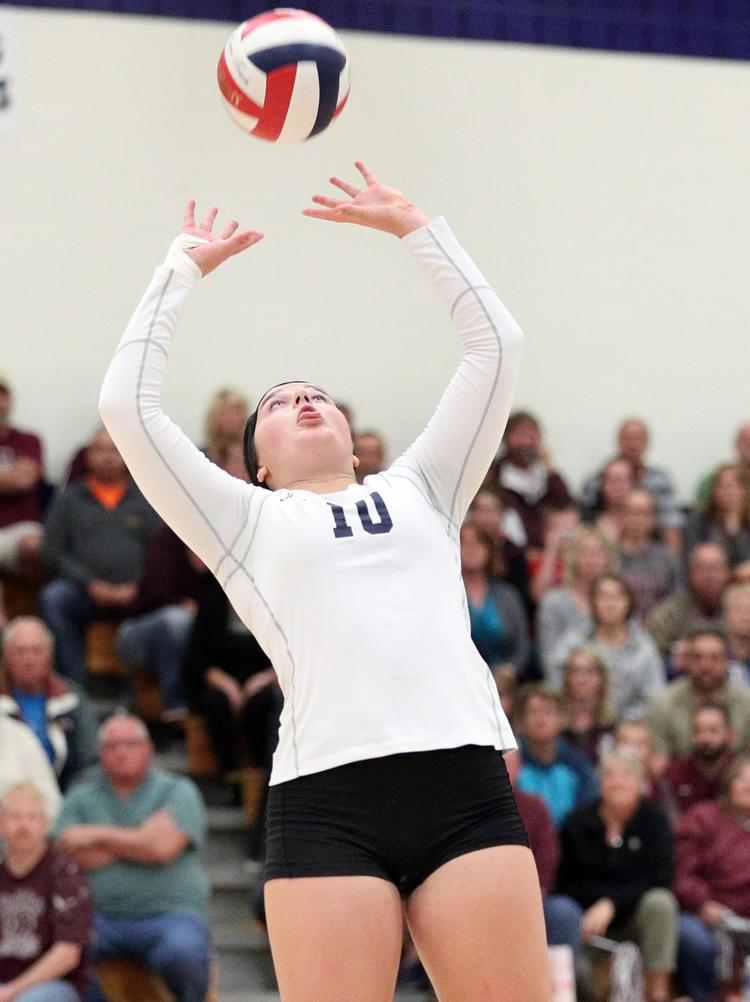 The Vikings had three girls with double-digit kills. Junior Emily Wall led with 21, Kenzie Winker had 17 and Abby Fell had 11. Winker also had two aces.
Sam Millard led the Vikings with 30 assists, and Lizzy Porath had 20. Claire Eade had 21 digs.
With the win, the Blugolds now control their destiny in the MVC standings.
Aquinas is 9-1 in conference play, while the Vikings are 8-2 with a heart-crushing loss.
"Toward the end of the game, the girls didn't play like themselves," Vikings coach Sammi Maier said. "In that aspect, I'm a little disappointed. We had a lot of energy to start off the bat, and we couldn't that same type of energy to the other sets. We dug ourselves in set 5.
"I kept talking to them about having a sense of urgency," Maier added. "It just didn't seem to set in."