Madessa Collins isn't one to shrink on the big stage. She doesn't allow moments to get too big.
Last season as a junior, the forward for the Aquinas High School girls basketball team was asked to guard opponents' best post players, and she and the Blugolds came up just minutes short of an undefeated state championship campaign.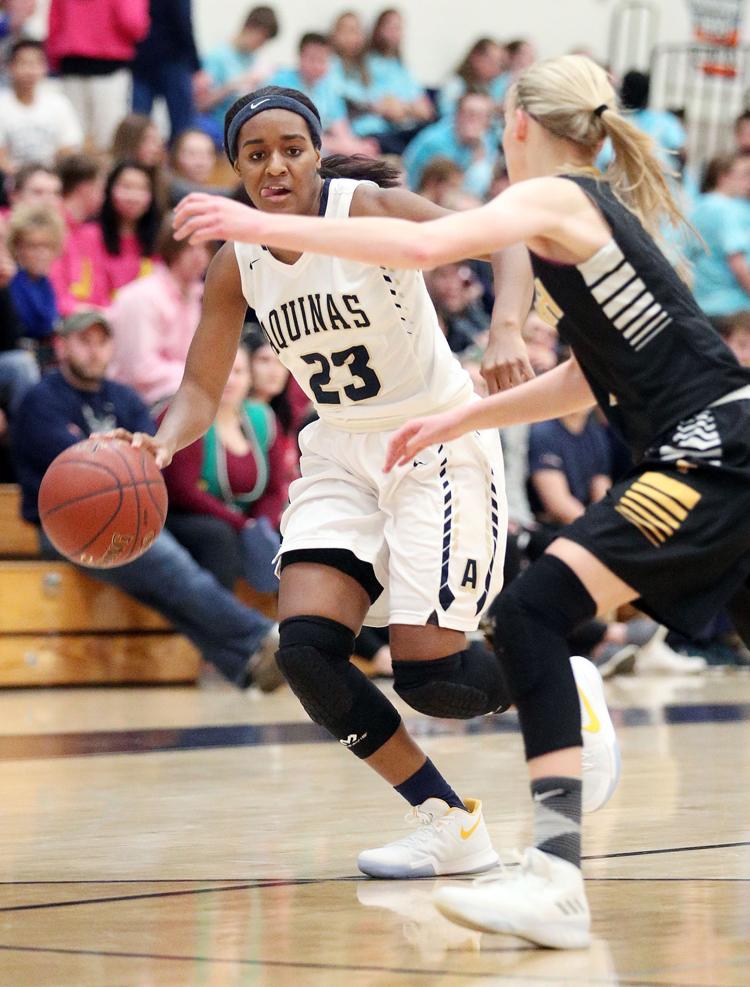 Collins also is not a stereotypical image of the modern teenager — face buried in her phone and generally distracted. No, she speaks with poise and confidence that doesn't always seem to fit her being 17 years old.
Many of these traits have the same root — karate, a martial arts discipline in which Collins has earned a black belt.
If you've seen Collins play, you can see the byproducts of her training. She's tough on the low block. Despite being 5-foot-8, she scraps with bigger, taller players regularly. Aquinas coach Dave Donarski can throw Collins at multiple positions and be comfortable. Entering Friday night's MVC game against Sparta, Collins was averaging 6.4 points, 3.4 rebounds, and 2 steals per game.
But it wasn't always that way for Collins. She was once the tallest girl in her class, and if it wasn't for a chance run-in with the storefront of a martial arts studio, Collins might not have found the athletic base she has today.
'I'll give it a try'
Collins and her mother, Odessa Whitehead, were walking by Quillin's grocery store when it was still located near Central High School.
She was 3 years old at the time, but Collins was a self-admitted misfit. She was extremely tall for her age, and that trend continued until almost middle school. Unfortunately, as most tall youngsters can attest, her coordination didn't match with her size.
"I was super clumsy," Collins said. "I could barely walk without tripping."
But when Collins and her mom walked by the old location of Nicklaus Martial Arts America, inspiration struck.
"(My mom) just said, 'What do you think of this?'" Collins recounted. "I was super young so I was just, 'Sure, I'll give it a try.'"
Collins took to karate quickly. She was always an energetic — and competitive — kid, so karate was the perfect outlet for her to channel that drive. But karate almost immediately became an influence in Collins' home life.
"Right after she started, whenever she wouldn't listen to me, or had to pick up her room, whatever, I could say, 'I'll tell Mr. (William) Cornell (an instructor)," Whitehead said. "She'd go, 'No no no no, don't tell him!' and do what I asked."
She worked hard and advanced through her classes quickly, which got her around older students. As she advanced through the ranks — the youth "dragon belts" and then the traditional belt system — Collins became more active in the gym's activities.
"She was always willing to partake in the extra things we did, like seminars and extra training," said Fred Nicklaus, owner/operator of Nicklaus Martial Arts America. "It's the same things you see in her now. She does the extra work."
Some of those seminars and demonstrations, like when they performed at halftime of a Harlem Globetrotters game and at Riverside Park during La Crosse's Riverfest, stick with Collins to this day.
"It grew on me instantly. It was something I like to do, it was fun," she said.
Whitehead watched her daughter grow through the sport, gaining confidence each step of the way.
"She always wants people to be proud of her," Whitehead said. "If a pastor or her sensei told her to do something, she wanted to show she could do it."
A defining day
Collins continued homing her skills and advancing through the belts.
She was ready to take the test for her black belt — a test of every punch, kick, technique and takedown she had learned up to that point. She didn't just need to show she'd learned these things, she had to prove to a panel of judges that she'd perfected them.
"It was really exciting. I was scared, too, though," Collins said. "Up until that day, I was thinking, 'I have to perfect everything, I have to know everything.' Then the day before I'm thinking, 'What if this happens? Or what if that happens?'
"My mom said, 'Go out and do your best, that's all you can do. I have faith in you.' Once I got there, I was ready."
Collins passed the test, earning her black belt.
Nicklaus says it takes about 3½ to 4½ years of consistent training and classes to get to a black-belt level. Part of the training karate gives a student is the ability to perform in front of a crowd. Collins said the gym was nearly full the day she got her black belt.
"Two big things in karate is developing focus, which is important for school and sports and life, and that making mistakes is the big part of learning," Nicklaus said. "You learn if you make a mistake, keep going and continue on.
"You see it now in basketball, she'll make a mistake here or there, but she moves on from it. When you can get out in front of a crowd and goof up, you learn quickly to just continue through."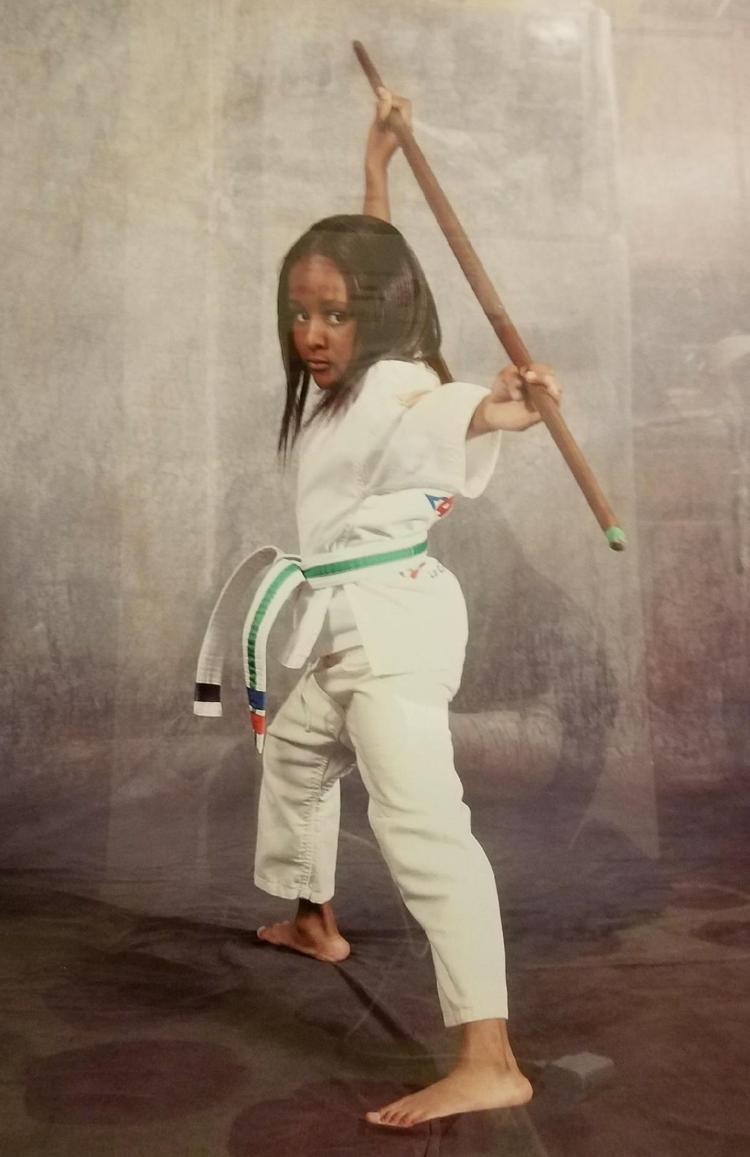 Finding basketball
Basketball has always been part of Collins' family.
Her brother, Jimmy Whitehead, was a standout guard at Aquinas in the late 2000s, and went on to have a solid career at Division II Minnesota State, Mankato before finishing at UW-Stout.
Because of her height, Collins heard from the outside that she should be hitting the hardwood.
"People were always saying, 'Why aren't you playing, why aren't you playing basketball?' They thought I was going to be 6-2," Collins said laughing.
But basketball soon became a big part of Collins' life as well. She stopped growing soon after that — she said she's grown an inch and a half since the third grade — but the physical skills she had from karate up to that point gave her an advantage immediately.
"When I first started basketball, people were like, 'Oh my gosh, this kid's so strong,'" Collins said. "People say I'm athletic, I don't know about that, but I think it's because I started so young with sports and karate. It helped me build my way up."
The time demands of both sports became an issue, though. To do either well takes serious dedication. Her history with karate and the relationships she'd built at Nicklaus' pulled her one way, while her newfound love of basketball took her another.
"This is one of the hardest decisions I've ever had to make, at like 12. I've got to decide whether to do something I've done since I was 4 or something I just started," Collins said.
She chose basketball, but she still feels connected to karate.
"Karate's something that I'll never forget. It'll never not be a part of me," she said. "If I could, I would still do it."
Whitehead said that without karate, Collins wouldn't be the athlete we see today.
"If it hadn't had been for martial arts ... I don't think she would've been as focused and disciplined as she is now," she said. "I think as a mom, martial arts is the No. 1 sport to get involved in first."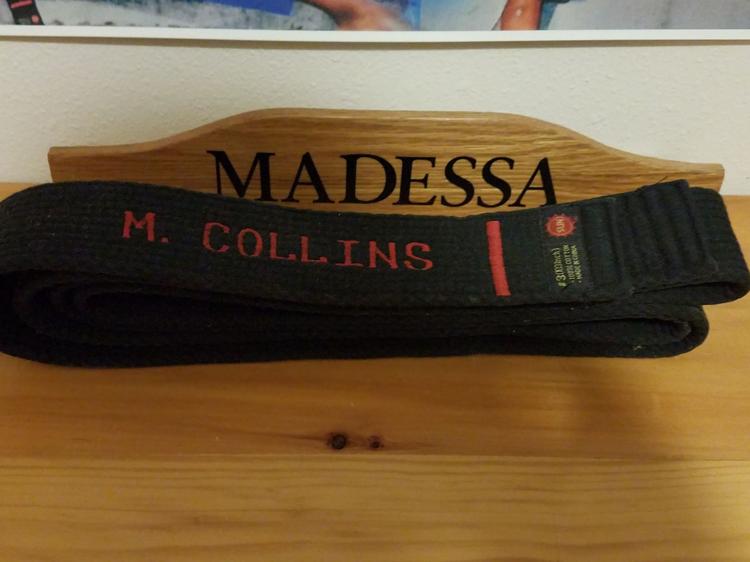 The future
Collins' mind is squarely set on her senior season. The Blugolds, loaded with talent and with the disappointment of last season's finish still fresh, want to get back to the WIAA state tournament and avenge that bitter championship game defeat.
But she also recognizes the lessons from karate that she carries with her.
"It's helped me for where I am today," Collins said. "It helped me gain my balance, and my center of control. It helped me with focus, and learn to be in front of people and not be scared. It helped me be social, it taught me my manners.
"It's honestly something that's great to put any kid into."
Whitehead said Collins' skills have another benefit, too — "I never have to worry about a boyfriend. She can take 'em," Whitehead said.
While the demands of high school and basketball make it nearly impossible to do karate right now, Collins sees a path back to it once she's graduated.
"I've always looked into getting back into karate," she said. "I definitely would love to get back into it at some point. Even if it's not tournaments, just to be in the classes, it's fun."