CALEDONIA, Minn. — The state championship goal that pushed Caledonia/Houston's Zach Schneider throughout his senior wrestling season was slipping through his fingers.
At least that's what anyone watching it probably thought. Schneider somehow didn't.
The 25 seconds he had to make up a four-point deficit in an MSHSL 160-pound Class A semifinal against West Central's third-ranked Kaden Spindler were enough in his mind.
"I was going to throw up on that mat from giving it everything I had the rest of that match before I was going to lose it," Schneider said. "There was too much on the line, and I had worked too hard to lose that match."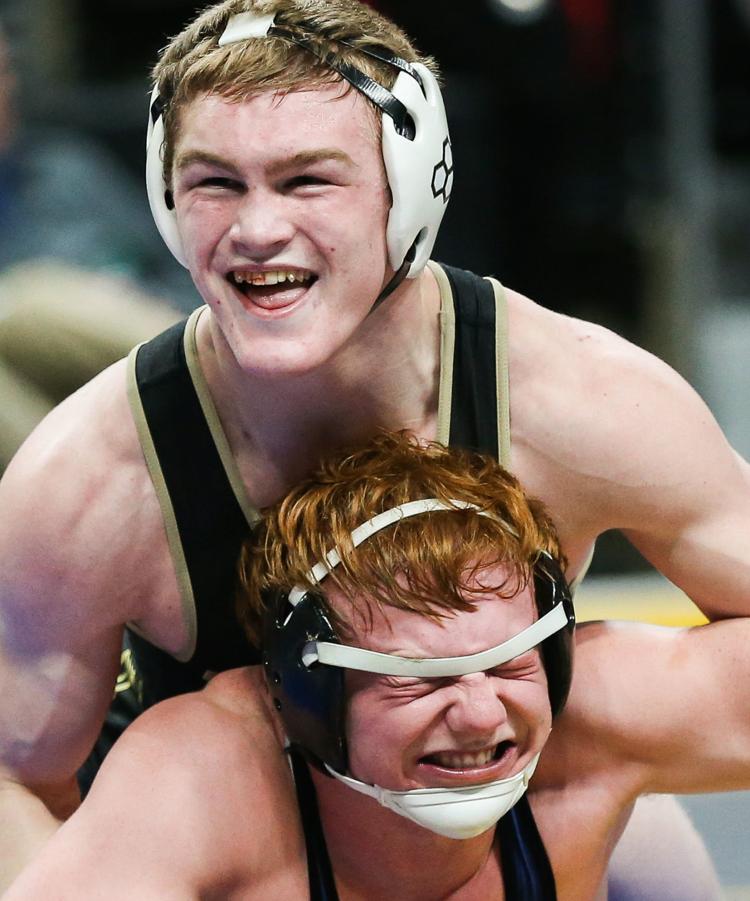 A penalty on the restart cut Schneider's deficit to three, and he turned in the performance of his career by forcing overtime and beating Spindler 11-9 to earn the chance to win the championship the next night.
Westfield's Colton Krell was going to be a challenge, but Schneider made winning look easy in a 9-2 victory that made him the first state wrestling champion from Houston High School.
"When Zach is free and in space, his opponents are at a loss," said Shay Mahoney, who coaches the Caledonia/Houston co-op. "They reach, they are off balance, and he hits them with that double (-leg takedown). That's what happened in those matches."
And for showing up at the Xcel Energy Center in St. Paul as an unseeded member of his bracket before knocking off the second-, third-, fourth- and sixth-ranked wrestlers in his weight class, Schneider has been selected as the La Crosse Tribune's wrestler of the year.
"He was so much fun to watch," Mahoney said of Schneider (37-3), who gave the Warriors a second state champ after junior Kyle Cavanaugh (32-4) won the 138-pound title. "Doing what he did with everyone else in that bracket really was something to see."
Schneider, who turned heads with two wins over Sparta's Hayden Krein at the Bi-State Classic, made good on his second trip to the state tournament — he also qualified as a sophomore — after beating top-ranked Kelby O'Reilly of Goodhue 8-2 in the Section 1A meet the week before.
He didn't do enough to become one of the state's top-ranked wrestlers in his weight class, but he beat five of the top six when they were matched up with him in the final two meets of the season.
That is what separated Schneider from the likes of Cavanaugh, Holmen's Isaac Lahr (52-4, 182 pounds) and Viroqua's Ryan Hannah (47-3, 145) in the Tribune's selection process.
"I was unseeded, but it didn't really matter to me," said Schneider, who rushed for 833 yards and 10 touchdowns during the Hurricanes' 8-2 football season. "I didn't expect to be.
"I beat O'Reilly (twice), but he was seeded, and I wasn't, but it didn't change anything I had to do if I wanted to win."
Schneider, an applicant to Ivy League schools Harvard and the University of Pennsylvania, is a smart guy. He didn't let the situation rattle him a bit and focused on what he did best to achieve his dream and finish his career with a 113-33 record.
He slipped by fourth-ranked Tanner Eischens of Frazee 7-5 in the first round before blasting second-ranked Jeremiah Colon of Lake Crystal-Wellcome Memorial 18-6 in the quarterfinals. The ease with which he beat Colon gave Schneider more confidence heading to the semifinals.
Beating Spindler and Krell to cap the weekend made him more comfortable than ever sitting and discussing the accomplishment with championship trophies surrounding him at Caledonia High School.
"Look around here," he said. "I don't think there is a trophy case that isn't full. There's a huge expectation to win, and that's what we try to do every time we step on the mat."
Cavanaugh doing just that also gave Schneider a shot in the arm to duplicate the feat.
"I was standing by the gates and cheering him on the whole time," Schneider said of Cavanaugh's 11-1 championship win. "He could probably hear me. I was told that I was going nuts while watching.
"When you see someone go out and win in dominant fashion like he did, it really motivates you even if you are already motivated."