Matt Schneider's first athletic administration job is fittingly close to home.
Schneider, an Onalaska Luther High School graduate, was chosen by Aquinas High School as its new activities director. Schneider becomes the third AD at Aquinas in as many school years.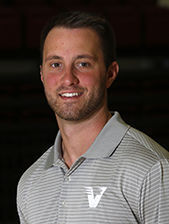 Schneider has been an assistant men's basketball coach at Viterbo University, where he is completing a master's degree in business administration. Schneider will take over for Kevin Schreiner, who has moved into an associate principal position with Aquinas schools.
Schneider will serve as AD this year, but is open coaching in future years should that situation arise.
"Matt's enthusiasm and passion are contagious," said Ted Knutson, Aquinas president and a former activities director, in a release from the school. "His experience with the middle and high school extra-curricular activities make him the perfect fit for this position."
Schneider's first day at Aquinas will be Aug. 1.
"Working in athletic administration has been a dream of mine," Schneider said. "I prefer working in high school or college sports. Naturally, I wanted to go after the job.
My job at Viterbo positioned me well. If I hadn't done that, I wouldn't have been prepared."
One of the biggest challenges facing Schneider is Aquinas' participation rate in football.
Aquinas had to forfeit a game last season because the Blugolds didn't have enough student-athletes to partake in a Sept. 23, 2016, game against West Salem High School.
That shouldn't be an issue in 2017, according to Schneider.
"I think they're going to do well," Schneider said of the football program. "Numbers are up from last year. I think they're getting back on a good track."
The first regular-season football game for the Blugolds is at Stevens Points Pacelli High School on Aug. 25, and the first official event for Aquinas under Schneider is the MVC girls golf meet Aug. 11 at Walsh Golf Course.
As a person with a basketball background, Schneider is also eager to see how the new WIAA shot-clock rules will affect Aquinas and its players, but that won't be for a few years.
Last month, the WIAA announced it would put in a 35-second shot clock for both boys and girls basketball for the 2019-2020 season to speed up the pace of the game.
Wisconsin becomes the ninth U.S. state to place a shot clock in interscholastic high school basketball.
"We're going to have to come up with the money for a shot clock," Schneider said. "We have time to get the funds for that. From the physical side of things, it's not ideal. We have to purchase a shot clock and hire a person to run the shot clock."
From a basketball point-of-view, Schneider sees it as a good thing.
"Watching the Aquinas girls, it won't affect them much," he said of having a shot clock. "It'll help the girls team, up and down. I haven't had a chance to watch the boys."
Schneider's high school background includes being a coach for the Onalaska High School boys basketball team, but has never been an AD for a high school.
"I've been in a pretty good spot already," Schneider said. "Schedules are done, and coaches are hired. When it comes to my job (a key part) is making sure all the coaches are up to date in CPR certified and other things WIAA requires coaches to get done."