There was no hesitation in the King household as to what should happen after Josh Diersen resigned as the Caledonia High School boys basketball coach.
If Brad King wanted to move up from assistant coach and take over the program, his three sons were behind him.
"There may have been some people involved at the school that weren't so sure," Brad said with a laugh. "But at our house, everyone was behind it, and I wouldn't have done it if that wasn't the case."
The King brothers — senior Owen, sophomore Noah and eighth-grader Eli — were perfectly happy to play for Diersen, who helped the Warriors win a state championship as a player in 1997, then coached them to a 264-81 record in 12 seasons.
"That was our expectation," said Owen, who will join the NCAA Division I program at South Dakota State next season. "We all thought we'd play for Josh."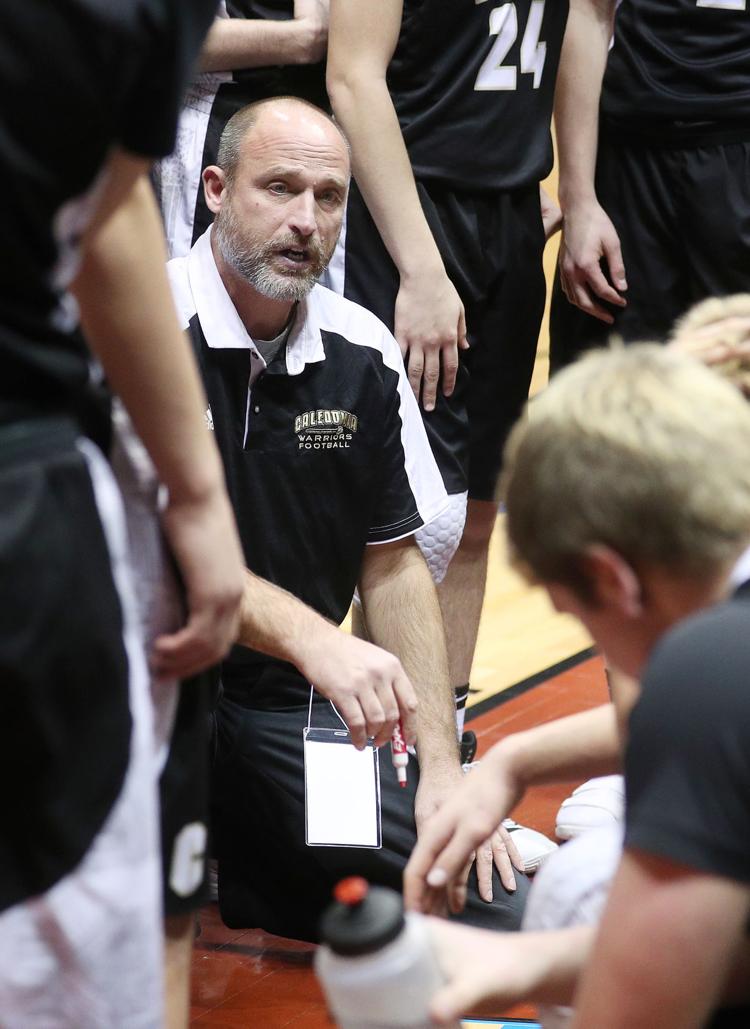 Their debut as a collective group is going very well, and it continued with an 84-66 win over The Prairie School at the Midwest Players Classic on Saturday. The victory pushed Caledonia's record to 10-1 on the season.
After playing together partially — Noah has shared a roster spot at different times with each of his brothers as the middle sibling — over the years, they were put together on a team for the first time last season when Eli was a seventh-grader.
All three were in the starting lineup on Saturday, and Eli and Noah played big roles as the Warriors pulled away midway through the second half.
The Prairie Hawks led 41-36 at one point, but Eli hit a 3-pointer, forced a couple of turnovers and converted on two drives to the basket. Noah added a basket and two free throws, and Owen hit a pair of 3-pointers to push the lead to 64-50.
"That's Eli," Owen said after the game. "He's always been able to make big plays, and he did it for us today."
Their interaction was smooth and was a catalyst for the comeback.
A positive to the offseason coaching change was that it didn't force any of the Kings to tackle the unknown.
Brad has always been a coaching figure in the lives of his sons. Whether it was giving pointers during basketball discussions at home or shooting sessions at the indoor court attached to their house, Brad impacted their basketball IQ at an early age.
He also coached them at various AAU levels with the Wisconsin Playmakers.
For Eli especially, having Brad running the show was appealing.
"Yeah," he said. "It was something familiar, and that was good."
But what's been familiar to Owen and Noah all their lives has been the same to Eli, who always found his way on the court when his older brothers played basketball with friends.
"He was always smaller than us, but he always belonged out there," said Owen, who was The Associated Press football player of the year after quarterbacking the Warriors to their third straight Class AA state championship. "He could hold his own sometimes."
Eli said he was never apprehensive about trying his luck against players several years older — and much taller — than he was. It was basketball, and even at a young age, he knew it would make him better.
Basketball is important to the Kings, and they take it seriously.
It dominates conversations between sons and father — players and coach.
They talk about Caledonia basketball or anything they happen to be watching. It mostly revolves around the Warriors, however, and it is nearly always initiated by the brothers.
"We are usually the ones to bring it up," said Noah, who missed nearly the entire football season due to a back injury but was ready to go when basketball season began. "We like talking about it and finding ways to get better."
Getting better is done together. It starts with the court at their house. If one of the brothers decides to go shoot, the others quickly follow.
This isn't where the competitive blood is shed. It's where they work on refining their games.
"It's usually about working together when we are at home," Owen said. "We save most of the one-on-one for (team) practices."
"Being home is more about around the world," Noah said. "Or Pig."
Matching up in practice is something different. The Kings value their practice time and know how to make each other better. That's when the competitive side comes out.
"Going against Noah isn't that different than anyone else because we have a lot of good players on our team," Owen said. "But you never want to lose to your brother."
Brad thought his previous experience in coaching his sons would make the transition a smooth one, and he thinks that's been the case. His bigger concern is getting more consistent play from his team.
"We do well for stretches," he said. "That's what we're working on now as a team. I didn't think there would be any issues in coaching (his sons). Once I knew they were fine with it, I knew that would take care of itself.
"Now we have to make the team as good as it can be."