ONALASKA — Holmen High School softball coach Roger Foegen was bundled and standing near third base as snowflakes floated to the ground, but he was happy to be there.
The Vikings — like every other baseball and softball team around the state — hadn't been outside in a while, and they had just taken advantage of a big opportunity by beating defending MVC champion Onalaska 5-2 Tuesday at Jaycee Fields.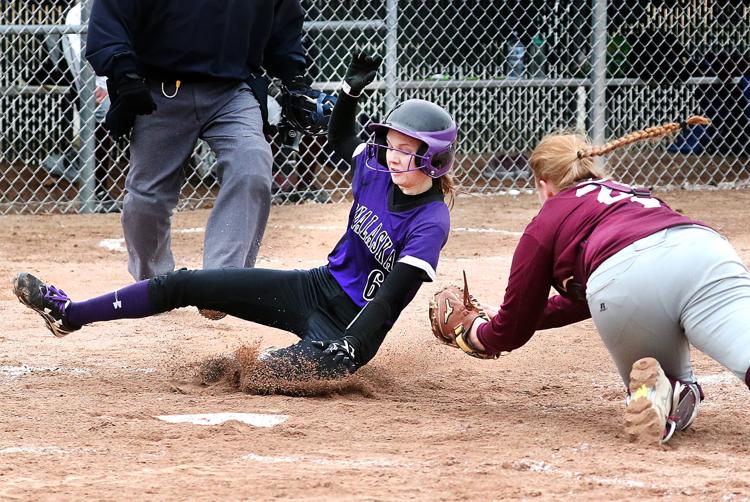 "This is a great day," Foegen said with a smile as he turned and looked at the field amid the 30-some-degree temperature and snow. "We're just happy to be outside."
Holmen (2-0, 1-0) officially started its season with a winning streak by playing for the first time since March 29 and scoring all of its runs in the second and sixth innings against ace pitcher Sarah Kraus.
The Hilltoppers (1-1, 0-1) also played for the first time in 12 days and were held scoreless over the last five innings by the crafty pitching of junior Delaney Sacia, who missed all of last season with an ACL injury.
"We've been inside for more than a week, and we have snow, but I'm proud of the way we played," said Sacia, who struck out nine and allowed two hits after the second inning. "It's a challenge to get out here and do well, especially against a team like Onalaska, but we did it."
Left fielder Amber Wuensch hit three of Holmen's five doubles against Kraus, and first baseman Elizabeth Porath drove in three runs for the Vikings, who have scored 23 runs in their first two games.
That Holmen put together eight hits against Kraus was a statement that the race for the MVC championship should be a good one.
"We know we have a target on our back now after winning this game," said Holmen center fielder Morgan Pellowski, who had two hits, two stolen bases and scored twice. "I couldn't sleep last night because I was so excited for this.
"I was up until 1:30. I was looking for at a bunch of inspirational things I could use to amp my team up."
Holmen was confident and patient at the plate and used back-to-back doubles by Wuensch and Porath to take a 2-1 lead after the Hilltoppers scored on an RBI single by Jaclyn Thomas with two outs in the first inning. Porath then scored from third on a bad throw to the base from Thomas, who was catching, for a 3-1 lead.
The doubles were solid hits to center field and showed the Vikings they could hit Kraus, who held them to one hit while blanking them 5-0 the last time they played last season.
"They were relaxed, they didn't rush, and they didn't try to swing super-hard out of their shoes," Onalaska coach Mesa Heit said of Holmen's batters. "They saw the ball and turned on it."
Onalaska, which was 19-5 and had last season ended in the WIAA Division 2 sectional semifinals, was able to get within 3-2 when a sacrifice fly by Alyssa Achenreiner brought Cailie Kowal in to score in the bottom of the second.
The Hilltoppers had a chance to tie the game by putting two runners on in the bottom of the fifth, but Holmen third baseman Camden Lindsey made a hard throw to first base and retired Thomas on a close play to end the inning.
Three hits and an Onalaska error led to two more Holmen runs in the sixth to build the winning margin.
"It's one game, but it's an important one," said Foegen, whose team was 22-7 and advanced to the Division 1 sectional finals last season. "This is going to be a different season because you will see teams get backed up with doubleheaders, and we'll probably have some conference doubleheaders (due to weather).
"It's hard to know how things will play out, but this is huge for our confidence."