Standing tall has never been a problem for Luther High School's Bennett Loersch, which certainly has its advantages when it comes to playing basketball.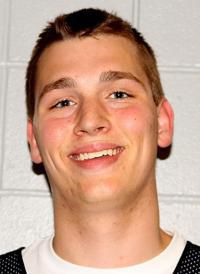 The 6-foot-10 junior was 6-9 when he first laced up his basketball shoes for Luther's varsity team as a freshman two seasons ago, but that doesn't mean he didn't get pushed around a bit. At the time, Loersch's strength didn't match his height.
"Awe man, Bennett's first two years as a player at Luther High School, he was tall, but that was pretty much it. He didn't have everything to go with it," Luther coach Brad Schaper said.
Don't misunderstand, Loersch was still a productive player in his younger years. The left-handed shooting Loersch averaged more than 12 points per game as a freshman before pushing that to nearly 14 as a sophomore. But he knew he had more to give, which is why he put in plenty of hard work during the offseason.
"Nobody has spent more hours into conditioning and strengthening. He spent so much time in the weight room and in the gym working on his quickness," Schaper said. "He really worked hard to put muscle onto his frame. It's been remarkable to see the all the work he has put in, pay off."
Other coaches have taken notice as well.
"He's gotten a lot stronger. We couldn't keep him off the glass tonight, he got a lot of his own misses," Arcadia coach Ryan Sonnentag said after Luther's 81-76 over the Raiders last week. "I thought we did a pretty good defending his post moves and keeping him from scoring that way. But he would just go after his own miss, so I know he had at least 20 points tonight and I am sure he had at least 15 rebounds as well, a lot of them offensive. But he is such a load to guard. He's a lot stronger around the rim and really rebounds well. He's a great rebounder."
The transformation of Loersch from tall, to tall and strong, has allowed him to elevate his all-around game. Loersch is averaging just under 18 points a game while consistently being a double-double threat every game.
"A lot," Loersch said when asked how much is game has changed. "I think I am a lot more physical than last year, able to do much more under the basket."
The credit goes to Loersch for putting in the time, but Luther strength and conditioning coach Jimmy Schwichtenberg, according to Schaper, helped Loersch "like there was no tomorrow, each and every day."
Loersch's conditioning is something that stands out. Luther plays an uptempo style where players often get a green light to shoot whenever they get an open look. It might be 30 seconds into a possession or two seconds. The Knights often press throughout the game, a style can be challenging for a post-player the size of Loersch. Loersch, however, has no problem with it. In fact, last week's game against the Raiders he led the Knights in minutes played (34).
Strength and conditioning was only half of the story for Loersch, he also needed to work on using his off hand, which is something he worked on during AAU competition.
"(I) played some really big competition that really push you to the limit to get better," Loersch said. "I worked a lot on counters, so if they stop you go one way then always have a counter to go the other way."
Loersch spent this past summer playing with Ray Allen Select, which is based out of Milwaukee, and the Wisconsin Playmakers, which are from the Sheboygan, Wis., area. He traveled as far as Las Vegas for tournaments, which proved valuable for his development. In fact, some believe it has made him a different player.
"The one thing I've noticed is he's gotten a lot better going both ways," Black River Falls standout Ethan Anderson said of Loersch. "As a freshman and sophomore, he was all left hand. Now you have to respect his right and left."
While the scouting report may still call for opponents to take away Loersch's left hand, but with his added strength, opponents find it hard to do.
"That's obviously part of our scouting report on him, too, is that he loves to go to his left hand," Sonnentag said. "But we can't seem to keep him from going that way and that has a lot to do with his strength."
As Loersch goes, so go the Knights (6-7). In Luther's six victories, Loersch is averaging nearly 18 points per game. In Luther's losses he has averaged 10 points per game.
Opposing teams double and triple team him at times, so it's up to him to find the open guy and up to his teammates to hit the shot.
"Opponents are going to come after him hard," Schaper said. "The neat part is he is willing to kick it back out. He's not a me first, he's a team first guy. He enjoys getting everybody in action."
We got some quality shooters and they have to make shots."