WIAA DIVISION 2 CHAMPIONSHIP | CENTRAL 55, CEDARBURG 53
Red Raider rejoice: Kobe King, La Crosse Central hold off Cedarburg for state title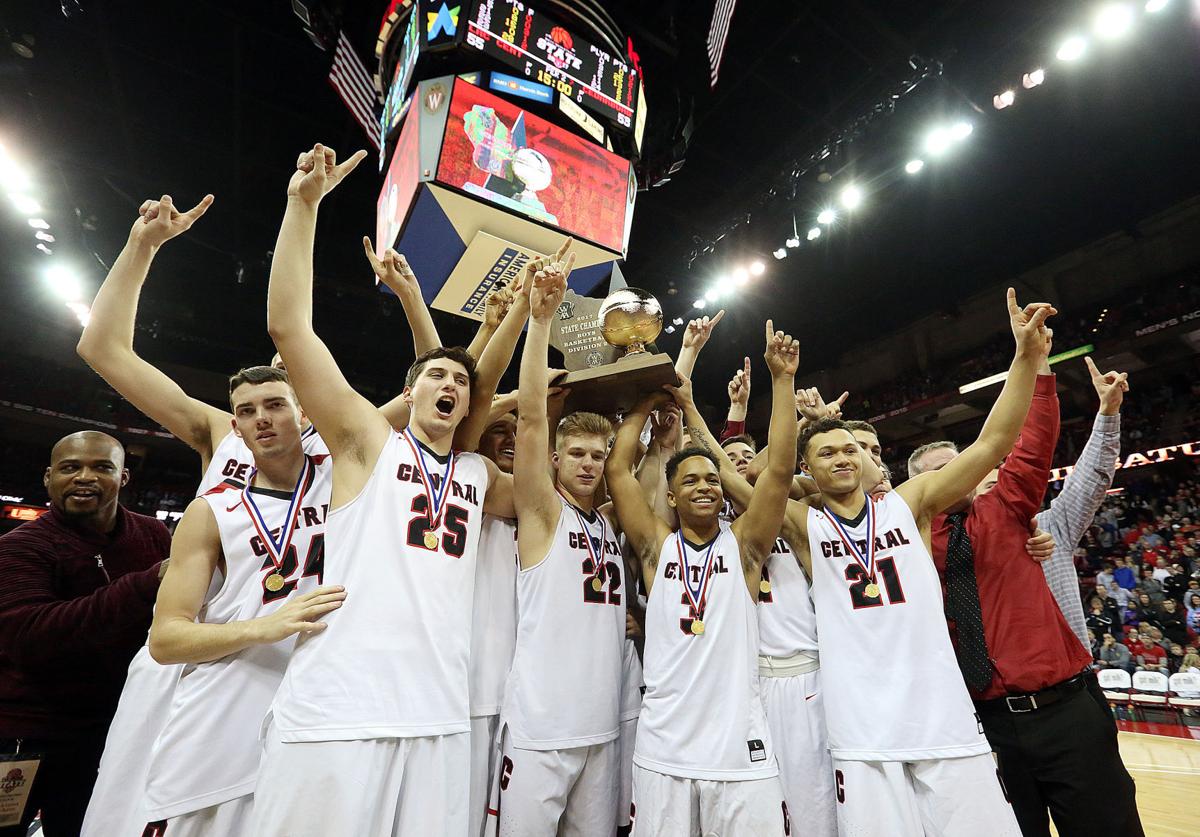 MADISON — What mattered most on Saturday night was that the Central High School boys basketball team finished what it set out to do.
The missed free throws were overcome, and so was Cedarburg scoring machine John Diener.
The final horn at the Kohl Center set off a celebration that was 92 years in the making and had Red Raiders — players, coaches, fans — running all over the floor.
Yes, Central had to hold its breath as Diener's shot from beyond halfcourt just missed its mark, but the exhale brought with it a 55-53 victory over the Bulldogs and a WIAA Division 2 state championship.
"We didn't finish the way we wanted to here (with a semifinal loss) last year," said senior Kobe King, whose team won its last 14 games to complete a 26-2 season. "We wanted to go out the right way as a group.
"We've been working for this every day since fifth grade, and we weren't going to let anything stop us."
Diener, who made five of Cedarburg's 11 3-pointers and scored 25 points, nearly did. The Bulldogs (25-3) didn't have enough success stretching out possessions early and shot its way back into the game after facing a 10-point deficit in the second half.
"We played the kind of game we needed to to give us a chance to win," said Cedarburg coach Tom Diener, who guided Milwaukee Vincent to five Division 1 championships earlier in his career. "We played our tempo, slowed them down a little bit."
The Red Raiders didn't help themselves by missing four free throws in the final 18.4 seconds of a one-possession game, but they also grabbed four offensive rebounds during that same stretch to keep the ball out of Cedarburg's hands.
Diener's 3-pointer with 8.7 seconds left cut Central's lead to 54-53. Noah Parcher missed a bonus free throw at the other end, but King got his hands on the ball and missed a difficult putback before Jordan Davis rebounded that miss and was fouled.
Davis missed his first free throw and made his second with 1.9 seconds left before Diener's long attempt at the win just caught the right side of the rim.
King scored 28 points to push his career total to 2,060 and grabbed nine rebounds. Senior Bailey Kale had 15 points and two assists, and freshmen Jordan and Johnny Davis scored six apiece and combined for eight rebounds.
The Red Raiders seemed to have everything going their way after King nailed a 3-pointer for a 38-28 lead with 12:33 left. The Bulldogs slowly reeled Central in with perimeter shooting.
"We were down 10, and they had all of the momentum," said John Diener, who scored 46 points in a semifinal win over Milwaukee Washington on Friday. "We came together and came back, and that's really impressive.
"On the last shot, I thought it had a chance, but that's how it goes."
The Red Raiders persevered as the Bulldogs turned the last 8 minutes of the first half into a game of keepaway. Cedarburg succeeded in limiting Central's possessions but couldn't convert on its own.
A 3-pointer by Jordan Johnson gave the Bulldogs an 18-15 lead with 7:55 left in the half, but those points were their last until Johnson made a shot from the baseline with 16:10 left in the game to cut Central's lead to 25-20.
The Red Raiders led 42-34 after a jump shot by Jordan Davis and 48-41 after a 3-pointer by King before Cedarburg started hitting shots again.
"When we had the 10-point lead, I wasn't relaxed, and I don't really think any of us were," Kale said. "I figured they would start a run at some point.
"Basketball is a game of runs, and I'm just thankful that we dug in on defense and won."