Mason Kalander has learned more about running during her senior year than in any of the previous three, but she'll use every experience gained to try to return to the state meet for a fourth time.
The Holmen High School senior learned she's capable of being a great runner, but it took her junior year to discover that.
Kalander has gained more and more confidence in her ability, and hopes that trend continues Saturday at the WIAA Division 1 Menomonie sectional cross country meet.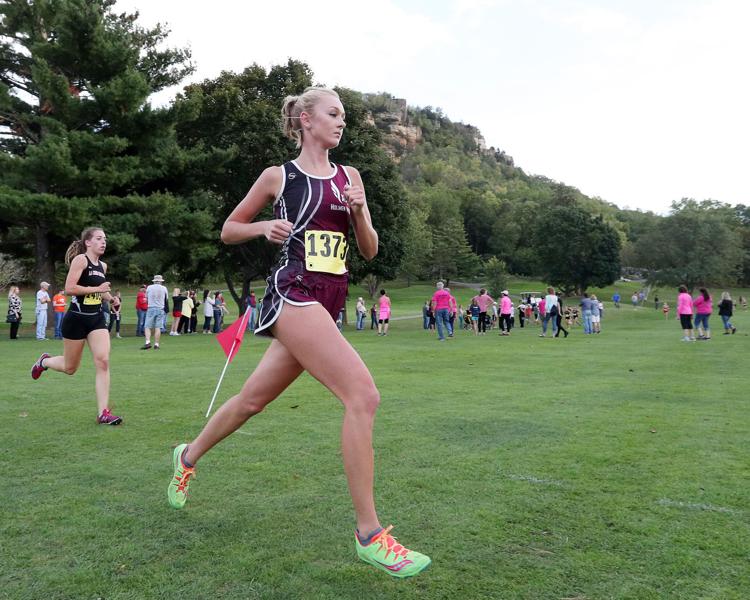 Kalander has had a successful career for the Vikings' cross country team, but that doesn't mean she's not nervous for Saturday's meet, which serves as a state qualifier.
"I just don't want to be disappointed with how I do," Kalander said. "Usually, when I do get nervous, that's when I get my best performances. I'm hoping that's what will happen. I am happy I've seen most of my competitors, so I know what I'm going up against."
Kalander's resume for the Vikings is one chocked full of experience. As a sophomore, she won the MVC individual championship, and was the youngest to do so since Onalaska freshman Kora Malecek won it last week at Maple Grove.
Also, Kalander has finished as high as ninth at the state meet and has been in the top five at the sectional meet. Upon graduation from Holmen, Kalander will run for NCAA Division II University of Minnesota-Duluth in cross country and in track and field. That's in the future, as right now Kalander's focus is on finishing her high school career with a big kick.
This year's state meet is Oct. 28 at the Ridges Golf Course in Wisconsin Rapids, Wis., a place Kalander knows well.
"She's bound and determined to get back for a fourth trip," Holmen coach Steve Mally said. "This year, she doesn't feel that pressure. She's stronger physically and ready to move on. She knows as this point what she needs as a runner and (what) works best for her."
Kalander's had mixed results at the state meet. Last year as a junior, she finished 31st. As a sophomore, she had an impressive run and took ninth. She qualified as a freshman, but became ill and did not compete.
"I was super upset. That's not at all what I wanted," Kalander said regarding last year's state meet. "I can't pinpoint what went wrong."
Kalander admits that she lost confidence in herself last year, but she blurred that out and started to refocus.
She began training this past summer with a purpose. Kalander started running more. She and Mally came up with a new training program.
"Along with the summer training, I focused on the mental side of things," Kalander said. "A lot of what racing has to do is the mental aspect. I think that's part of my issue my junior year. As a senior, I'm super focused and know what my goals are."
Kalander discusses strategy with Mally on the bus ride en route to the race. The Holmen senior has a strategy, but it differs from race-to-race. They wait until the bus ride so that Kalander doesn't overthink and get "too worked up about it."
This year, Kalander has four runner-up finishes, a third-place performance, and a 12th-place finish at the powerhouse Roy Griak Invitational Maroon race. She also has a win.
That win came at Holmen's home meet on Sept. 14 when Kalander crossed the finish line in 20 minutes, 25 seconds.
Kalander's fastest time was Sept. 28 at the La Crosse Mitchell Invitational at Palmer Hills Golf Course when she finished second in 19:21. She finished behind Central's Alex Bruley, who Kalander credited with having a great kick, or a finish to a race.
"I don't think I'll ever be satisfied with second place," Kalander said. "I don't think anyone should ever be happy with second place. I haven't been super upset about it, but at the same time, I've been super adamant about getting first the next race.
"With me being a senior, with some of the other competitors that are younger, I don't think they have the competitive edge that I do," Kalander said. "With me putting it all on the course Saturday, that'll help a lot."
While on the course, she believes the first mile of the 3-mile race is her strongest, while the second mile is where she feels she needs work.
"I saw how fast (Kora Malecek) went out on Thursday, and for Saturday, I know now that I need to pick it up," Kalander said. "I need to stay strong and stay with the people up front (on the second mile). I think that goes back to last year with my confidence."