Had he jumped just a half-second sooner or a half-second later, the outcome would have been dire for the West Salem High School football team on Friday.
But senior safety/quarterback Ryan Beirne leapt into the air at just the right moment and tipped away a pass that was right on target for a New Richmond receiver on fourth-and-goal from the 16-yard line with less than a minute remaining. Beirne's play sealed a 17-14 WIAA Division 3 playoff win for the Panthers in front of an estimated crowd of 800 people at Logan High School's Swanson Field, and elicited cheers of joy — and relief — from the home stands.
West Salem (8-2), the fourth seed in the bracket, moves on to the second round to play top-seeded Antigo, which beat Medford 48-8.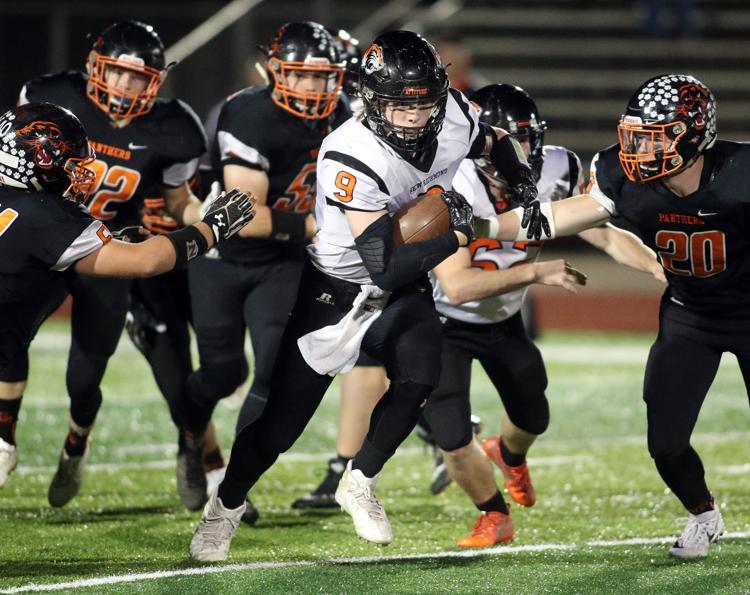 The play the Tigers ran on that do-or-die fourth down was similar to a play they ran earlier in the game — a spread look that attacked the seams of the defense. Earlier in the fourth quarter, it resulted in a 48-yard touchdown for New Richmond's Dylan Minke, but Beirne wasn't going to allow a repeat.
"After they ran that and were successful on it, we knew they would run it again," Beirne said. "So we were waiting for it."
Beirne's deflection stymied what was an impressive drive for the Tigers (6-3). After a Beirne punt pinned it down at its own 6, New Richmond marched down to the Panthers 7-yard line, using a jet-sweep attack that gashed West Salem's defense.
But on first-and-goal, a low snap got by Tigers senior QB Mikah Kier and pushed the drive back to the 16.
"They were using that jet action to misdirect us a bit," West Salem coach Justin Jehn said. "For them to drive the football like that on us, and our kids to be resilient enough to understand adversity is going to come but they continued to rise above it."
West Salem's hot start to the third quarter gave them enough separation to pull out the win. Holt scored on a 2-yard plunge midway through the quarter, and then Beirne drilled a 43-yard field goal with 55 seconds remaining in the third to go up 17-7.
Before the dramatic ending, it was a battle between the team's 1-2 punches — Beirne and junior running back Brendan Holt for West Salem against New Richmond's Kier and senior running back Noah Towberman.
Both squads ran similar option offenses, so the pairs carried the lion's share of the offense in each direction. Beirne finished 10 of 22 passing for 87 yards and had 16 carries for 86 yards. Holt tallied 130 yards and two touchdowns on 17 carries. Towberman had 127 yards on 25 carries, while Kier had 117 yards passing and added a rushing touchdown.
"Last week we played Onalaska and I think it prepared us well against this type of offense," said Holt, who was also a force from his linebacker spot. Towberman was tackled behind the line just two times, both by Holt.
Beirne and the Panthers' offense rode on Holt's shoulders in the first half. After the teams traded punts on their first drive, West Salem got its read-option offense rolling when Holt and Beirne started to knife through the Tigers' front seven. On the seventh play of the drive, Beirne pitched an option toss to Holt and he burst through New Richmond's defense to score a 58-yard touchdown. Beirne's point-after made it 7-0.
Holt was also the focal point of a second-quarter drive that was halted when Beirne got stripped on a short gain and the Tigers recovered. Still, Holt's physical running racked up 108 yards in the first half.
New Richmond countered with Towberman, who pounded the Panthers defense with interior runs. He carried the ball on seven of the 12 plays New Richmond used to engineer its first-half scoring march. Kier finished it off with a run in from the 2 after faking a handoff to Towberman. Towberman had 82 yards on 14 carries in the opening 24 minutes.
---
Photos: 2017 high school football season in the La Crosse area