GREEN BAY — The only reason players and coaches of the Bangor High School girls basketball team won't have nightmares of Black Hawk players stifling every movement they make is because of the hardware.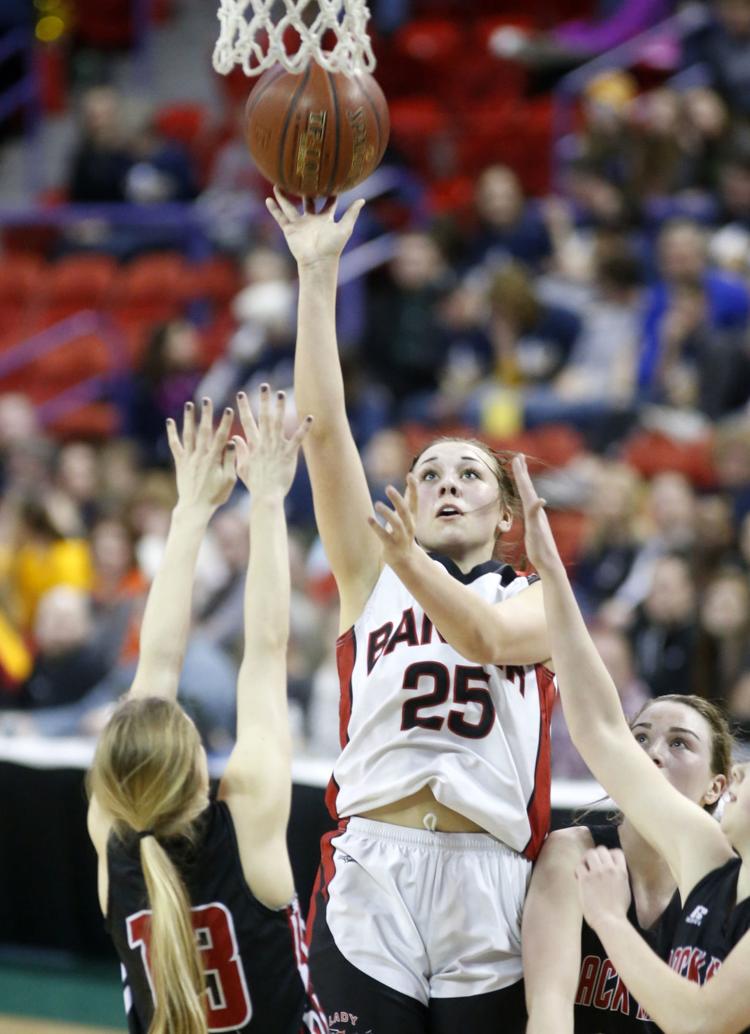 The gold medals they will keep forever and the gold ball that will go in the school's trophy case makes up for every bit of the struggle it took to bring them home to Bangor.
The Cardinals were pressed from beginning to end in Saturday's WIAA Division 5 state championship game at the Resch Center in Green Bay, but they found a way to beat top-ranked Black Hawk and its full-court pressure 39-29 Saturday.
"Their pressure was amazing," said Bangor senior Jaclynn Freit, whose team turned the ball over 28 times. "We really had to work as a team for chances to beat it.
"The toughest thing was getting the ball in the hands of our ball handlers. They (the Warriors) were fast, and it wasn't easy."
The Cardinals (26-3) did beat the press, but just enough to hold on and win the program's first state championship since the Division 4 crown it claimed in 1997.
They were also helped by Black Hawk's inability to make shots from the perimeter. The Warriors entered the tournament shooting 37.4 percent from the 3-point line and made five in Friday's 57-31 semifinal win over Wausau Newman.
But Black Hawk (28-1) went 3-for-31 (9.7 percent) from the 3-point line on Saturday and made 1 of 14 attempts in the first half.
"Obviously, the thing that stands out to everybody that was in that stadium — the shooting was an issue," Black Hawk coach Mike Flanagan said. "After having a year when we shot the ball so well, we just didn't get it done. I shouldn't have opened my big trap when I said that we couldn't shoot it worse than we did yesterday (5-for-21), because we obviously did."
Bangor, of course, could relate after making 2 out of 30 shots in the second half of a state semifinal loss to Loyal last season.
Just knowing how each missed shot was affecting the Warriors was an advantage for the Cardinals.
"We were there last year," Bangor senior Emma Wittmershaus said, "and it's hard to get out of it when you start missing like that."
The Cardinals' biggest issue was finding their way without Wittmershaus after she encountered early foul trouble. The 6-foot-2 UW-Milwaukee recruit's height advantage was nullified — at least temporarily — when she picked up her third foul with Bangor leading 12-6 and 7 minutes, 28 seconds remaining in the first half.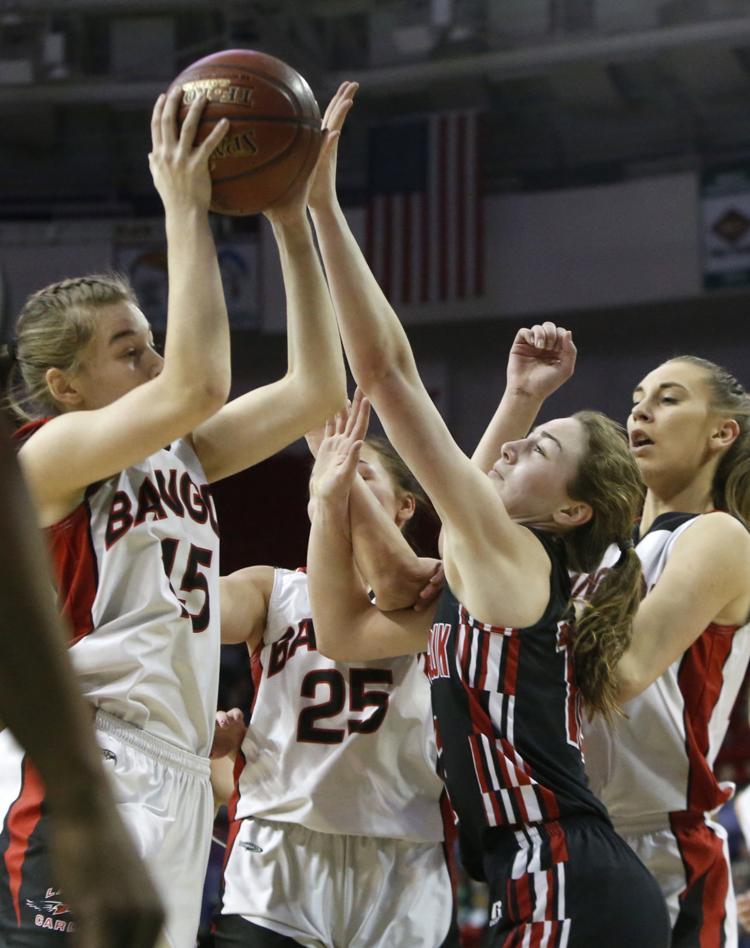 She went to the bench with 7 minutes left in the half, but played the entire second half. Wittmershaus finished with nine points, nine rebounds and three blocked shots as her senior class finished off its four-year varsity run with a 97-13 record.
Black Hawk put together one significant run at Bangor in the second half.
It made two shots in a row for the first time when Bailey Butler got a putback off an offensive rebound, and Maddy Huschitt followed a Bangor miss with a shot in the lane. That cut what was once a 27-18 deficit to 27-24 with 6:35 left.
Another Bangor turnover gave the ball back to the Warriors, who then tied the score at 27 when Brianna Hagen drilled a 3-pointer with 5:36 to go. That was the first time the Warriors were even with the Cardinals since the game tipped off.
"I was a little nervous at that point, having the lead the whole game, kind of being comfortable with that," Wittmershaus said. "When they go on a run, it's like OK, let's plop down on defense and get going here. Score, stop, score is what I kept telling my team. You just have to keep pushing and play with our heart, and we did that."
A 12-2 run to close out the game was started by two Wittmershaus free throws and followed up by a 3-pointer from the left corner by Elizabeth Nicolai that gave Bangor a 32-27 lead. The Cardinals made enough free throws down the stretch (9 of 18) to hold off the Warriors.
Black Hawk used a basket by Hannah Butler to get within 33-29, but Nicolai hit one bonus free throw and Wittmershaus two more to keep Bangor in control.
The championship just might help keep the Cardinals rolling as a program despite the loss of a significant senior class.
"It was great to be here twice in a row, and our bar keeps getting set higher and higher," Bangor coach Merlin Jones said. "The program is wonderful right now and has a lot of young kids who want to grow and be a part of it."