Chris Maragos understandably sounded Monday afternoon like someone who wanted to hang a "Do Not Disturb" sign on his door for the next week.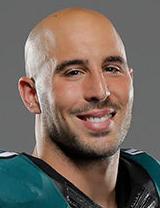 His fatigue was understandable. In the previous 18 hours, the 2005 Racine Horlick High School graduate earned a second Super Bowl championship ring and attended an all-night team party for the Philadelphia Eagles at The Depot Tavern in Minneapolis. Then it was off to Minneapolis-St. Paul International Airport for the Eagles' charter flight's 10 a.m. departure back to Philadelphia Monday.
Talk about running on fumes.
"We didn't get much sleep last night, that's for sure," said Maragos, a special teams ace for the Eagles who was lost for the season with a knee injury Oct. 12.
But the elation of the Eagles' 41-33 victory over the mighty New England Patriots Sunday night in Super Bowl LII was carrying Maragos through as he returned to his Philadelphia home.
How will Maragos, who said he has already received more than 200 text messages of congratulations, remember Sunday night?
"Oh, man, that's hard to know where to start," he said. "We had Brett Favre come in and talk to the team Saturday. He's really good friends with our head coach (Doug Pederson) and Brett was saying to enjoy these moments because you just don't know how many you're going to get.
"He shared with us that he spent 20 years in the NFL, he only went to two Super Bowls and only won one. To be in these moments, where I played in two Super Bowls in four years, is just really special.
"You're at a loss for words because there's so much work that goes into it, there's so many things that have to go right."
Take the final minutes in Sunday's game, when Tom Brady was in position to rally the Patriots from for a potential go-ahead touchdown while starting from his own 33-yard line. After all, Brady has been known for these kinds of heroics throughout his career.
For Maragos, the tense game was quite a departure from his first Super Bowl championship, when the Seattle Seahawks routed the Denver Broncos 43-8 on Feb. 2, 2014 in East Rutherford, N.J.
This time, the end was in doubt until nearly the end of the game. But then defensive end Brandon Graham stripped the ball from Brady, the Eagles went on to kick a field goal and a team that was just 7-9 last season was the Super Bowl LII champion. It was the Eagles' first title since 1960, when they gave Green Bay Packers coach Vince Lombardi his only loss in a championship game.
"We knew that when Tom Brady has the ball at the end of a game, that's something you don't want," Maragos said. "We knew we were able to get some pressure on him. I was probably 20 yards away and I saw the strip sack. Brandon Graham did a great play and that was huge.
"I talked to him right after the play. He's a guy who came into the league the same year I did and I've been here (in Philadelphia) with him for four years, so we've really built a real connection."
After attending the Eagles' parade on Thursday, he'll spend time with wife Serah, sons Micah and Mason and daughter Cambria, who was born four days after Maragos' injury last October.
And he'll continue rehabilitating his knee with the intention of getting back on the field next August.
"The exciting part is, next year, we're going to be even better," Maragos said. "We have guys coming back from injuries and they're going to be angry. They're going to want to prove something, so we're not finished yet, that's for sure."