WEST SALEM — Ty Reedy, never one to shy away from hard labor, wanted more.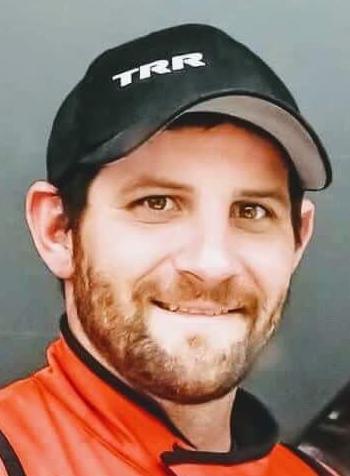 Not necessarily more weight in his arms or on his shoulders, but something different. Something new, something exciting, something with a different twist. Something outside of where he grew up in Galesville.
Well, he did something new, something adventurous last week when he won his first career Late Model feature race at the La Crosse Fairgrounds Speedway.
"It has been a long time coming," Reedy said. "It gives you a little confidence, that's for sure. I just hope we can keep figuring things out a little bit."
More on Reedy's win in a minute. How he got to Victory Lane, in a way, shows how the 31-year-old man's life has come full circle.
Don't misunderstand Reedy, as he has tremendous pride in the family business, Reedy Concrete Construction, Inc., and in the Galesville area, but something inside him begged for more adventure.
So he put his racing career at the Fairgrounds Speedway in park, informed his family of his plans, packed up and moved to Fort Collins, Colo., the home of Colorado State University.
"I just needed to get out for a little bit. I have lived here my whole life and I just wanted to experience something different and see if I could make it on my own," said Reedy, who now lives in Holmen. "It was a good challenge and I made it through."
Reedy wasn't sightseeing or drifting through Colorado, but had a mission. He pursued — and received — a degree in mechanical engineering in four years, then worked as a mechanical engineer for a consulting firm for a year.
His racing career, which had shown considerable promise in its early stages, was still, for the most part, in park.
"It (degree) was brutal. It was a lot of work, I won't lie to anybody about that. You can ask Ty (Majeski), too, as he was in the same program (at Wisconsin)," Reedy said of earning his degree. "I worked for a year out there at a consulting company, but it just wasn't for me. As a mechanical engineer, you sit behind a desk and work on a computer, and that just doesn't suit me."
Can you hear the race car's engine starting?
Maybe it was the lure of rejoining the family business and working closely with his father and uncle, along with his brother, Prentice. Maybe it was the lure of returning home, to the Coulee Region, where most of his friends are.
Or, perhaps, it was the chance to jump behind the wheel of a Late Model racing machine once again.
"I was out of racing, driving wise, for about five years. I drove a little bit when I was out in Colorado, but not much. I have always been into it (racing), but it just didn't really work out being 1,000 miles away and having a (race) car," Reedy said.
"I knew when I moved back — I still had a car here — that it would be here for me."
Reedy's car was ready and so was he. Or so he thought.
The team has been challenged by motor problems, then setup issues, for much of the season. A reason for why Reedy sits 19th in the points standings with 243, well behind leader Steve Carlson (601). Reedy said there were some bouts of frustration, but the team never gave up.
"We have really struggled this year with this car. The first half of the year we struggled with motor problems, and once we got the motor problems figured out, we have been working on the chassis and we just really can't make any gains on it," Reedy said.
"It's a brand-new car. I raced it at Oktoberfest last year, which was the first time it was raced. It was better tonight, but we still got a long way to go."
Last week's feature win, in which he started on the outside of the front row and quickly grabbed the lead and held it for all 25 laps, was a shot of energy Reedy — and the team — needed.
Now, will they be able to build upon it?
"I went to school for mechanical engineering, which you would think would help me with this car," Reedy said, breaking into a smile. "It hasn't so far."
In the big picture, moving back home, rejoining the family business and jumpstarting his racing career are far more important than a single victory.
"I am back doing the concrete now, getting my hands dirty again. I still like to get out in the field every now and again. I am doing a lot of the bidding and business end of things, but am still out in the field three days a week," Reedy said.
"I knew I would be racing again. I would like to do it for a long time. I just hope we keep figuring some things out."