Kara Hollingsworth of Tomah doesn't like the reaction she gets when she tells people she has Asperger Syndrome.

The 85th Army Band invited the Tomah High School Concert Band and Wind Ensemble to play a concert with them at 7 p.m. April 7 at the Tomah Hig…

Tomah Mayor John Rusch never intended to be a career politician.
Latest News

The end of collective bargaining.

After three years of fundraising, the Tomah Fire Department will order a new $349,000 command vehicle this week.

Mayor Shannon Hough was sworn in during a brief city of Tomah reorganization meeting Tuesday.
News
Local
Obituaries
Crime and Courts
Education
Wisconsin
Strange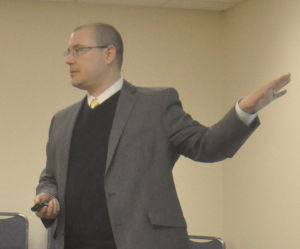 The end of collective bargaining.
Tomah Timberwolves
Sparta Spartans
The conditions weren't the best, but the Tomah High School boys golf team managed to get outdoors and give 10 golfers their first competitive experience of the season.
Features
This week's question was asked by Camren Hansen, third grade, Lemonweir School.