F&M Bank of Tomah held its annual tailgate fundraiser to benefit the Tomah High School Band and Art Department Friday. The bank holds the …

Six weeks before the Columbine High School shooting took her life April 20, 1999, 17-year-old Rachel Joy Scott wrote an essay challenging othe…

Miller Elementary School in Tomah has been recognized by the state Department of Public Instruction as a Wisconsin Title I School of Recognition.
Latest News
The Tomah School Board will meet tonight (Monday) at 7 p.m. in the Robert Kupper Learning Center.
Friends of Mill Bluff State Park will meet tonight (Monday) at the American Legion Hall in Camp Douglas at 7 p.m.
A national POW/MIA Recognition Day ceremony in honor of prisoners of war and service members missing in action will be held at the Tomah Veter…
Features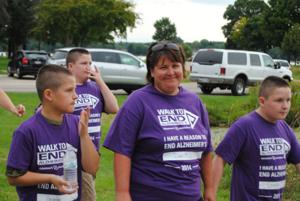 Michael Murray of Tomah remembers watching his father struggle with Alzheimer's disease in the last years of his life.
Content Match