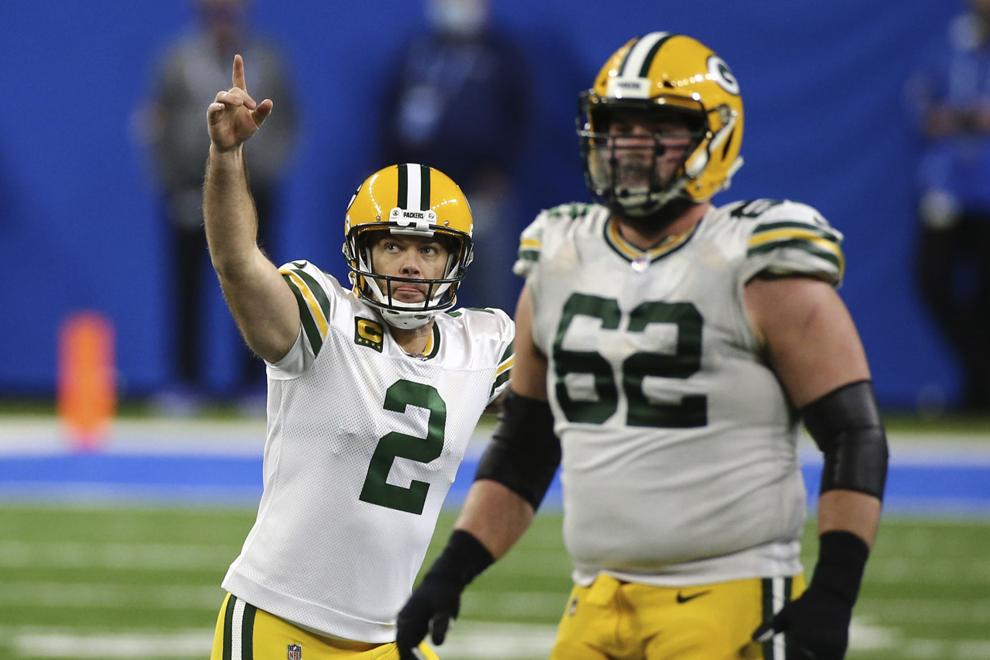 After making a critical 51-yard field goal during the fourth quarter against the Panthers — accounting for the Packers' only second-half points — veteran kicker Mason Crosby (above) is two games away from a perfect season on field-goal attempts. (He's missed three extra points going 50-for-53 on the season.) The clutch kick against the Panthers came six days after he drilled a 57-yarder indoors at Detroit to keep the Lions' comeback at bay.
"I don't know if I want to pick one," Packers special teams coordinator Shawn Mennenga replied when asked which kick was more impressive. "They were both huge for us, especially in that situation in the game. The 57-yarder at the end there was big. (But) they were both huge for us. That 51-yarder, when it's colder like that, the ball doesn't travel as well. They were both impressive and both huge for us. Mason continues to come up big and we've got all the confidence in the world in him."
Crosby, who is on pace to attempt the fewest field goals of his career (current low: 19 in 2017), has never hit 100% of his field goals in a season. He set a career best last year when he made 91.7% of his attempts (22 of 24), but arguably his best season was in 2013, when he bounced back from a disastrous year in 2012 to make 33 of 37 field-goal attempts (89.2%) and all 42 of his extra points. His consistency is surely a bonus for a team battling for the NFC's No. 1 playoff seed and aiming to play all its postseason games at Lambeau Field, where kicking has long been a tricky proposition.
"I just feel really confident with the work I'm putting in during the week, and my balance and my execution on kicks during the game," Crosby said. "I'm just trying not to make anything too complicated. I just feel like my rhythm and my timing is on. I trust the operation and the protection and those guys in front of me, and I'm just able to execute at a high level."
---
Jason Wilde covers the Packers for ESPN Wisconsin. Listen to him with former Packers and Badgers offensive lineman Mark Tauscher weekdays from 9 a.m. until noon on "Wilde & Tausch" on 100.5 FM ESPN Madison.