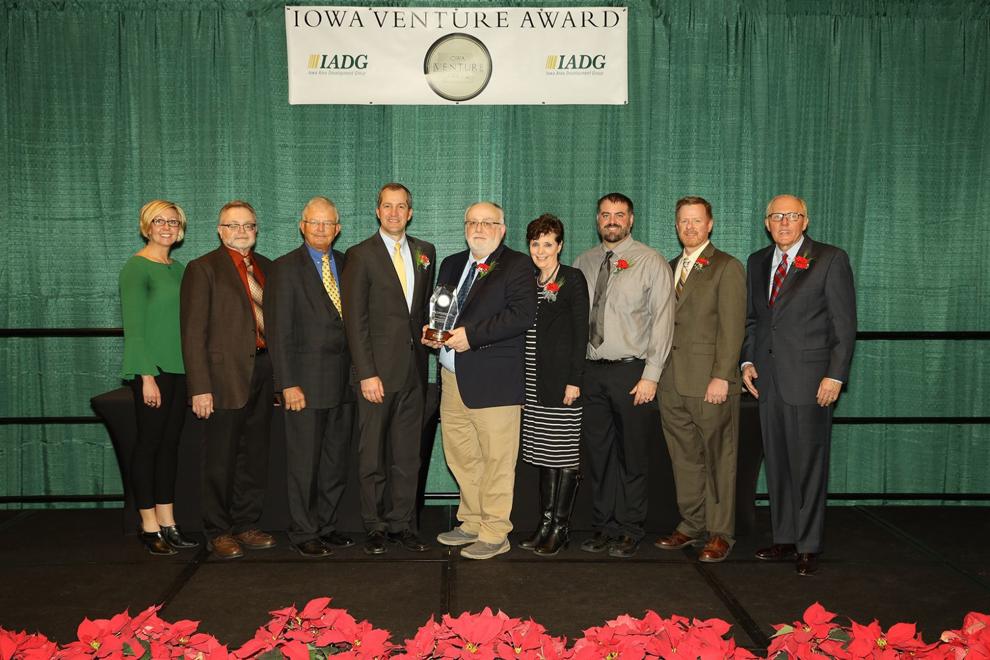 Trinity Fabricators, located near New Albin, Iowa, was one of eight companies honored with an Iowa Venture Award.
The award was presented by the Iowa Area Development Group at a luncheon held in Des Moines in conjunction with the Iowa Association of Electric Cooperatives' annual meeting.
Trinity Fabricators is a structural steel fabricator for building construction.
Founded in 1995, Trinity Fabricators' belief in quality customer service enabled it to move beyond repairs and small projects to large-scale building construction jobs.
The company is the sole manufacturer of structural steel beams for Kum & Go convenience stores located throughout 11 states. They also cut steel for more than 180 Applebee's restaurants as well as a wide variety of other customers. Trinity Fabricators was nominated by Allamakee-Clayton Electric Cooperative. 
"The Iowa Venture Awards Luncheon provides a forum to celebrate the courage, contribution, innovation, responsibility and vision of Iowa entrepreneurs," IADG President Rand Fisher said. "Trinity Fabricators is an excellent example of a thriving family-owned manufacturing business that continues to thrive in rural Iowa."
Additional Iowa Venture Award recipients include:
Eagle's Catch - Ellsworth
Martin Marietta – Gilmore City
Nutriom – Panora
Perry Creek Dairy – Merrill
Prestage Foods of Iowa – Eagle Grove "Outstanding Business of the Year"
Sullivan Supply, Inc. – Dunlap
Waspy's Truck Stop - Templeton
This marks the 31st year that IADG has presented Iowa Venture Awards to individuals and organizations, both large and small, in recognition of their significant contributions to Iowa's economy through entrepreneurial leadership, innovation and the creation of job opportunities.
History has demonstrated that these are among the most accomplished and successful companies in the state.
Together they are helping to sustain and grow Iowa's economy. The Iowa Venture Award Hall of Fame showcasing these 264 companies can be found at www.IADG.com/HallOfFame.
IADG is the business and community development leader for Iowa's rural electric cooperatives, municipal utilities and independent telecommunication companies.
Since 1985, the partnerships and economic development efforts of IADG and their sponsors have assisted with more than 2,100 projects, generating in excess of $12 billion of capital investment and more than 53,000 new or retained jobs for Iowa.