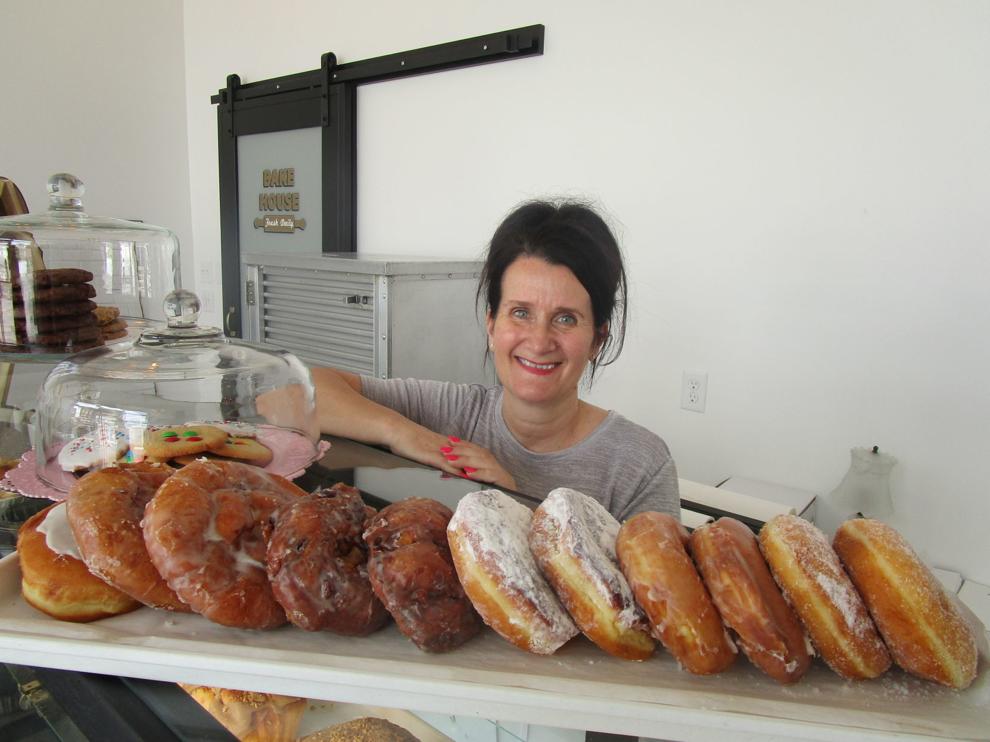 CALEDONIA, Minn. — Suzanne Roesler, who bought the Caledonia Bakery on March 1, has gone back in time to give it a new look.
Roesler has extensively remodeled the bakery, which she said was founded in 1923 and has been at 124 E. Main St. since 1972. She purchased it from Al and Sue Klug, who had operated the business for 14 years.
Roesler, a native of Paradise in Michigan's Upper Peninsula, has lived in Caledonia since 1999 and in recent years worked at a few retail stores in La Crosse.
"I decided I wanted to own my business" and learned that the bakery was for sale, Roesler said. She had learned how to bake from her mother, and the bakery now uses her mother's pie crust recipe.
She opened the bakery on March 8 after closing it for a week to tweak recipes and come up with some new items.
Roesler reopened the bakery's retail area for a second time, on June 15, after completing the biggest parts of a major interior and exterior remodeling project. For about a month before that second reopening, she sold bakery products from a tent during good weather and from inside The Wired Rooster Coffee Shoppe across the street at 131 E. Main St. during inclement weather.
"I have to give a huge thank-you to The Wired Rooster," Roesler said.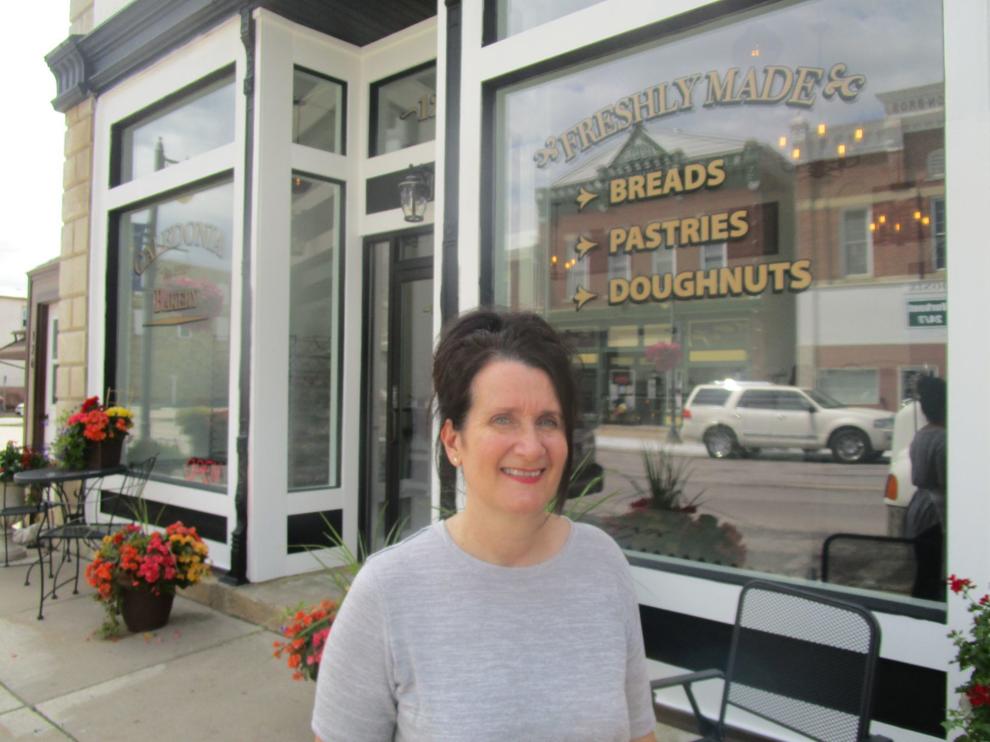 "We still have some ironwork to get done" for an exterior balcony, she said. "And we're putting a wrought-iron gate over in the patio area."
Apart from that, the remodeling project is "pretty well done," Roesler said. "I also need to do some things for merchandising and also just tweaking a little bit of the interior design. But the heavy lifting, as they say, is done."
Some of the remodeling involved installing new windows, including two large ones, that allow much more natural light into the bakery than it had before; new porcelain tile flooring; removing a false ceiling in order to uncover the original ceiling; and a new black-and-white color scheme for the building's interior and its exterior front.
"I want to be finished by the Houston County Fair" which is Aug. 14-18, Roesler said. "I'd like to have my grand opening close to county fair time."
The bakery building was constructed in 1875 as an inn and rooming house, Roesler said after doing research with the help of the Houston County Historical Society.
"The earliest picture of it that I could find (from about 1900) was when it was the First National Bank," Roesler said.
"That was my vision," she said of her remodeling plans. "I wanted to bring this building back to the way the architect had designed it. And you can see now how the light floods into the building."
At the end of June, Roesler also opened a new outdoor patio area that has chairs, tables and flowers. "I wanted to create an experience, where people could come and have some fantastic baked goods, have a cup of coffee (which they can buy at The Wired Rooster) and relax and visit," she said of the patio.
Another change is that the bakery has begun accepting credit cards and debit cards for payment.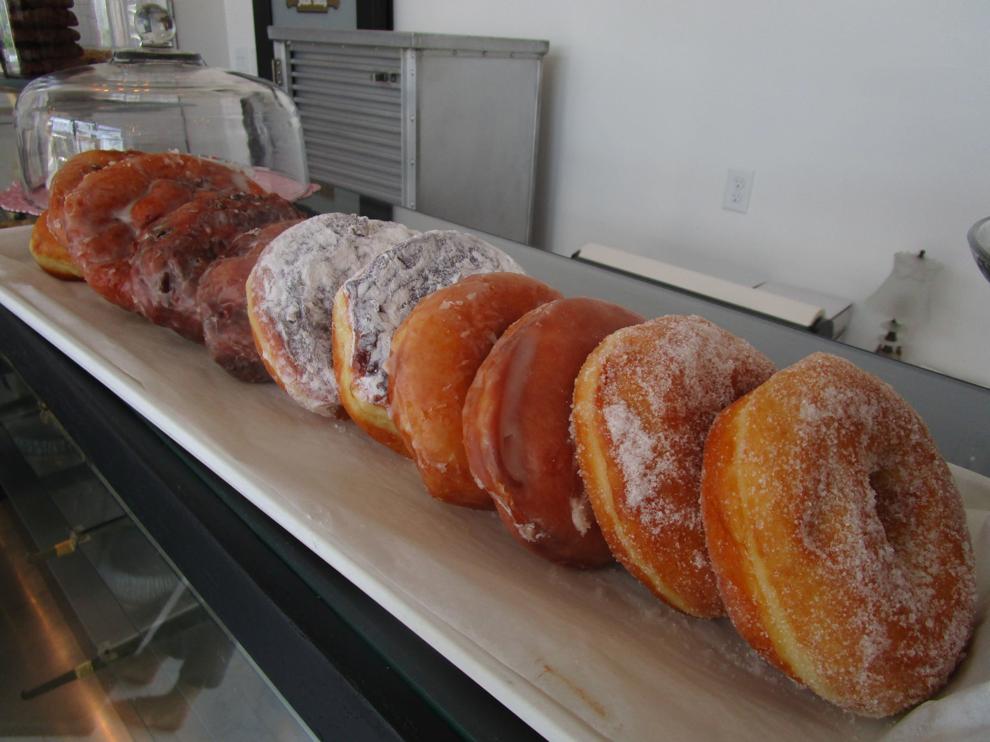 The bakery's product menu is a mix of old staples and new creations.
From the start, customers let Roesler know they wanted her to keep the long johns with maple frosting that the bakery has long been known for. "People said 'Don't mess with the maple long johns, so I didn't," Roesler said with a smile.
The long johns remain the bakery's biggest seller, although another longtime staple — apple fritters — "are becoming a close runner-up," she said.
"We introduced what I call French toast," Roesler said, adding that it's become popular. "It's sweet dough with cinnamon and sugar, and then you deep fry it," she said.
"Our raspberry almond sweet roll has become popular," Roesler said of another new product.
"Our large coffee cakes continue to be very popular," Roesler said of another staple. "But there are a lot of people who are either single or empty nesters and that's too much coffee cake" for them. "So we've started to make a smaller coffee cake for two. It's a quarter to one-half the size of the large ones, and those are selling well."
The bakery also continues to make several kinds of bread. The most popular varieties are white, multigrain and cheddar cheese.
Roesler has five employees at the bakery, including four who worked for the previous owners. They include baker Paul Tewes, who has worked there for more than 30 years.
"We have such a great team," Roesler said of her employees. "We're like family. I enjoy that. They're great. I couldn't do it without them."
The Klugs were very helpful during the transition to new ownership, Roesler said. "Before I took over the business on March 1, I shadowed Sue Klug for about a week," Roesler said. "It was so beneficial to me to know before I took over, some of the things that had to be done."