LA CRESCENT, Minn. — After seven years of operating a coffee shop/roastery in Wyoming, Aaron and April Justice weren't about to give up coffee roasting after Aaron became senior pastor of La Crescent United Methodist Church in July 2017.
So they started their home-based Liturgy Coffee Roastery business, which sells roasted coffee beans at the La Crescent Farmers Market from 4 to 7 p.m. on Tuesdays in the Crucifixion School parking lot at 420 S. Second St. The Justices also take orders from area residents for roasted coffee beans and offer free delivery within La Crescent.
"It's our addiction and hobby," Aaron joked as he roasted a batch of coffee beans in the couple's 6-pound coffee roaster in the garage of the church parsonage where they live. "We didn't want to give it up."
Aaron grew up in Riverton, Wyo., where he, his wife and his parents operated the Brown Sugar Coffee Roastery for seven years until they sold it a year ago. April, whose father also was a church pastor, grew up mostly in Indiana and Ohio. Aaron and April first met while both were attending Anderson University in Anderson, Ind., and married in 2002. They have two children, ages 9 and 11.
April, who is busy home schooling the couple's children, also has been a social worker. "I had a private practice in Riverton," she said.
"We love the (Mississippi) river," April said. "I've always wanted to live by a river."
"We moved here from Wyoming, where it's bone dry," Aaron said. Compared to that state, "It's like obscenely green here" in the greater La Crosse area, he joked.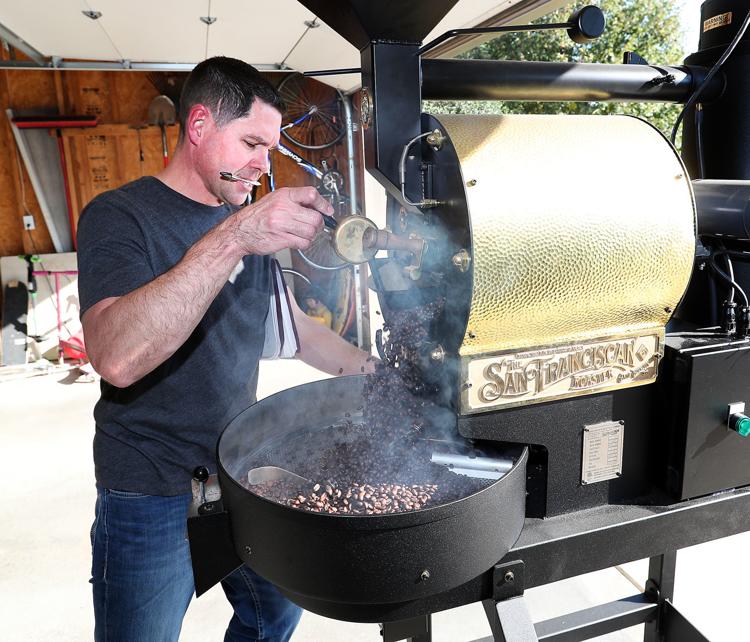 "Life is good here," April added.
The Justices bought their 6-pound coffee roaster after moving to La Crescent, and decided to take orders for roasted coffee beans and to also sell roasted coffee at the local farmers market.
"We wanted to get to know our community and get to know people," April said of selling coffee at the farmers market, which operates in the Crucifixion School parking lot from 4 to 7 p.m. on Tuesdays, typically from mid-May to mid-October. The Justices also sell their coffee at an indoor version of the La Crescent Farmers Market that is held monthly during the winter.
About half of the Justices' roasted coffee beans are sold at the farmers market. Orders from customers in the area account for the other half.
In Wyoming, the Justices also were wholesaling some of their roasted coffee to some grocery and convenience stores in much of the state. And they shipped their coffee around the nation, to a number of customers who in many cases had come across their Riverton business while traveling to or from Yellowstone National Park.
"We would have to buy a bigger machine" if they wanted to wholesale roasted coffee to stores again, Aaron said. He and his wife have no plans to do that, or to open a coffee shop in the area.
The Justices also sell coffee locally on the Facebook page of their business. And they plan to start taking orders from farther away once the two-year non-compete clause in the sale of their Riverton business expires next summer.
"Our coffee is single-origin, mostly fair-trade organic," Aaron said of Liturgy Coffee Roastery's products. "Our job is to roast it well, so that the flavor sings."
Aaron said he roasts single-origin coffee because he thinks its flavor stands out more than that of blends of different kinds of coffee beans. "I think it's more fun to do single-origin coffee," he added.
"We believe in paying the people who grow it a good price," April said of the couple's preference for buying fair-trade coffee beans.
Guatemalan coffee is Liturgy Coffee Roastery's biggest-selling variety. Another popular variety comes from Sumatra, an island in Indonesia. "People like to buy coffee that's from countries they recognize" as coffee-producing nations, Aaron said.
It usually takes the Justices 12 to 15 minutes to roast a 6-pound batch of coffee beans. They roast most of their varieties to temperatures that reach 410 to 426 degrees Fahrenheit.
After the coffee beans cool, the Justices package them in the 12-ounce paper bags that they're sold in.