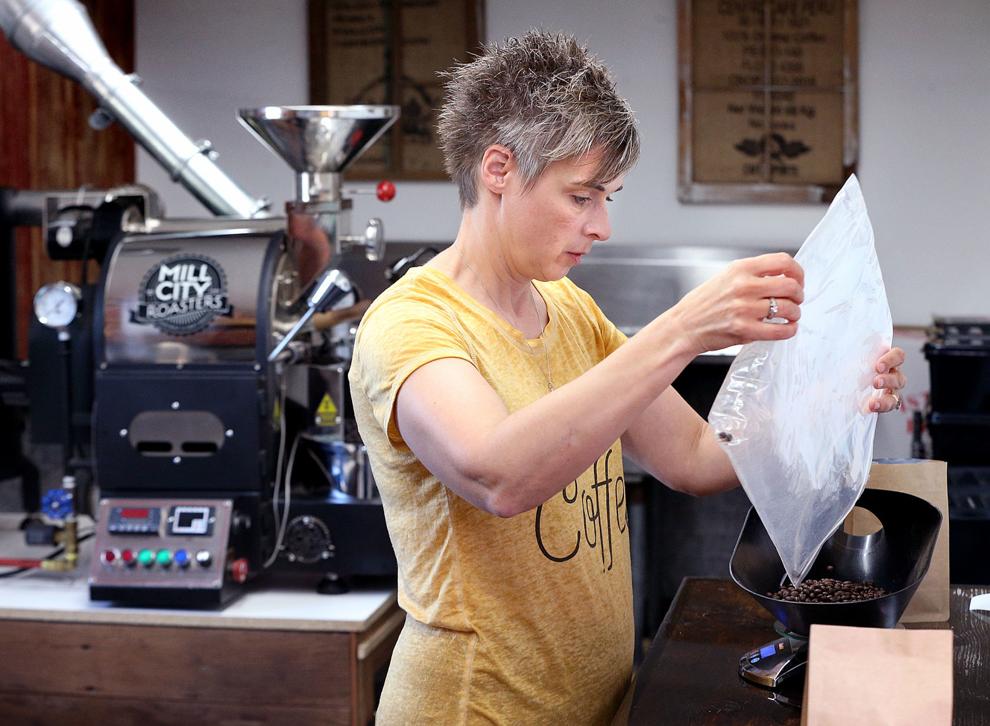 CALEDONIA, Minn. — The owners of a specialty coffee roasting business that began in Norway four years ago, and who moved to rural Caledonia nearly a year ago, are using coffee beans from around the world.
And they especially like to use beans from countries that aren't as widely known for them.
"I like to (get coffee beans that are from) places like Bali (in Indonesia) and Zambia and Tanzania, not just Columbia and Brazil," Tricia Babinski said last week in the small Heart Rock Coffee roasting house near the home where she and her husband, Houston County Administrator Jeff Babinski, live. "They have such fantastic coffees there."
Heart Rock Coffee's coffee beans come from Africa, South America, Central America, Southeast Asia and India.
Jeff "is the IT guy and the maintenance guy," Tricia said of her husband. "I do the roasting part, and he helps with all of the other stuff."
Since May, Heart Rock Coffee has been selling its coffees at the La Crescent Farmers Market, which is held from 4 to 7 p.m. Tuesdays at Oak and South Second streets in La Crescent; and at the Hokah Root River Farmers Market held from 4 to 7 p.m. on Thursdays in the parking lot of St. Peter Catholic Church in Hokah.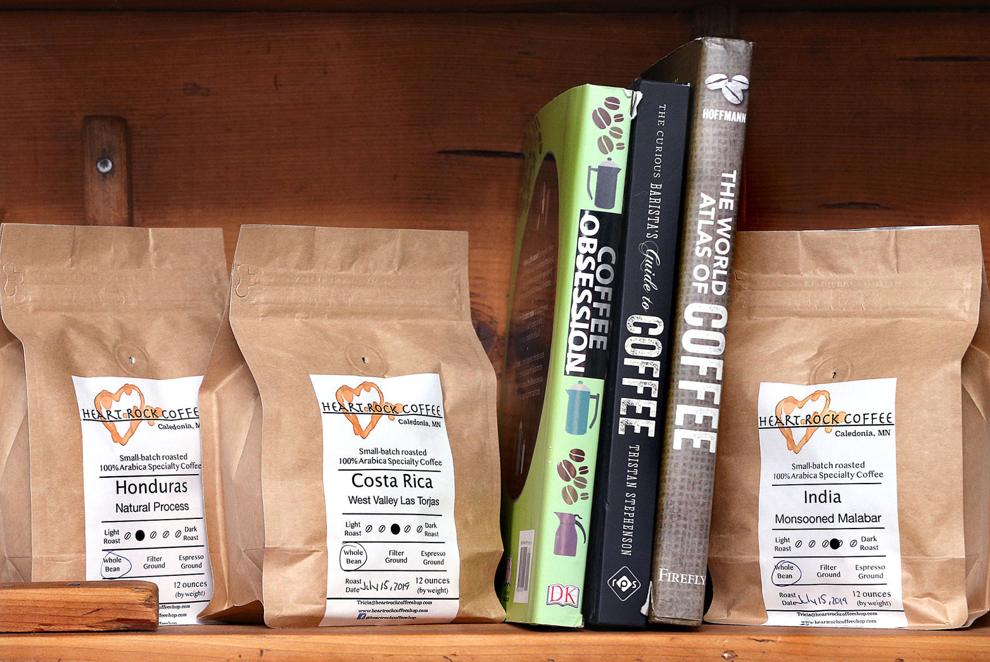 Heart Rock Coffee also is sold directly to customers who contact the business. Most of those sales have been to people in the Caledonia area.
So far, most of Heart Rock Coffee's sales have been at the La Crescent and Hokah farmers markets.
Tricia is interested in selling at additional retail and coffeehouse outlets. And in the near future, she plans to have hours "maybe one morning a week, or one afternoon a week, where people can just stop here and buy a bag" at the roasting house.
But she has no plans to open a Heart Rock Coffee coffeehouse.
"I would just love to continue being the one to supply the coffee beans," Tricia said. "I'm not interested in that much overhead and that much stress" that would be involved in opening a coffeehouse. "I'd like to continue enjoying this, and enjoying talking to people about coffee."
The Babinskis moved to the Caledonia area in September after Jeff was named Houston County administrator. They have five children.
"Jeff just finished 24 years in the Air Force," Tricia said, and had been stationed at a NATO base at Stavanger, Norway.
The Babinskis began roasting coffee about 4½ years ago, while Jeff was stationed in Turkey, another member of the NATO military alliance.
"We've always loved coffee together," Tricia said. "We thought to ourselves, we enjoy good coffee, we were ordering it, and why not make it ourselves?" So they bought a small coffee roaster, which roasted one pound at a time, for their personal use.
"We took that machine to Norway, where we met people who said 'Hey, you should sell this.' And it just grew from there," Tricia said.
She began selling roasted coffee beans about four years ago at the NATO base in Norway.
After moving to the Caledonia area, sales were directly to consumers, through word of mouth. Then Heart Rock Coffee became a vendor in May at the La Crescent and Hokah farmers markets.
So far, Tricia said, Heart Rock Coffee's biggest sellers have been "anything that's a medium-roast coffee. That's kind of what people gravitate toward. When you think of a nice sipping coffee it's going to be a medium-roast coffee."
Heart Rock Coffee's new, larger roaster can roast 2.2 pounds of coffee beans at a time. "A light roast coffee will take about 13 to 14 minutes" to roast, Tricia said. "And a dark roast will take slightly over 15 minutes."
Tricia said she enjoys everything about coffee.
"I love the smell of it, I love the feel of it," she said. "It's peaceful to me to roast the coffee. I love to talk to people about coffee, and to help them with their coffee needs."