The Winona Area Chamber of Commerce is looking for a new leader.
Della Schmidt, who has served as president of the chamber since 2003, submitted her resignation to the chamber board on Monday.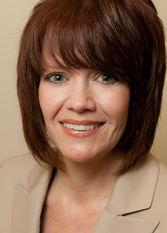 "I have lost sleep over this decision," said Schmidt, who will become the president and CEO of the Greater Burlington Partnership in Burlington, Iowa. "It was one of the most difficult decisions I have ever made. Nothing is broken here. Everything is great. I love this community, I love the people I go to work with every day. There's fantastic volunteer leadership serving on the board.
"But if a person is going to move on for other opportunities, isn't that the best time to go? When everything is going well?"
She will remain as head of the Winona chamber until late May. Kay Mathews, the chamber's vice president of finance and operations and member of the organization for 27 years, will take over as interim president after Schmidt leaves.
"Della's really just been a great representative of the business community," said Corey Hancock, chairman of the chamber board and vice president of Benchmark Electronics. "She's done a fantastic job overseeing a lot of great programs and starting a lot of new initiatives. She's really going to be missed."
When reflecting on her 16 years with the Winona chamber, Schmidt said the Highway 43 bridge project ranks up there as things she was proud to play a role in, as well as the Main Street Program — "and the wonderful things that will continue to come out of that," she said — as well as initiating workforce development solutions for local businesses and starting the REACH program in collaboration with local high schools and colleges.
The local business climate has never been stronger, Schmidt said.
"I think the optimism for downtown is amazing," she said. "And it's just a reflection of the greater optimism of the community."
Jennifer Byers, vice president of chamber relations for the Minnesota State Chamber of Commerce, said Schmidt has set a high bar for chambers across the state.
"Her innovative efforts on workforce, such as the REACH program and the Hot Jobs Cool Companies publication, just a couple items on the menu of workforce development at the Winona chamber, are among the best in Minnesota, and I would guess are an example nationally," Byers said.
Hancock said the process for finding a new chamber president has already started. He said other chambers in southern Minnesota are looking for leaders as well, so there will be some competition.
"We're looking for someone with the same characteristics," Hancock said. "Della was charismatic, very driven, she really cared about the business community and really cared about our business. She was in tune with a lot of the things going on."
He said chamber experience is also a factor.
Schmidt said she was approached by a recruiter and decided to "let the conversation play out."
Schmidt said the Greater Burlington Partnership is an umbrella organization which includes the city's chamber, economic development, visitors bureau and downtown partnership group in a Mississippi River community of 28,000.
"I am excited because it'll be a new challenge," Schmidt said. "It's going to stretch me personally and professionally, but all of those areas, I have experience and exposure in."
That didn't change the fact that it was a hard decision. Schmidt knows that her replacement is walking into a great opportunity.
"I am so proud of the work that has been done both within the chamber as an organization and the community as a whole," Schmidt said. "I know that great things are going to continue in Winona."