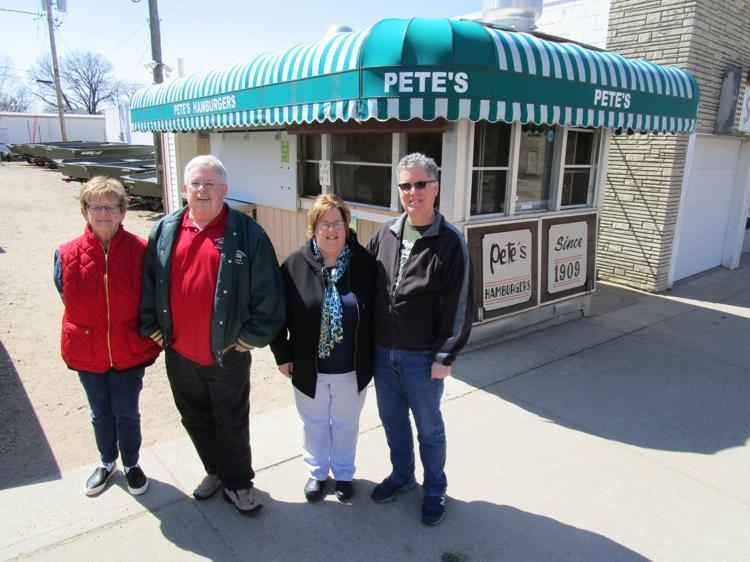 PRAIRIE DU CHIEN — The third-generation owners of Pete's Hamburger Stand in downtown Prairie du Chien are making plans for a July 6 celebration of 110 years in business, as they get ready to open this Friday for the 2019 season.
The hamburger stand at 118 W. Blackhawk Ave. is owned by Paul and Colleen Gokey and by Bill and Mary (Gokey) Huser. Paul and Mary's grandfather, Pete Gokey, started the business in 1909. The hamburger stand has been in its current location since 1955, attracting lines of customers eager for a taste of hamburgers cooked in water and onions.
"I think (Pete) would be proud" to see the business has lasted 110 years, Paul Gokey said last week.
Pete Gokey started the business by selling hamburgers at fairs, street carnivals and auctions. His son, Robert Gokey, later took over the family business. After Robert died in 1975, his wife Phyllis operated the business until her death in 2014.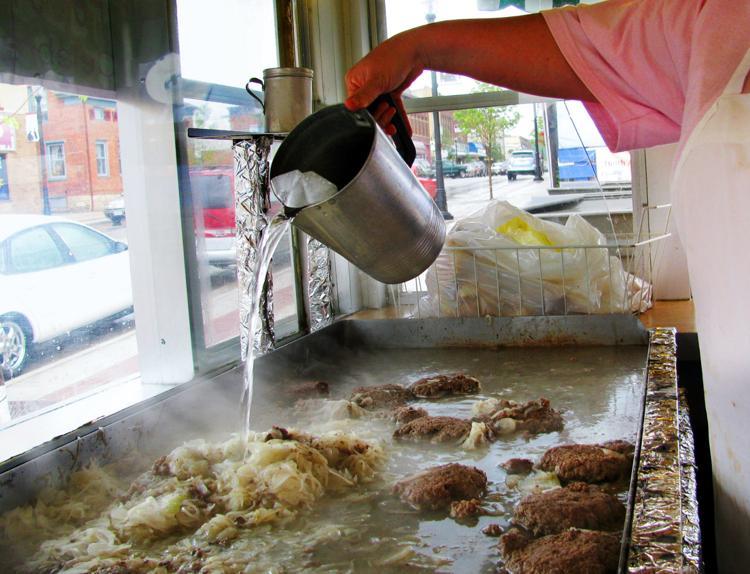 "He was a volunteer fireman and (the fire department) asked him to be in charge of the food at an event," Mary Huser said of burger business founder Pete Gokey. "He noticed that people were coming in at different times. He didn't want the burgers to dry out, so he kept adding water" to the pan. "People were saying 'They taste so good, they're so juicy.' That gave him the idea to always cook them that way."
To this day, the hamburger stand's burgers — up to 65 at a time — are cooked for 12 to 15 minutes in water, next to a pile of simmering onions, in a grill pan. They sell for $4.50 apiece.
Customers are asked "with or without?" which means with or without simmered onions between the cooked hamburger patty and the top of the bun, which is still baked for the hamburger stand by Huckleberry's Restaurant in Prairie du Chien. Customers also can request ketchup, mustard, salt and pepper on their burger. "And we do have mayonnaise (packets) if they ask for it" Mary Huser said.
Don't bother asking for cheese. After all, how would someone add cheese while a burger is cooking in onion-y water?
The rest of the menu consists of potato chips, soda pop, bottled water and Pete's Hamburger Stand T-shirts and caps.
The hamburger stand is open Friday, Saturday and Sunday, from late April to late October. Hours are 11 a.m. to 9 p.m. Friday and Saturday and 11 a.m. to 7 p.m. Sunday.
The stand also is open two Mondays each season – Memorial Day and Labor Day.
A number of Gokey family members volunteer their time to work at the stand on Memorial Day, and the profits from that day's sales are donated to nonprofit organizations that help people with disabilities and people who are suffering from cancer. That money is donated in memory of Robert and Phyllis Gokey and their son, the late James Gokey.
Its owners plan to mark the hamburger stand's 110th anniversary with a celebration on July 6 that will begin with the Pete's Hamburger Stand 5K Fun Run and Walk co-sponsored by the Prairie du Chien Parks and Recreation Department.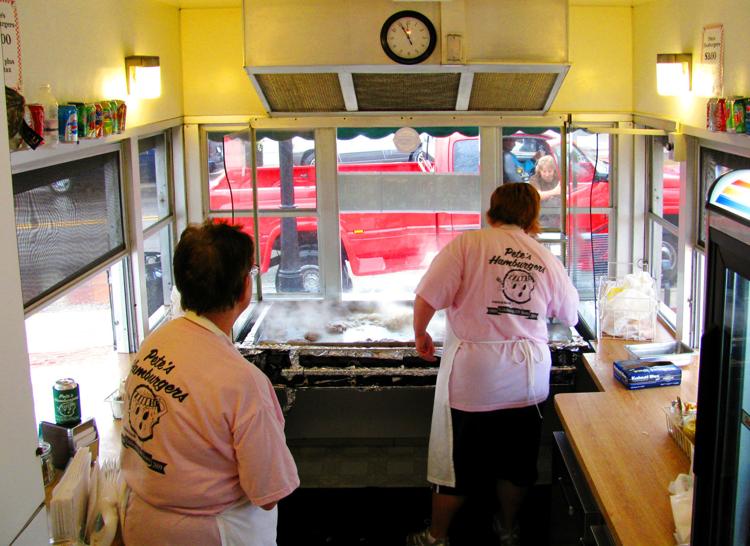 Proceeds from the fun run and walk will go toward making a fishing dock on St. Feriole Island handicapped-accessible. The anniversary celebration that day also will include live music, photos with a large hamburger cut-out figure and caricatures by artist John Mundt.
"We've had people come (to Pete's Hamburger Stand) from all over," Bill Huser said. "We've gotten a lot of publicity from TV shows like 'Wisconsin Foodie' that people have seen and come here because of that."
The stand's owners haven't seriously considered opening a year-round, sit-down restaurant.
"Part of it is tradition," Mary Huser said. "People come and stand in line and visit with other people. And all of a sudden they're making new friends and sharing stories."
"I especially enjoy meeting the people," Colleen Gokey said. "There are a lot of return customers. You get to know them."
Paul Gokey said he hopes some fourth-generation Gokeys will continue the family business whenever the current owners retire.