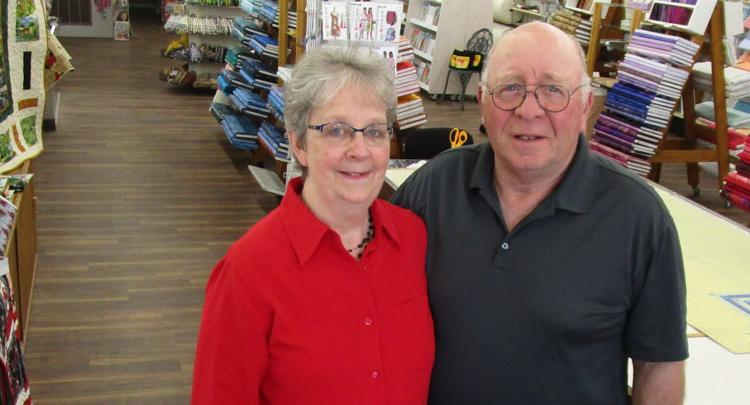 PRAIRIE DU CHIEN — Lou Davis is so excited about the national recognition her quilt shop is getting this week, she's holding a Quilt Sampler Celebration on Friday and Saturday.
The Pickett Fence at 100 W. Blackhawk Ave. in downtown Prairie du Chien, is one of 10 quilt shops being featured in the spring/summer 2019 issue of Quilt Sampler magazine, published by Better Homes and Gardens. The issue goes on sale at newsstands on Friday.
"We're thrilled" about being featured as a Top 10 quilt shop in the magazine, Davis said. "It's a great honor. This is like getting to go to the Super Bowl of quilting."
Copies of the magazine will be for sale at the shop during its two-day celebration, which will be from 10 a.m. to 5:30 p.m. Friday and 10 a.m. to 5 p.m. Saturday.
"We'll also have a quilt show," Davis said, featuring quilts made by members of two quilting clubs that meet at the shop. "And we'll have what we're calling our Sew Fun photo booth," where people can have their photo taken with sewing props.
The feature story on the Prairie du Chien shop will cover the history and highlights of the business, which Davis and her sister, Annette Johnson, started in 1998 in Commerce Court Mall in Prairie du Chien as a shop that mostly sold crafts, gift and floral items.
Davis purchased her sister's interest in the business about two years later. And Davis moved it to its current location  — a former drug store in two adjacent buildings constructed in the 1870s — in 2006.
With the help of her husband, Ken, Davis moved The Pickett Fence to its current 5,000-square-foot location after painting the original pressed-tin ceiling a warm copper color, and exposing the stone foundation and a walk-in vault in the basement. The vault was there because one building once housed a jewelry store.
Today, The Pickett Fence has more than 4,000 bolts of top-brand fabrics as well as yarns, patterns and notions. It also sells Janome sewing and embroidery machines.
Register for more free articles.
Stay logged in to skip the surveys.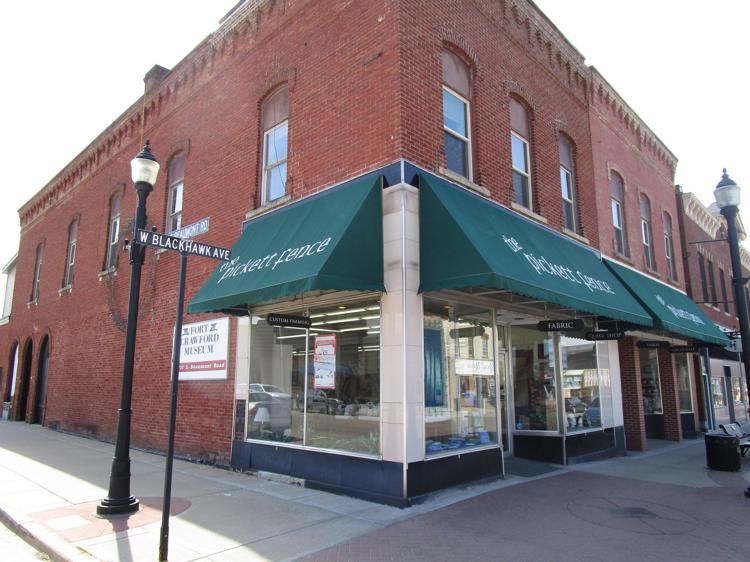 And since it moved to its current location in 2006, the store also has had a candy sales area. That part of The Pickett Fence has expanded since the 2009 closing of the nearby Hamann's Variety Store, which also sold candy, and today sells more than 60 varieties of bulk candies, as well as chocolates and nostalgic brands of candy.
The Pickett Fence also offers a variety of sewing and quilting classes. One is a certification class that allows people to rent time on a longarm quilting machine at the store.
The Pickett Fence has open sewing time from 10 a.m. to 8 p.m. on Wednesdays.
"We open the classroom and anyone can come," Davis said of open sewing time. "They bring their projects and their sewing machine and sit down and sew at their own pace. And if they need help, we're there to help them."
The weekly open sewing sessions also are an opportunity to socialize. Soup is available during the sessions on the second Wednesday of the month. On the other Wednesdays, Davis said, "Most of them just bring their own lunch, or go out for lunch."
Davis said her best friend, Donna Lincoln, makes delicious desserts that are served at some events.
"I enjoy the people, the friendships, and the creativity," Davis said of operating the business.
"Quilting is a very social thing," she said. "It's very social here and people seem to make friends easily. And if I'm here working here and I hear laughter, that just warms my heart."