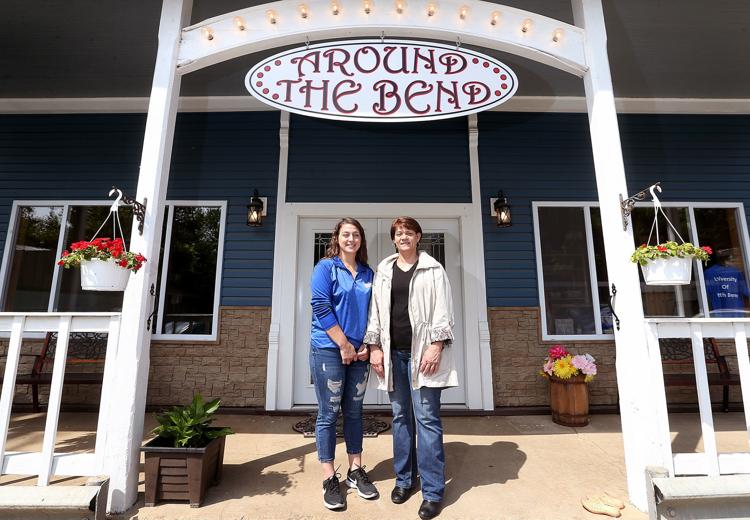 NORTH BEND — After working there for 16 years off and on, Courtney Stuhr has become the fourth generation of her family to own Freddie's Bar and Grill at N625 North Bend Drive in North Bend, an unincorporated community along Highway 54, between Galesville and Melrose.
She (and her mother) will celebrate that and their start of another business next door, with a grand opening celebration Saturday.
In April, Courtney and her mother, Yvonne Johnson Stuhr, bought the bar and grill as well as the former Around the Bend home decor and gift shop building next door at N621 North Bend Drive from Courtney's father and stepmother, Larry and Tracy Stuhr.
Courtney and her mother have opened their new Overflow Tavern & Eatery/Around the Bend Market & Gifts in the latter building. That business has been open on Friday nights, Saturdays and Sundays since mid-May.
Saturday's grand opening celebration will include live music by the Garden of Eatin' Family Band from 6 to 10 p.m. outside the two buildings.
Also starting Saturday, the Overflow Tavern & Eatery part of the new business will have its full menu with the addition of such things as soups, salads, panini sandwiches, wrap sandwiches, omelets, pancakes, French toast, bacon, sausage, hash browns and skillet creations.
Since opening in May, it had a limited food menu with such fare as hot dogs, breakfast sandwiches, Freddie's pizza, doughnuts, rolls and muffins. It also sells beer, wine and mixed drinks.
"I love working with people, and I love North Bend," Courtney said of her decision to buy the two properties. "I want to help keep North Bend growing — it's a great place.
"Freddie's has been in my family for many years in one way or another," she said. "I think my grandfather (the late Freddie Johnson) would be super happy to know it's still in the family," said Courtney, who is 33 and graduated from Gale-Ettrick-Trempealeau High School in 2003. She received an associate degree in business in 2005 from what then was called Western Wisconsin Technical College.
"He'd be so proud to see his granddaughter running Freddie's," said Freddie's wife, Sandy Johnson.
The bar and grill has been in Courtney's family since 1962. That was when Freddie's father, Harry Johnson, bought the business and renamed it Harry and Freddie's. After Harry died in 1964, Sandy and Freddie Johnson owned and operated it as Freddie's Bar and Grill. Freddie died in 1993.
Owners since Sandy sold the business in 1997 have included family members as well as a family friend.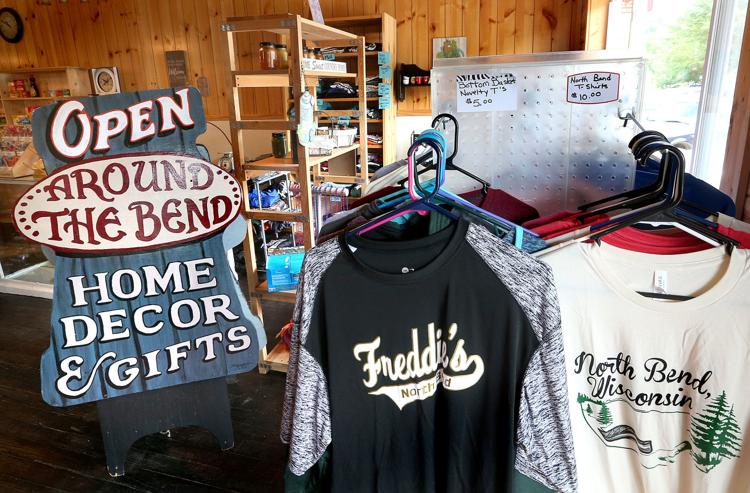 As for food, Freddie's Bar and Grill has been known for its homemade pizzas and for its hamburgers, other sandwiches and appetizers.
"Pizzas are our No. 1 sellers," Courtney said. "And our garlic pizza fries and our Supreme pizzas are two of our biggest sellers." The business also sells Freddie's Bar and Grill apparel.
Next door, the new Overflow Tavern & Eatery/Around the Bend Market & Gifts features as much locally grown food (such as produce and jams) as possible, Courtney and Yvonne said. Some of the craft beers and wines sold there also are local.
The new business also sells some grocery essentials, as well as gifts and novelty items such as North Bend and University of North Bend apparel.