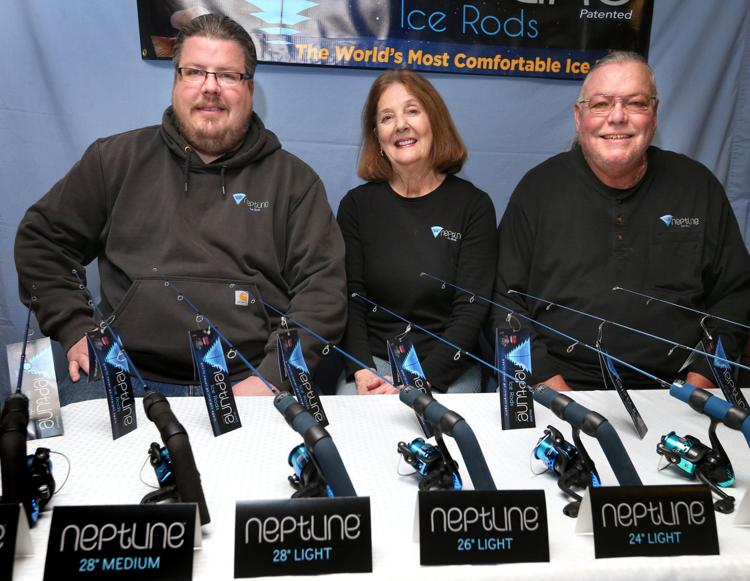 ONALASKA — It's been five years since ice fisherman Jon Mathwig asked his son, Phil, why ice rod handles are straight, and if it wouldn't be better to angle the handle to make them ergonomically correct.
This is the third year of sales for their Neptune Ice Rods with angled handles, which the two men assemble in the garage of Jon's home in Onalaska.
"We've had very good response" from the public, Phil said.
While he declines to give out sales figures, Jon said their ice rod sales quadrupled in 2017. "And we expect a real explosion (in sales) this year and next," he said. "We're negotiating with a Midwestern distributor to distribute our product in 2019."
The Mathwigs began selling ice rods with their patented angled handles in September 2016 online and to a few area bait and tackle shops. They also sold some at the five ice fishing industry trade shows they attended that year.
In 2017, they promoted their products at six trade shows and expanded to 12 retailers in Wisconsin and Minnesota.
This year, they expect to attend seven trade shows and have their products in about 18 retail stores by December.
The peak season for ice rod sales is November through March, Jon said.
He and son Phil make eight models of ice rods. They vary by length (ranging from 24 to 30 inches) and come in medium, light and ultralight.
"Each rod is built to address every style, tactic or strategy that ice anglers use for the fish species that they're after," Jon said.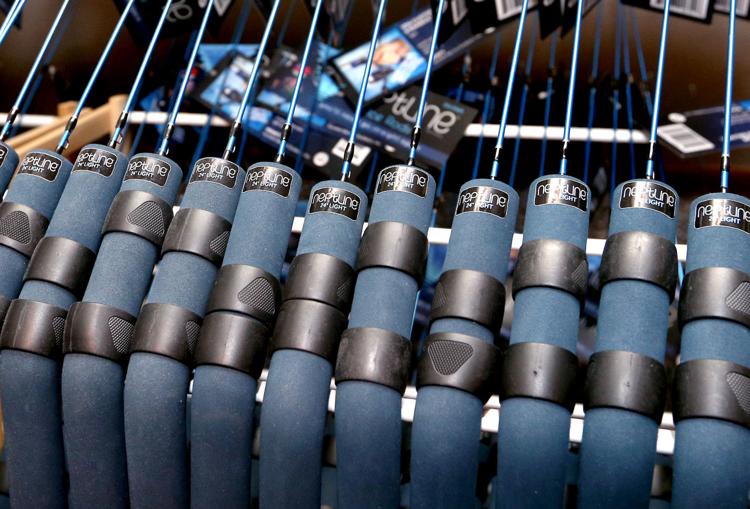 Neptune Ice Rods have a suggested retail price of $30 for the rod itself, and $40 for one that comes with a reel. Those also are the prices for online sales on the Mathwigs' www.neptuneicerods.com website. For every rod sold, Neptune Ice Rods makes a donation to Wounded Warriors Outdoors Inc.
Their Duraflex fiber composite Neptune Ice Rods provide extreme sensitivity, strength and durability, Jon said. "And our rods have an industry-leading lifetime guarantee," he said. "If it breaks, we replace it.
"My son and I are the inventors and co-owners" of the business, Jon said. "My wife, Brenda, is our motivator and coach. She helps with everything" and also is the firm's bookkeeper.
Jon is a native of Cumberland, Wis., while Brenda grew up in Rice Lake, Wis. They married in 1970 and moved to La Crosse later that year. Jon retired six years ago after a career in manufacturing engineering for two metalworking companies and as sales manager for a tooling manufacturer.
Phil is machine shop and welding department supervisor at L.B. White Co. in Onalaska.
Jon, who is 66, and Phil, who is 39, promote their ice rods as being the world's most comfortable.
Their Neptune Ice Rods website shows a La Crosse Tribune photo of Jon and Phil ice fishing on Lake Onalaska in 1983.
While they were ice fishing about five years ago, Jon said, he asked Phil why ice rods are straight, causing the fisherman to cock his wrist uncomfortably down, hold it with fingers extended resulting in a loss of power, or grab the reel shank to get in a somewhat comfortable position.
"He said 'Just bend the handle,'" Jon recalled. "I said, 'That's a good idea.'"
A week later, Phil handed his father a prototype ice rod with an angled handle.
"I started fishing with it and said, 'Phil, we've got something here. This is so comfortable.' And I had more control and more power," Jon said.
That led to two years of extensive research, development and testing of many materials and component suppliers, Jon said.
"We have a couple contractors who do some component work for us," Jon said. "We do all of the assembly and minor manufacturing here" in Jon's garage.
"I don't feel like I'm working" when he's assembling ice rods, Phil said. "I'm having fun."