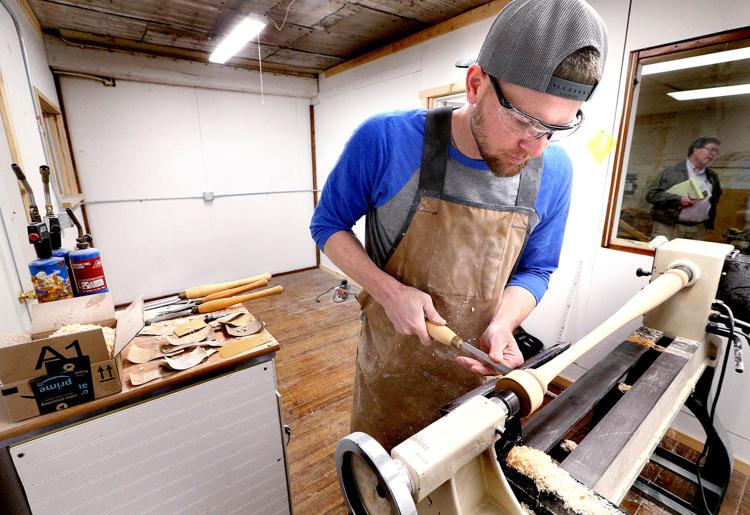 WEST SALEM — The Schneider brothers are stepping up production of custom-made wood baseball bats, with some new equipment in the new, larger home of their Three Brothers Bat Co.
Tim Schneider, who makes all of the firm's baseball and softball bats, said he and his brothers Dan and Greg bought their building at 136 E. Elm St. in downtown West Salem last October so they would have room to increase production.
The building most recently had been occupied by Contractor Supply of West Salem, which moved to a new building east of the community.
The brothers operate their business with the help of Tim's friend, Mike White, who does accounting work. All four men have other jobs.
The brothers' father, Bob Schneider, also helps. And their sisters Sarah Schneider and Amanda Vyn help with sales of Three Brothers Bat apparel, such as hats, T-shirts and sweatshirts, as well as Three Brothers Bat coffee mugs.
"We've been very fortunate to have incredible support from our families and some very close friends, and we wouldn't be able to pursue this dream without them," Tim said.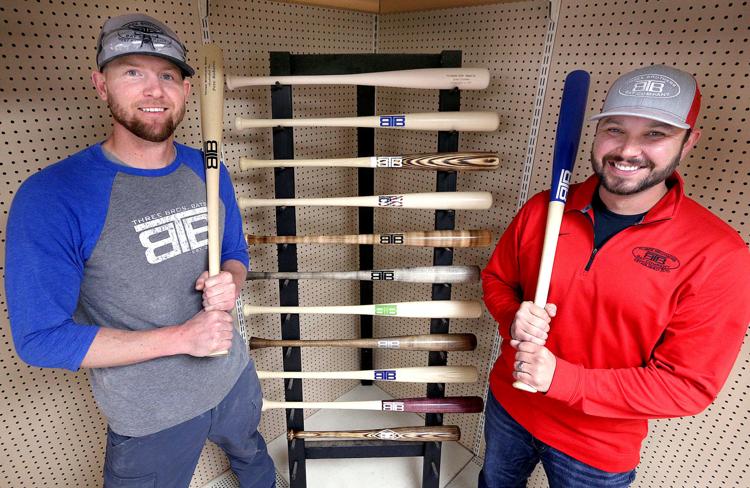 Tim began making bats in 2013. And he and his brothers created their business in 2015 in their hometown of West Salem. Until the recent move back to West Salem, Tim had been making the bats in a small workshop near St. Joseph.
He began making bats in the new West Salem location in March.
The new CNC (computer numerical control) lathe that arrived in March will help him step up bat production. Schneider had been making the bats with hand tools on a simple lathe.
The new machine turns tube-shaped wooden billets (also known as blanks) into the shape of a baseball bat. But after that, Tim said, 'I still have to use (the simple lathe) for sanding and fine tuning" the bat with hand tools.
He has been making 150 to 200 bats a year, which mostly are used by players on Coulee Region amateur and high school teams that use wood bats. But Three Rivers Bat Co. also has sold its bats to people as far away as Colorado, Pennsylvania, Texas, Puerto Rico and even Australia.
Register for more free articles.
Stay logged in to skip the surveys.
Schneider said production and sales have increased each year, and he hopes to sell more than 1,000 bats this year "if everything goes right." This year, the company will step up its marketing efforts by giving bat-making demonstrations at Milwaukee Milkmen baseball games in Franklin, Wis., and by having a booth at some baseball tournaments in Franklin.
"They're quality bats," White said, when asked why sales have continued to increase.
Baseball bats account for nearly all of Three Brothers Bat Co.'s sales, although Schneider also makes a small number of softball bats.
Schneider makes about 15 different models of baseball bats. Customers can arrange to come to the bat company, check out the models and talk with Schneider about the features they would like.
The sell for anywhere from $70 to $130, with an average sale price of $90 to $100, Schneider said. "A $130 bat would have about every option that we offer," he said, adding that some companies price their wood bats at more than $200.
Schneider said he makes the bats from premier grade wood from the Northeast. Most of the tube-shaped billets that he buys are maple. The rest are birch or ash.
"Unless specified otherwise — some people just want a raw bat — each bat gets a clear polyurethane coat" that both protects the bat from moisture and adds to its appearance, Schneider said.
Some Three Brothers Bat Co. bats are sold as award or trophy bats, for hanging on walls.
Schneider can engrave on bats such things as the name of the baseball player, team or award recipient, and the name of an award.
He also plays for the Sparta Miller amateur baseball team, which is in the Mississippi Valley Baseball League of the Wisconsin Baseball Association, which uses wood bats. Three Brothers Bat Co. bats are the official bats of the Sparta team.
"Baseball's always been a big passion for my family, and I like working with my hands," Schneider said. "I like working with other businesses (that supply materials and services) and getting to know a lot of local players and coaches," he said.
"You can't play (baseball) forever, but this is a good way to stay involved," said Schneider, who is 34.