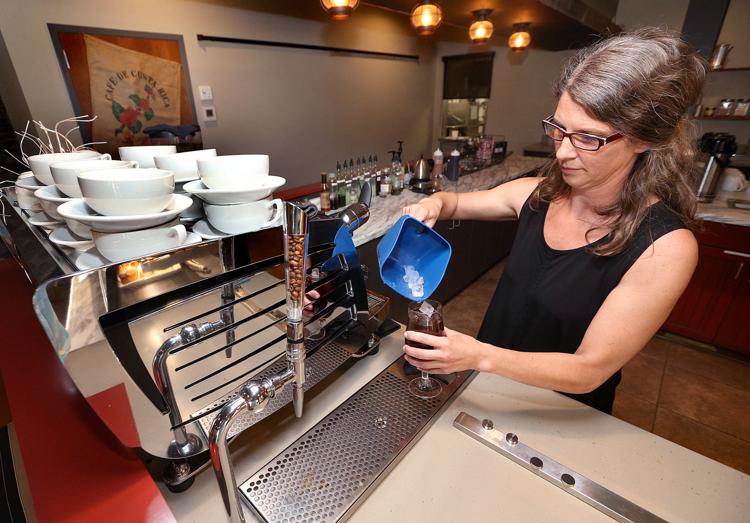 WEST SALEM — The Oma coffeehouse in downtown West Salem expanded to be a coffeehouse and cafe when it opened April 22 in its new, much larger location — the former Snap Fitness building at 234 N. Leonard St.
Kristina Sage, who owns Oma and opened it in December 2016 at 122 S. Leonard St., and her husband, Robbie, extensively remodeled the new location, adding an outdoor patio, an indoor stage for live music, and a large garage-type glass door that can open during nice weather.
Kristina Sage plans to hold a grand opening celebration sometime this summer.
With more space, Oma added a limited breakfast and lunch menu and expanded its selection of baked goods, which are made there.
Sales have more than tripled because of the expansion, Kristina said, and the business now has about 13 employees compared with five at the previous smaller location.
"People have been very welcoming and supportive," Sage said of the expansion. "People have come in and thanked me for opening up and told me that West Salem needed this."
Oma sells a variety of coffee drinks made with coffee roasted by JBC Coffee Roasters in Madison, tea drinks made with loose-leaf tea that Oma buys from the Dim Sum Tea Shop in La Crosse, and smoothies made with fruit, yogurt and orange juice.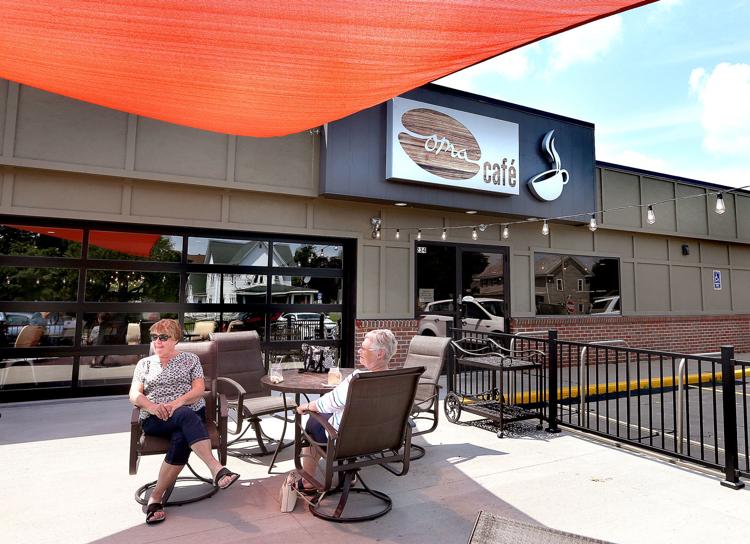 As for food, Oma is probably best known for its sourdough cinnamon rolls, Sage said. Those also are among a few kinds of Oma baked treats that the three MOKA coffee locations in La Crosse and Onalaska sell on Sundays.
Oma also makes sourdough Danish rolls, croissants and bagels, as well as muffins, scones, cookies and granola bars.
You have free articles remaining.
Register for more free articles.
Stay logged in to skip the surveys.
Its breakfast menu includes steel-cut oats, cinnamon roll French toast, sourdough waffles and sourdough bagel sandwiches, with the latter two being the most popular.
The lunch menu includes such things as an egg salad sandwich on a pretzel bun, wrap sandwiches and savory stuffed breads. Oma's southwest chicken wrap and its herbed lemon chicken wrap are two of its most popular lunch items, Sage said.
A popular summer treat is Oma's affogato — a scoop of vanilla ice cream topped with a shot of hot espresso and cookie crumble.
Oma also sells merchandise, such as coffee beans, coffee mugs and apparel. The merchandise bears the logo of one of three businesses — Oma, JBC Coffee Roasters and Love Your Melon. The latter's website says that it is an apparel brand dedicated to giving a hat to every child battling cancer, as well as supporting nonprofit organizations that lead the fight against pediatric cancer.
Oma also has a Mission of the Month program by which half of all tips are donated to a particular community cause. "It was pretty important to me that we give back to the community," Sage said of having that program.
Oma's indoor stage occasionally hosts live music, most often on Saturdays, and usually acoustic music.
As for the name of the coffeehouse and cafe, "Oma" is German for grandmother.
Sage chose that business name to honor her late mother, Susan Gigstead, who she said enjoyed being a grandmother and baking.
Sage said she especially likes "seeing how much enjoyment (Oma) brings to the community. People come in all the time thanking me, which means a lot."